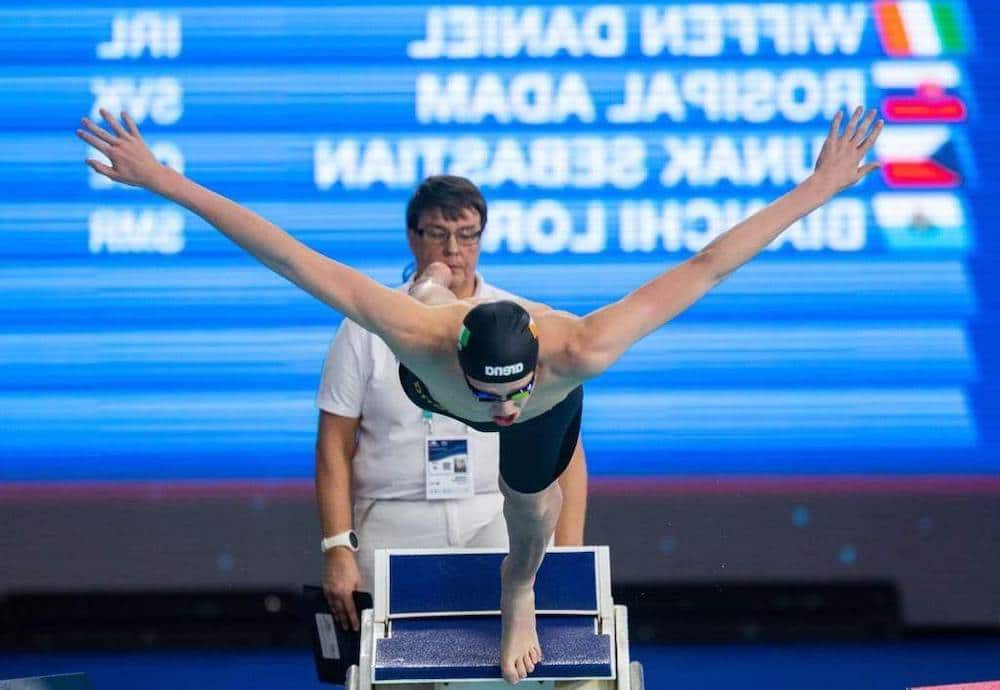 South Lake Leisure Centre's impressive Olympic-sized 50m pool has been put to the test by local swimmer, Daniel Wiffen from Magheralin, who has his sights set on the winning gold at the Olympic Games in Tokyo this summer!
Daniel, who has represented Ireland in the European Junior Championships, World Junior Championships and European Senior Championships, and broken nine Irish junior records and two Irish senior records, is currently in training using the competition-ready, 50m pool at the new centre.
The dedicated swimmer, who ranks 13th in the world, was taught how to swim by one of council's very own swimming instructors. Even then, his talent shone through and over the years he has received sports bursaries from council and Armagh, Banbridge and Craigavon Sports Forum to support him in reaching his goals.
One of Northern Ireland's top aquatic athletes and a member of Larne Swimming Club, he recently moved to Loughborough to study and train.
He commented: "Armagh City, Banbridge and Craigavon Borough Council has given me so much support during my training and over the past number of years, which I am very grateful for.
"I have been very fortunate to be allowed to swim through most of the Covid-19 pandemic. I was even training in a paddling pool in the garden at one point!
"I hope my success encourages other swimmers who are unable to swim at the moment to achieve their dreams when they return back to the pool, whatever age they are.
"The facilities such as the 50m pool in the new South Lake Leisure Centre are ideal to train in and enjoy – we are very lucky we have such excellent facilities across the borough."
Lord Mayor of Armagh City, Banbridge and Craigavon, Councillor Kevin Savage, added: "Daniel is a wonderful ambassador for our borough. His dedication, talent and determination has helped him enjoy an enviable record-breaking sports career to date.
"We are delighted to support and encourage Daniel in any way we can – it'll be all eyes on Tokyo now! I and everyone at Armagh City, Banbridge and Craigavon Borough Council, wish Daniel the very best of luck in his Olympic bid!."
Daniel's Father, Jonathan Wiffen, said: "We are absolutely delighted for Daniel. It hasn't always been an easy journey, but it just goes to show that if you show commitment, train hard and maintain focus then your dreams can come true. We are also so proud and happy to be part of a council area that has supported him all the way through."
All budding athletes and swimmers out there inspired by Daniel's story should note that council's leisure centres and community centre gyms have reopened their doors to the public once again for individual training, one-to-one coaching and individual swim sessions!
To help make your visit as simple as possible, Get Active ABC has launched the new 'getactiveabc' leisure booking fitness app to help users quickly and easily book their gym/swim session or class activity and much more!
You can download the 'getactiveabc' app from the Google Play or App Store.
For further information visit www.getactiveabc.com.
View all the latest Lurgan news here.
You can join our Lurgan News Facebook group here.
Sign Up To Our Newsletter