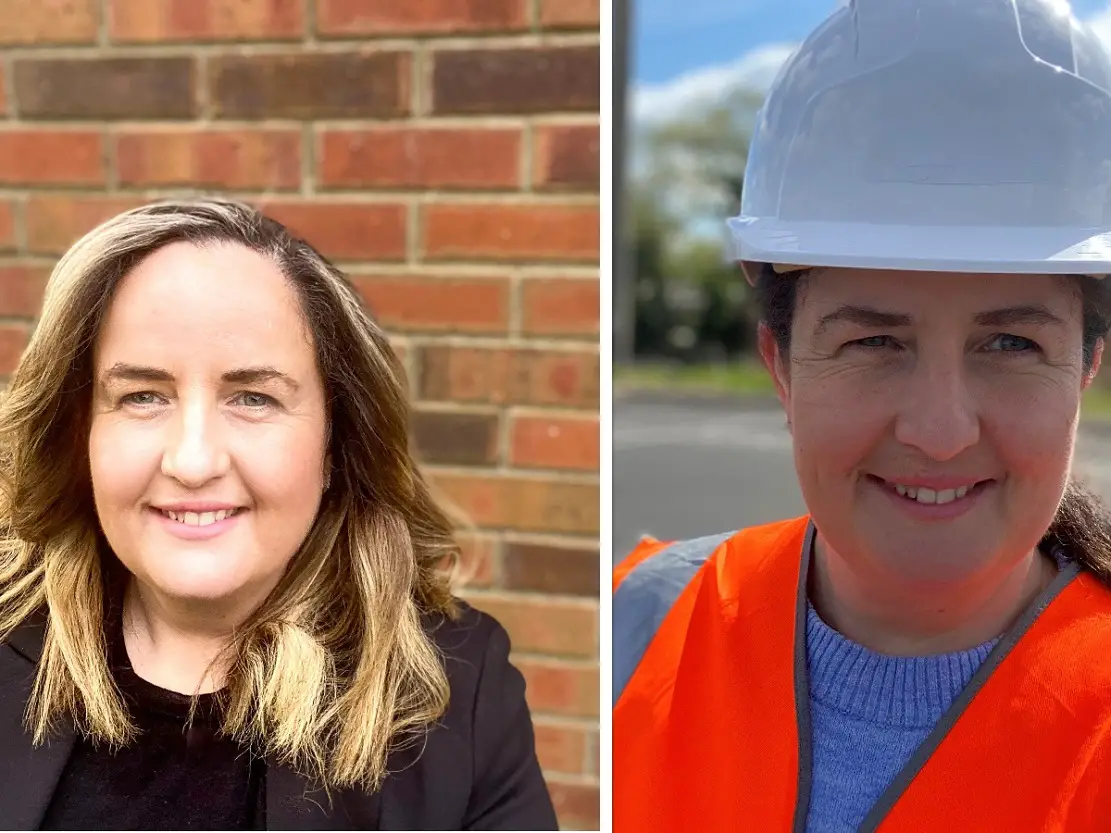 A Lurgan woman who left a top level job in the construction game to go it alone after seeing a gap in the market has plans for expansion just one year on.
Lorna Hagan set up ConstructTuition in January 2021.
However, the company, which helps to educate those in construction to improve their skills, has already been nominated for awards.
Speaking to Armagh I, the 39-year-old explained that growing up, advice for girls going into work in the STEM field was limited, but she now is an ambassador leading the way for others.
"My sister studied architecture, but she was only two years older than me," said Lorna. "At school I was good at the maths and science subjects. I wanted to be a vet but I wasn't smart enough so I ended up being a Civil Engineer.
"When we had career days, when I said about wanting to be a civil engineer they would have suggested teaching Geography or ICT, but I never wanted to be behind a desk. I wanted to be out building, making a difference."
After studying Civil Engineering at the University of Ulster and graduating in 2005, she then spent the first few years, including a year out, working on site.
"Like any other right minded 25-year-old, I went for a year in Australia in 2007," she said. "I did a bit of quality  work in Australia, I came back in 2008 but I should probably have just stayed away as the recession then hit."
When she returned, Lorna found that work was limited but she did find work as a quality advisor for Ferrovial.
"My first Quality Role was on the Newry bypass. I then went on to work on some of the biggest infrastructure projects in the UK such as Crossrail and Terminal Two at Heathrow Airport."
However, after a few years in busy London, Lorna decided that she wanted a change and that came in the form of a move to Scotland to work for the Graham construction firm.
"I went to the very North of Scotland, literally John o' Groats and worked on the decommission of a nuclear power station. I also worked on the building of a factory for Rolls Royce.
"I got promoted right up to Head of Quality for a £230 million annual turnover portfolio of Civil Engineering Projects. It was a great career progression and I was at a nice board level."
Whilst in this role, Lorna was struck by the number of people entering the field with university degrees but a lack of practical skills.
"They came on site and they didn't know what good concrete looked like, they didn't know when to reject a load or what they were inspecting," she said.
"You could see the errors coming through. We started a graduate training programme pilot on concrete in which we threw away the powerpoint and took them out to a concrete plant and to see concrete being poured."
Lorna revealed that within six months the data showed that the pilot saved the business £155,000 in errors avoided.
"We saw that it worked but it was hard to outsource this and I still had a day job," she explained. "We needed someone with experience, who would not be relying on powerpoint but we could not find anyone.
"This I kind of thought, this is the one part of my job I love and got a kick out of, making a difference. Maybe I should be the person to start that company."
Talking about going it alone, Lorna continued: "I suppose it was not beyond the realms of possibility. My dad owned his own haulage business but he died when I was 11 so I did not see that entrepreneurial side of him, but maybe I got some by osmosis."
Lorna says that the future is looking bright for her business venture one year on.
"We started this business working from home, I say the proverbial 'we' but it is me, but we are doing really well with contracts and clients secure for 2022. The plan is to get a business premises, two apprentices and another full time associate in place by the end of 2022."
Sign Up To Our Newsletter