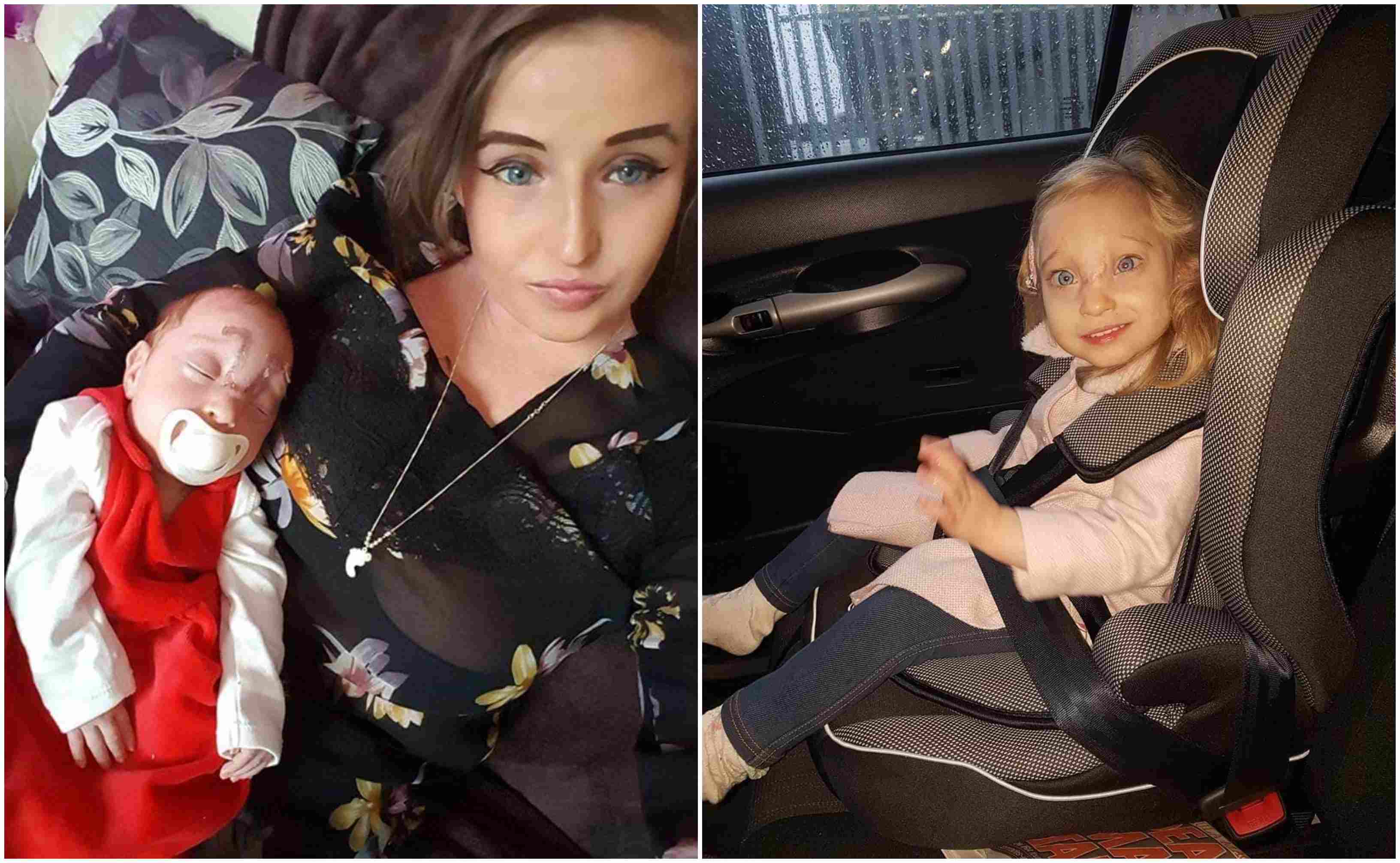 A Co. Armagh girl who was not expected to live long beyond birth celebrated her third birthday this weekend with a fundraiser to help the family get answers about her complex medical condition.
Karlie Toland, from Lurgan, was born with part of her brain outside her skull (frontal encephalocele) and suffers from a condition which causes her brain to be completely fused (alobar holoprosencephaly).
The youngster also has chromosome abnormalities and a form of cerebral palsy; she is believed to be the only person in the world with this series of rare conditions.
Her parents, Gemma McCusker and Kyle Toland, were warned that if their baby made it to term she would likely be stillborn, or that if she did survive, she would live no more than 20 minutes.
Born weighing just 3lb 10oz, Karlie was operated on at three weeks by Dr Mano Shanmuganathan, a neurosurgeon at Belfast's Royal Hospital for Sick Children, during which the protruding part of her brain was removed.
Speaking to Armagh I, Karlie's mother said: "Taking everything into consideration, everything that she does have wrong, what she can do and what she is doing really is something special.
"Even kids with one of those disabilities can't really do what she is, so it would make you wonder what way the brain does work".
Gemma says it that the condition which causes Karlie's brain to be fused is extremely rare, and knowing of one other child in Northern Ireland who has been born with the condition.
The young parents are aware that their daughter's condition is hugely restricting and that her health could change at any point.
"We know it is life limiting but she is in great health, I rarely have to take her to the hospital, so she isn't going to be leaving us any time soon," said Gemma.
"We really have to thank Dr. Mano for so much, he saved Karlie's life, he accepted seeing her and performing the surgery when no one else would."
Saturday's night's concert at the Irish National Foresters club in Lurgan was hoping to raise around £2,000 to part fund a four-day trip for the family to attend a conference in Ohio, USA.
Gemma added: "Because it's so rare, a lot of doctors here don't know about the condition and they can't tell us what to expect, but it seems that it is much more common in the US."
Karlie has had two brain scans since she was born and Gemma will be taking those with her to get advice from experts at the Carter Center in Dallas which specialises in holoprosencephaly and related brain malformations.
The concert was organised by Lurgan Elvis impersonator Brendan McGibbon, who first got to know Karlie when he worked as a taxi driver.
Gemma explained that due to Karlie's condition she often during her younger years had to be taken to hospital.
"Neither of us drive; we had to get a taxi and he would have been the driver, he got to know us as a family," explained Gemma.
"He would have taken us and when it came to paying say 'no, no, don't be worrying just get the baby in there'".
She added: "She has a fanbase, she really does, Karlie is just such a happy girl all she wants to do is give people hugs and hate is a word she does not know".
Sign Up To Our Newsletter