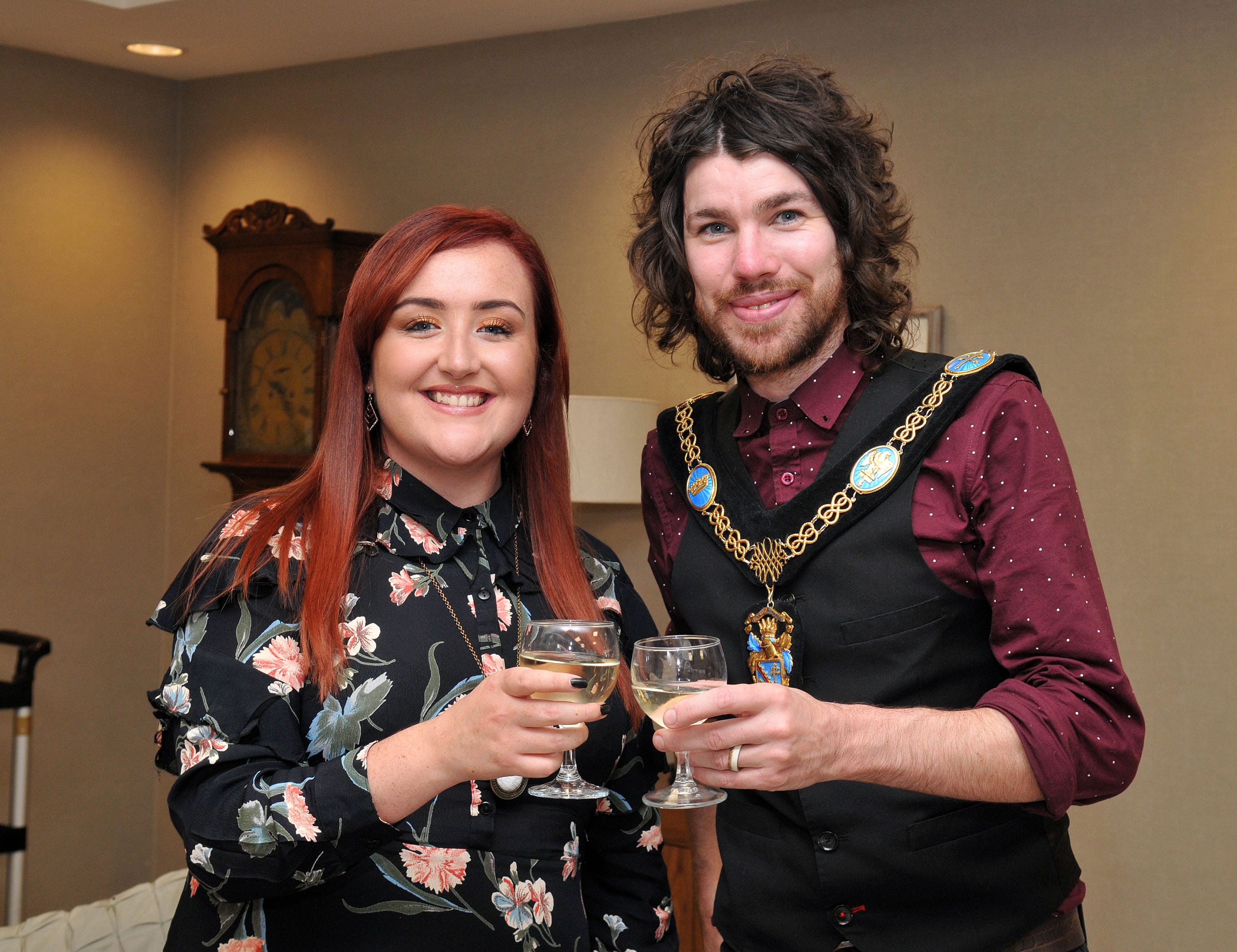 A young County Armagh woman has scooped a prestigious bursary named in honour of one of the theatrical world's all-time greats.
Éimear O'Neill, from Lurgan, was thrilled to be named as the recipient of the Sir John Gielgud Award.
The talented thespian is currently in her final year of drama college in London.
And, on her return home, Éimear called in to see the Lord Mayor Garath Keating, who wished her well with her final year of studies and for her future acting career, which looks very bright indeed!
Éimear explained: "I was awarded the prestigious Sir John Gielgud charitable Trust Bursary this summer. The award is granted to one individual entering their final year at drama school with a promising future ahead.
"I attend the world renowned Italia Conti Academy of Theatre Arts in London, where I am training to become an actor. This award has enabled me to pay for expenses such as headshots, letters to agents, Spotlight subscription, plays and many more essentials needed for entering the rigorous acting industry."
The Lurgan native's love of the stage began many years ago, starting out in Moyraverty Arts and Drama Society in Craigavon as 'Mrs Potts' in 'Beauty and the Beast', at the tender age of nine!
"It was here I was inspired to pursue my love for both acting and singing, and went on to win many local and regional singing competitions," she explained. "I even got the chance to perform in front of a crowd of thousands as the supporting act for one of Jedward's concerts when I was just 17 after winning 'Armagh's Got Talent'.
"I always performed in the plays and concerts my secondary school Lismore put on, alongside trying to get my A Levels when I was the leading role of 'Tracey' in 'Hairspray'.
"After receiving three A's and the highest marks in the school for each of my subjects, Drama, Music, and English Literature and bringing home each of my A Level cups, I knew I wanted to go to Drama School as opposed to University."
Éimear admits it was a tough decision after doing so well with her A levels.
She continued: "I battled with my heart and head about what to do, but I followed my gut and I've never regretted it.
"Drama school is tough emotionally and physically; you have to be made of stern stuff to take the knock-backs you get along the way. But I knew it was where I needed to be to follow my dream.
"I've just got back from touring around England and performing in the Edinburgh Fringe Festival in the play I was in, 'Road' by Jim Cartwright. It was by the Italia Conti Ensemble; we got raving reviews and 4/5 stars by critics."
So what for her final year and the future?
"Third year is about being showcased to the industry I am entering," Éimear reveals.
"I am now cast in one of the leading roles 'Joanne' in the musical 'Company' by Stephen Sondheim for my first third year show in November. Industry professionals such as casting directors and agents will attend this show.
"I am very thankful to be where I am now in my career, and am beyond grateful to the Sir John Gielgud Award for assisting me financially in my final year at Italia Conti."
Picture: Lord Mayor Garath Keating congratulating Éimear O'Neill from Lurgan on receiving the St John Gielgud Bursary.
Sign Up To Our Newsletter