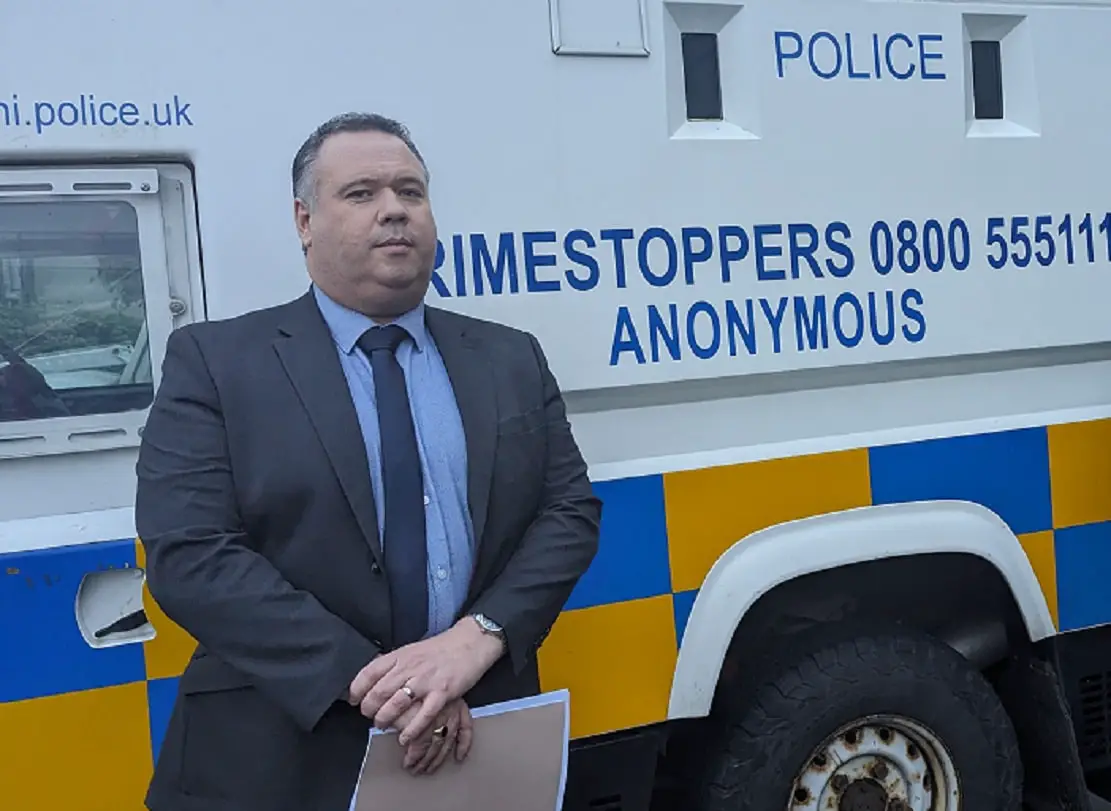 Three men have been arrested following the shooting of police officer John Caldwell in Omagh last night (Wednesday).
Detective Chief Inspector Caldwell, who was shot as he placed footballs in the boot of his car, was accompanied by his young son.
Police say they have arrested three men aged 38, 45 and 47 under the Terrorism Act in Omagh and Coalisland in connection with the attempted murder and they are currently being questioned by detectives in Musgrave Serious Crime Suite.
An attempted murder investigation has also been launched, with police appealing for witnesses to get in touch. Whilst the investigation is at an early stage, police say that the primary focus is on the dissident republican group the New IRA.
In an investigation update provided by the PSNI, they say that shortly after 8pm on Wednesday night, a number of shots were fired at DCI Caldwell as he returned to his car at a sports complex on the Killyclogher Road.
Update by Assistant Chief Constable Mark McEwan on the investigation into the attempted murder of a police officer in Omagh on Wednesday night.

Read more: https://t.co/HCVfOVc2oe pic.twitter.com/Dmg9yqjGWm

— Police Service NI (@PoliceServiceNI) February 23, 2023
He is currently in hospital where his condition is critical but stable, after sustaining a number of bullet wounds to his torso.
Assistant Chief Constable for Crime Department, Mark McEwan said: "The officer's condition remains critical but stable. We are closely consulting with John Caldwell's family, who are understandably shocked at last night's shooting.
"John is a highly respected senior investigating officer who dedicates himself to service both in supporting victims and families in bringing others to justice. He is also an active member of the Omagh community."
ACC McEwan said that two gunmen approached and fired multiple shots. John then ran a short distance and fell to the ground when the gunmen continued to fire shots at him.
"That shows the absolute callous nature of this attack, and it is utterly disgusting that the gunmen carried out this attempted murder in front of crowds of adults and children", he said.
"John's own young son was with him at the time and witnessed the shooting. The trauma inflicted on this young boy is just horrific and he will never forget seeing his dad shot multiple times.
"The gunmen fired from close range in the busy sports training area, which could also quite easily have killed or seriously injured children who were present at the time of the shooting.
"Those who carried out this attack were completely reckless in their actions and they had absolutely no regard for the officer who was injured or anyone in the crowd.
"John sustained a number of bullet wounds to his torso and was taken to hospital for treatment to his injuries. He remains in a critical but stable condition this morning and has undergone surgery for his wounds.
"I would like to pay tribute to a brave member of the public who administered first aid. I would also thank our partners in the ambulance service. If it had not been for their quick actions we might have been looking at something very different this morning.
"We recognise the huge shock and trauma this has caused in the community in Omagh. I know this is not what they want to see happening in their town."
Assistant Chief Constable Mark McEwan added: "The investigation is at an early stage and I would appeal to anyone with information to bring it to police. Our main line of enquiry is that violent dissident republicans carried out this vile attack and within that a primary focus is on the New IRA.
"The two gunmen, who were dressed in dark clothing, carried out this cowardly attack and left the scene on foot. At least two other vehicles were struck by their volley of shots. We believe the gunmen fled the scene in a small, dark coloured vehicle shortly after 8pm. We believe this vehicle was abandoned and set on fire in Racolpa Road, Omagh.
"We want to hear from anyone who was in the area or who witnessed what happened to get in touch with any information that could help with our investigation.
"Likewise, if you have captured dash-cam or mobile footage, please contact officers on 101 quoting reference number 1831 of 22/02/23.
"I would also ask anyone with information to phone 101 or if you would prefer to remain anonymous contact independent charity Crimestoppers on 0800 555 111."
Information, including photos, CCTV and dash-cam footage, can also be provided to police through the Major Incident Public Portal. Click here to view the Portal.
Click here to view the dedicated appeal page on website.
---
Read more: Detective involved in Natalie McNally and Shane Whitla murder investigations shot in Omagh
Detective involved in high-profile Co Armagh murder cases shot in Omagh
Sign Up To Our Newsletter