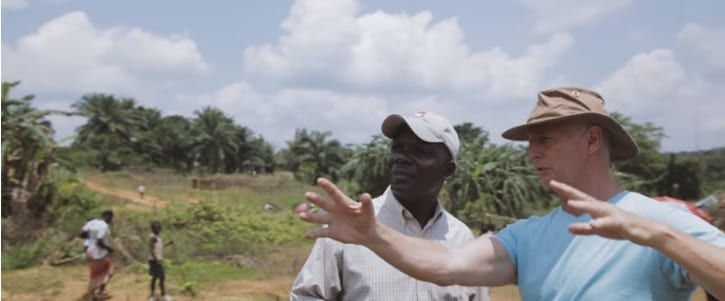 County Armagh man David McAllister will speak of how he survived the kidnap and murder of his colleagues to bring help and hope to 500,000 people in the Democratic Republic of Congo – one of the most dangerous places on earth
A special event in Shankill Parish, Lurgan, is to be held on October 21.
Featuring the New Irish Choir and Orchestra, as well as David McAllister accompanied by his father, Bob (91) and brother Bill, the family's incredible story of horror and hope in the Congo is sure to capture the minds of those attending.
Following the release of BBC documentary 'A Deadly Mission: from Belfast to Congo' – an hour-long film following the fascinating life of David's parents, Bob and Alma McAllister who left the shores of Belfast Lough to live as missionaries in the Democratic Republic of Congo – the family are now telling the next part of the story.
With the help of local choir and orchestra New Irish Arts, Bob will tell stories of how playing cowboys and Indians saved his life, of how his late wife Alma was held at gunpoint as she delivered a rebel's baby, and of how the couple raised their three children in one of the most dangerous places on earth.
This past June, Bob shared these stories to royal couple Kate and Will, at a royal garden party set in the grounds of Hillsborough Castle. On his conversation with Kate, Bob said:
"I told her that I was out twice in the Congo in 2014 and that unfortunately the situation isn't an awful lot different now compared to when we lived and worked there. Problems can arise at any moment."
The event follows brutal massacre claiming the lives of at least 70 people this summer just miles away from where David, now Tearfund's Director in the Democratic Republic of Congo, resides.
David followed in his parents' footsteps when, after years of study in the UK, he began working in Congo, following in his parents' footsteps. He now leads aid and development operations on behalf of Tearfund, a Christian charity working in the world's poorest places.
With stories of horror and hope, exclusive film footage and music from the New Irish Choir and Orchestra, the event is not to be missed.
The event will be held at Shankill Parish Church in Lurgan on Friday, 21st October at 7:30PM. Tickets can be bought at www.tearfund.org/ni or from the Parish.
Read more news:
Shocking state of car park and Ogle Street entry leaves residents sick to their stomachs!
Two men in suspicious approach to young girl at county Armagh school
One man now stable following Portadown crash; another remains critical
Major resurfacing scheme set to begin from Portadown towards Armagh
Bridesmaid hoping to land dream wedding band for best friend with social media campaign
Four teenagers remain in hospital after car lands on roof on Mahon Road
Fantastic self-catering glamping pods given planning approval in stunning setting
Armagh writer Stuart Neville sets Hollywood buzzing with latest psychological thriller
Five weeks of sewer works to begin in Armagh city next week
Sign Up To Our Newsletter