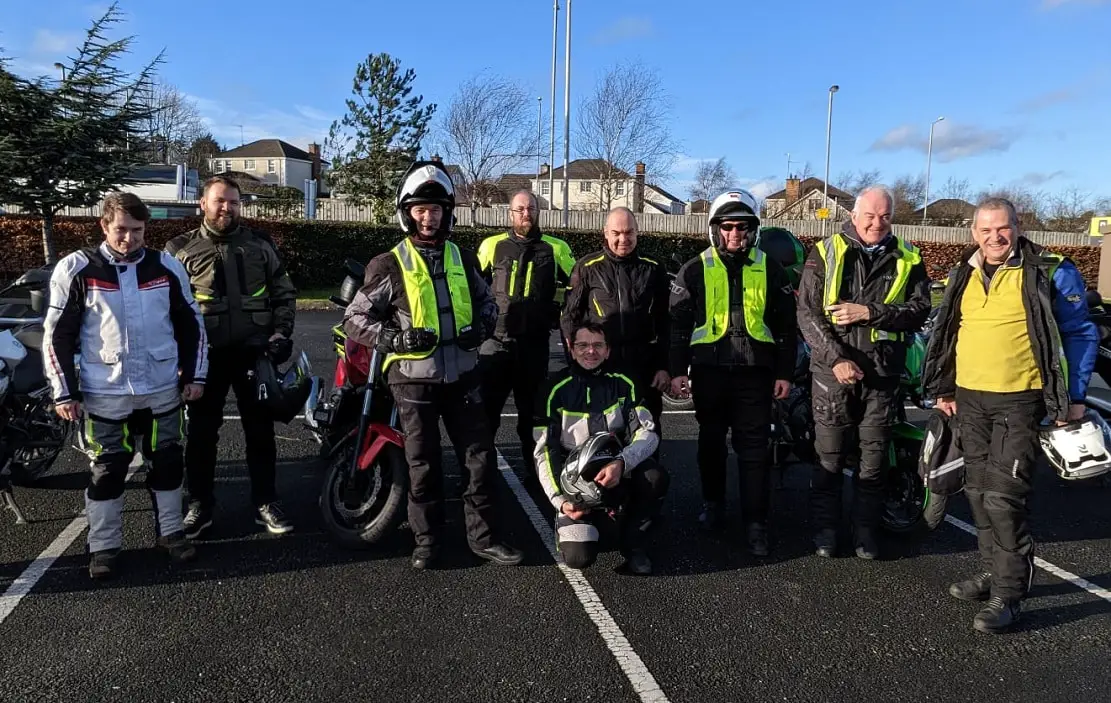 As a former member of the emergency services and the first paramedic in Northern Ireland, Dromore man Harry Whan is only too aware of the dangers of the roads and the devastating consequence of accidents.
And although he retired in 2020, he had been sharing his driving knowledge and expertise to make people better drivers and riders and help prevent accidents.
Harry is one of a number of people who hold advanced driving certificates and who volunteer their time to train motorists – both in cars and motorbikes – as well as mentor other trainers.
They are all members of the Southern and Mid Ulster Advanced Drivers and Riders – a local group affiliated to parent charity IAM RoadSmart, also known as the Institute of Advanced Motorists.
Last year, the group was invited to Armagh for a motorcycle road safety event organised by the family of local firefighter Gary Hamilton who died in a motorcycle crash in 2018.
Membership is open to everyone, of all ages, and there is a social aspect too, with outings, organised road trips and other events.
Harry (63), a keen car and motorcyclist enthusiast, was recently elected president of the group.
Explaining his passion for what he does, he said: "I worked for the Ambulance Service and was also a retained firefighter for years and I responded to multiple casualty incidents throughout the Troubles.
"During the Troubles there were many incidents which hit the headlines and many, many people were killed – and I am not undermining that at all – but during the Troubles, apart from one year, there were more people killed on the roads annually than there were in terrorist incidents.
"My motivation comes from the situations that I've been called to and seeing the injuries and death on the roads of Northern Ireland throughout my career.
"Those scenes, a lot of them never leave the people who deal with them."
Harry, who also worked as an ambulance driver instructor, said one of the things he teaches people is not only how to drive more safely, smoothly and efficiently but also to "watch out for other people who are making mistakes on a daily basis".
"There is a lot of bad driving out there and I think it's getting worse, and I don't necessarily think all of the technology in the cars is making things safer," he said.
"We would say to people who have done their basic driving or motorcycle test to consider doing a more advanced form of driving.
"You might see this as just doing another test, but  it's about changing the way you think about driving or riding your vehicle and to drive more safely and observe better."
Harry said he is looking forward to helping more people become observers (mentors), who will then go out and teach other people.
"I am at an age – I'm 63 now – where I am hoping I can pass on my knowledge developed over the years and other people can take the baton," he said.
"I got my driving test in 1976, I did my advanced driving in 1981 and I am still learning. I was talking to a young girl and her boyfriend who have recently got motorcycles.
"The can't wait for the better weather until they can sign up for this course."
Committee member Gavin Black said not many people know of the group, although its members come from a wide area, including the Republic of Ireland.
"People join for lots of reasons. We have a Polish guy, Stefan, who learnt to ride a motorcycle at the age of 50. He came to us and we put him through his advanced test, and he actually rode to Poland and back last summer," he said.
Anyone interested in joining the group or finding out more should contact David McLellan on 07397 013891 or send a message via its Facebook page.
Sign Up To Our Newsletter