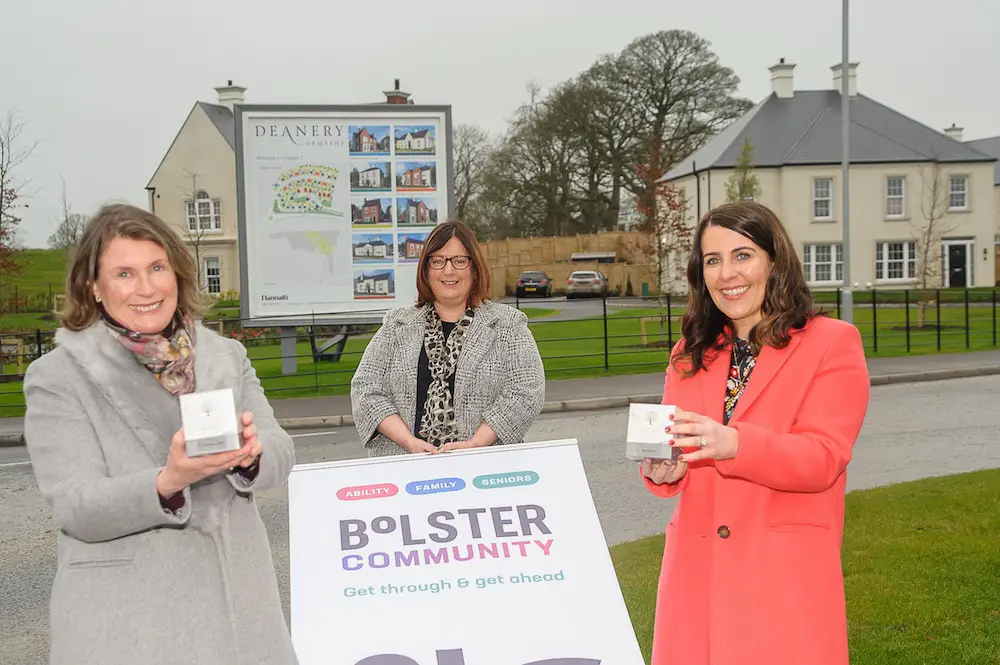 Bolster Community today announces a partnership with luxury home developers, Deanery Demesne that will help the community support charity continue to provide a vital safety net for the most vulnerable in our community.
Doing good also means doing good business for Bolster Community. It is a charity offering practical support for individuals and families across Newry and Mourne as well as a Social Enterprise, selling luxury gifts, handmade by young adults of mixed ability.
All profits of its 'buy social' products go back into supporting its vital work.
Surrounded by the calm of the countryside and energised by the historic city of Armagh, Deanery Demesne is a collection of homes inspired by the grandeur of The Deanery.
Having found their ideal home, residents of Deanery Demesne will be welcomed to their new home with a special gift – a luxury soy wax, Acorn candle that has been lovingly handmade at Bolster Community.
This buy social gift is a gift that keeps on giving. It supports the young adults with additional needs who make the candles and provides much needed funding for Bolster Community's charity services that support the most vulnerable in our local community.
Jill Armstrong, Director at Deanery Demesne explains the company's decision to adopt a buy social approach: "Going above and beyond for our customers and the local community is a mindset shared by Deanery Demesne and Bolster Community. Adopting a buy social approach allows us to give our customers an extra special gift, handcrafted by the fantastic team of volunteers of mixed ability.
"Our mission is to create perfect homes in an idyllic setting. Delighting our customers while giving back to our local community makes Bolster Community the ideal partner for us and their luxury candles, the perfect welcome home gift."
Allison Slater, Bolster Community's Operations Manager, commented on the partnership and what it means to the charity to have local business support: "Through this partnership with Deanery Demesne, we're helping to create a better home for
everyone – Deanery Demesne residents, the young adults of mixed ability candle-makers to have the safe place that they call home at Bolster Community and the homes of those in our society that are struggling in these challenging times.
"Incredible 'buy social' partners, like Deanery Demesne, make a massive difference to the local community. Purchasing our gifts provides much needed funding to support our work in helping children, families and communities to get back on their feet.
"This partnership demonstrates how local businesses partnering with us to support the most vulnerable in our local communities not only makes great business sense but delivers positive life- changing impact in local people's lives," said Ms  Slater.
Bolster Community has the privilege of supporting countless children, parents, individuals of mixed ability and seniors to get through and get ahead. If you or a family member need help or you are able to help Bolster Community do more good, please get in touch with the team: 028 3083 5764 or info@bolstercommunity.org
Sign Up To Our Newsletter