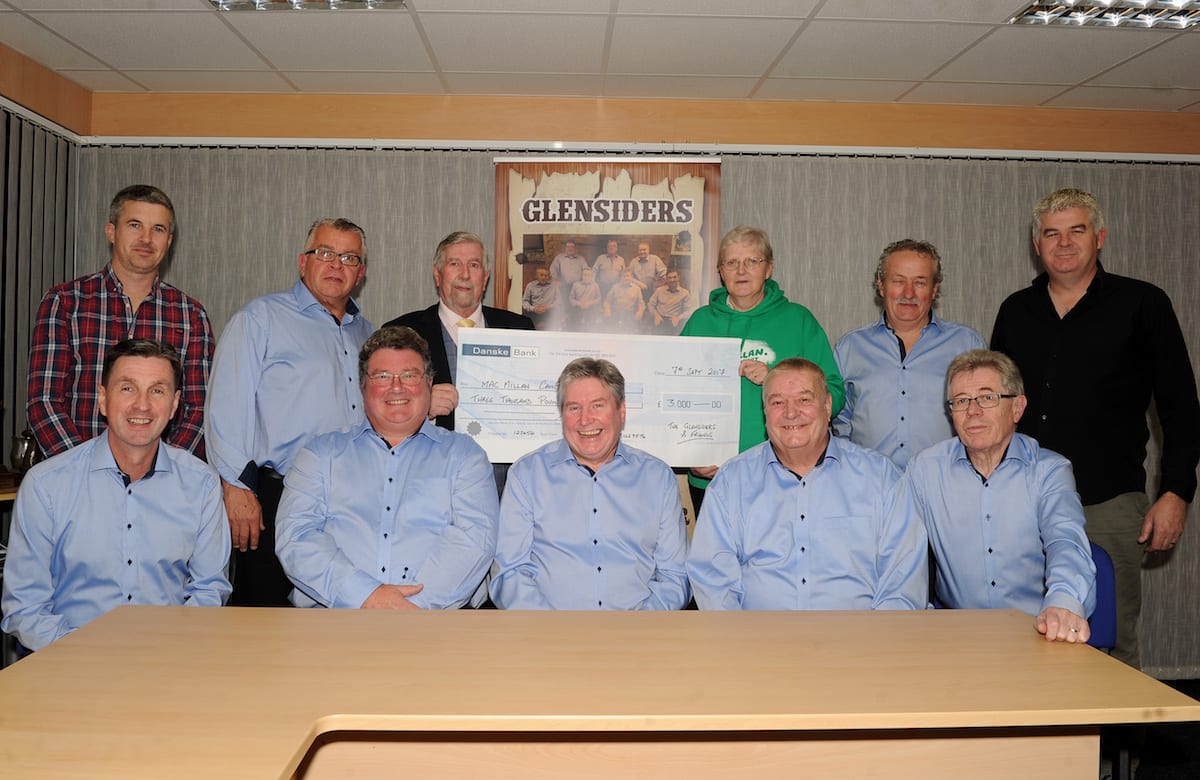 Dance band The Glensiders re-formed after 18 years away from the circuit with a special concert to raise money for charity.
At Christmas past, well-known Keady man, Michael Haughey received the news that no one wants to hear and within weeks he had been in and out of hospital having had one kidney removed with the future of the remaining one in question.
His family members were immediately asking themselves how they could show their appreciation to the doctors and medical staff involved and when Michael suggested to his brothers that they might consider reforming The Glensiders family band and organising a dance to raise funds for Cancer Research.
And everyone quickly got behind the idea.
An organising team was quickly mobilised and within a few weeks The Glensiders website was launched and selling tickets Online for the event, which took place Thursday, September 7 at the popular country-music venue – The Glencarn Hotel in Castleblayney.
A huge crowd of Keady people attended on the night along with close friends from across Ireland together with a number of family members who travelled from places as far away as Australia, South Korea and Canada.
The Haughey family and band members of The Glensiders, together with support act, The Preacher Caseys, were all delighted to be involved in staging this hugely successful and worthwhile event and would like to extend their thanks and appreciation to all who attended the function, along with those who bought tickets but were unable to make it, and also to those who simply donated to this cause.
A nice video memento for anyone who couldn't make it on the Night is available in the form of a 2-disc Box-Set of the entire evening, available from Video Creations Ireland with all proceeds again going to MacMillan.
Go to: www.videocreationsireland.co.uk or call Michael on 07879 656 499.
Picture of the Glensiders and Preacher Caseys presenting the Cheque to Daphne Kilpatrick from MacMillan Cancer Support. Back Row L to R: Johnny Smith, Harry Leonard, Michael Haughey, Daphne Kilpatrick, Bob McGleenan, Simon Smith. Seated L to R: Paul Smyth, Gerry Haughey, Dermot Haughey, Sean Haughey, Francie Walker.
The Glensiders big night. from videocreationsireland on Vimeo.
Sign Up To Our Newsletter