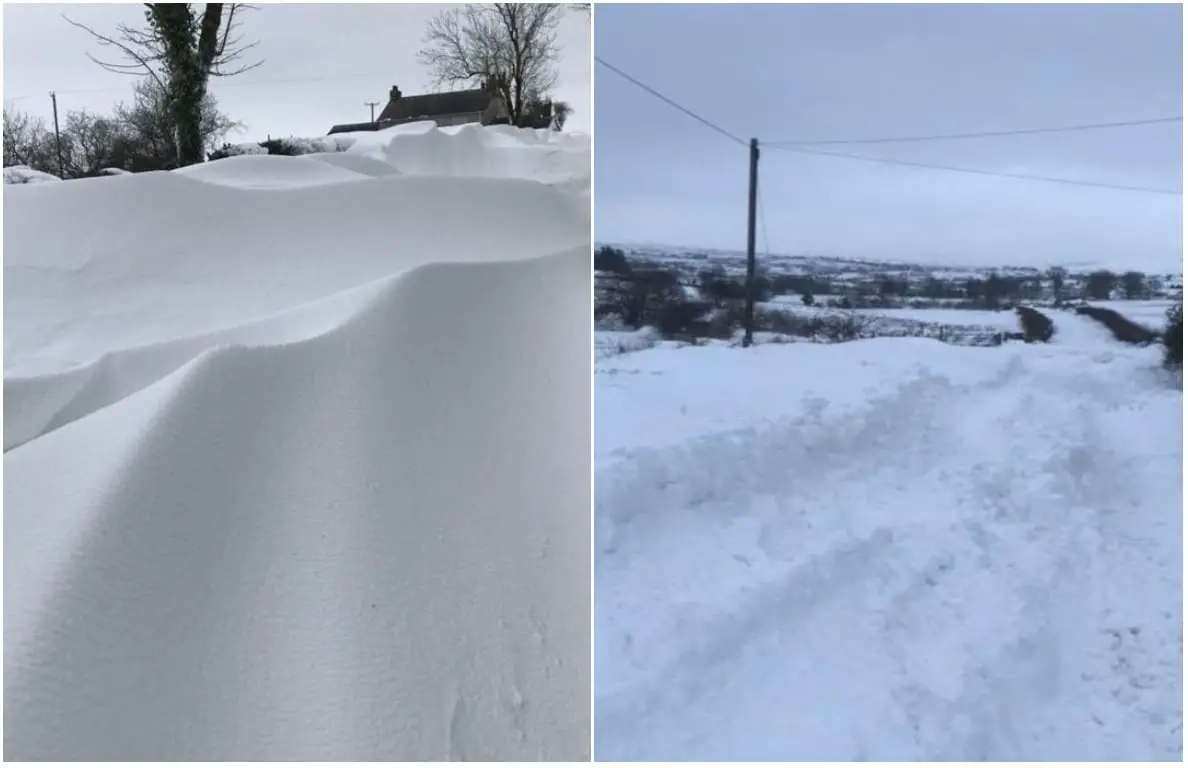 There are desperate attempts to clear roads with upwards of eight foot of snow in many rural parts of Co Armagh this afternoon.
Areas in and around Keady and Newtownhamilton have been particularly affected with SDLP councillor Sharon Haughey highlighting the urgent need for intervention in Clady.
The Cusher representative has urged Transport NI to come out to the area with a snow plough as a matter of necessity.
"We are in a very serious situation now as Clady is cut off from all main routes.
"This means many carers can't get to elderly and sick. Also God forbid if there was an emergency there is no way emergency services would get in.
"I have taken photos to illustrate how bad the roads are and have urged Transport NI to make this area a priority.
"I appreciate they are focusing on keeping main routes passable but there is a whole community in Clady that is completely isolated today and that is not acceptable."
Meanwhile Sinn Fein's Darren McNally has arranged for a large dump of salt to be dropped outside the business park on the Annvale Road in Keady as the town continues to struggle with the overwhelming amount of snow.
It is expected to be left by mid-afternoon and people are urged to act responsibly and use only what they need.
Elsewhere, emergency responders are continuing to work around the clock to keep people safe as a yellow weather warning for snow and ice will remain in place for Northern Ireland into Saturday.
Multi agency preparations have been ongoing since Monday.
Representatives from Northern Ireland departments, councils, utilities and emergency services met this morning to ensure the collective response is as effective as possible.
The Department for Infrastructure has advised that road conditions in the south east in particular are extremely difficult.
While efforts continue to clear snow from the main roads and snow ploughing is ongoing, local people should only travel if necessary.
Salting on the scheduled road network across the rest of Northern Ireland will continue and road users should continue to take extra care if travelling.
The PSNI has asked that motorists slow down, use adequate lights, keep a safe distance from the vehicle in front and be as careful as possible if driving in the difficult conditions. They have also urged the public to check on their neighbours during this period.
Health providers are urging the public to check on the elderly and vulnerable relatives during the cold snap. Trusts are advising the public to check social media for latest updates on services.
Sign Up To Our Newsletter