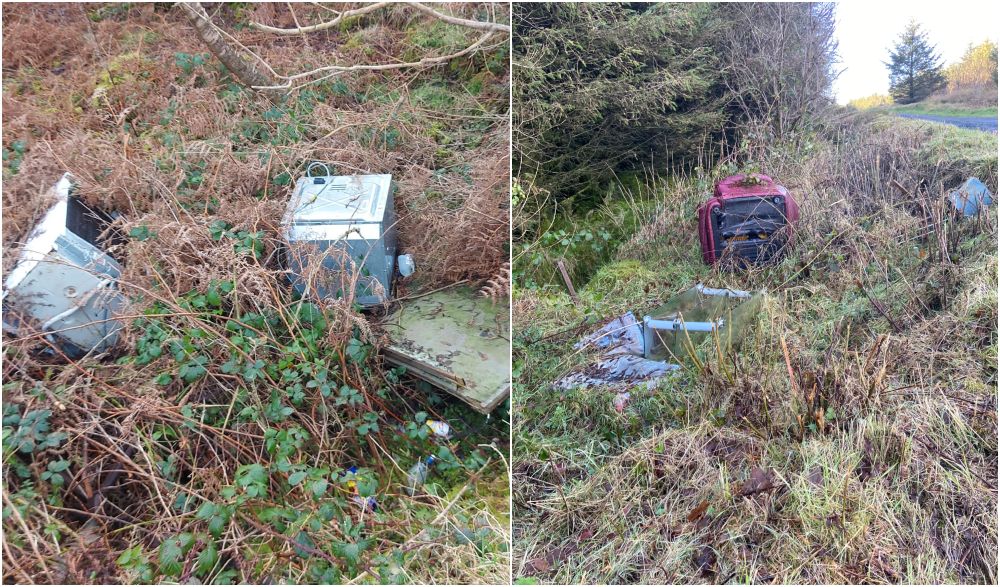 Two of the most picturesque areas in all of county Armagh continue to be blighted by shameful fly-tippers.
Carrigatuke Viewpoint and the Ring of Gullion have, despite their natural beauty, long been associated with the scourge of dumpers due to their remote locations – and this week it has been no different.
Sinn Féin councillor Mickey Larkin blast the latest incident (pictured left) at the foot of Slieve Gullion in south Armagh.
"There can be no excuse for these acts, the people involved in this have no regard for our communities or our environment," said Councillor Larkin.
"I have been in contact with both the council and the Ring of Gullion and the dumped material is to be removed shortly.
"It's important that we see proper enforcement taken by the council to help tackle this issue, these people cannot dump as they see fit and expect rate payers to pick up the tab.
"I would encourage anyone with any information on this incident, or others, to contact myself or the council."
Meanwhile, SDLP representative for the Cusher area, Emmajayne McKernan, said the dumping at Carrigatuke (pictured right) is "utterly shameful for anyone who thinks it's ok to drive to one of Armagh's places of natural beauty and dump their rubbish here".
She added: "Anyone who does this is blighting our beautiful countryside, and putting wildlife and our natural environment at risk. Local residents are appalled at this blight on their beauty spot which is widely enjoyed by local walkers.
"I have contacted the council's environment team to report this dumping incident and have asked them to clean up this mess. Council staff will go through the rubbish to see if there is any material that will identify the culprits.
"Dumping is an environmental crime and those responsible should be aware of that. There is absolutely no excuse for anyone to dump when our recycling centres are widely accessible and free to use. Those responsible should hold their heads in shame."
Sign Up To Our Newsletter