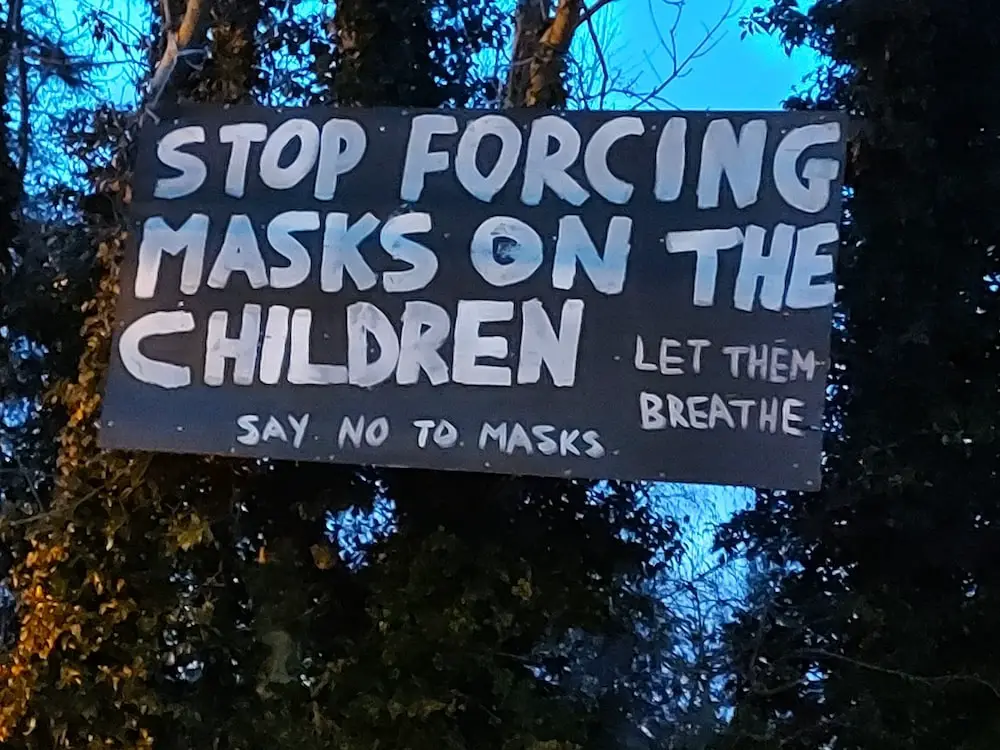 A number of parents of children attending St Patrick's High School in Keady have hit out at those responsible for erecting an 'anti-mask' sign in the area.
The huge sign is painted with the words "Stop forcing masks on the children. Let them breathe. Say no to masks."
And those who made it have attached it to trees in the vicinity of the Middletown Road school in plain view of all those coming and going.
Several parents contacted Armagh I to complain about the appearance of the sign and have asked those with authority to intervene and have it removed.
One branded it "hugely irresponsible".
She said: "My son goes to this school and I don't like this type of message on display. At a time when things are beginning to ease up and we are looking at coming out of lockdown it is hardly right to encourage people to take this slack attitude.
"If we all subscribed to this type of thinking we'll be back at square one and in lockdown again before you know it. They are already talking about another surge and this type of message is one sure way of bringing it about even sooner."
Another mum said she did not want her child exposed to this type of sentiment.
"I've been driving it home about how important it is to stick to the rules and to do everything she can to try and stay safe. This goes against everything which she is being taught in our home.
"It hardly makes sense. If you don't want to wear a mask that's one thing. You can do that, it's up to you, take the risks, but don't try and tell my child or others what they should and should not do.
"Children are impressionable as it is. If you really are opposed to the wearing of masks – although why I don't understand – take it up with the politicians at Stormont instead of ramming this type of message down the throats of kids going to their school.
"I think it is time some of the town councillors stepped in and took action to have this removed. It's not welcome."
Sign Up To Our Newsletter