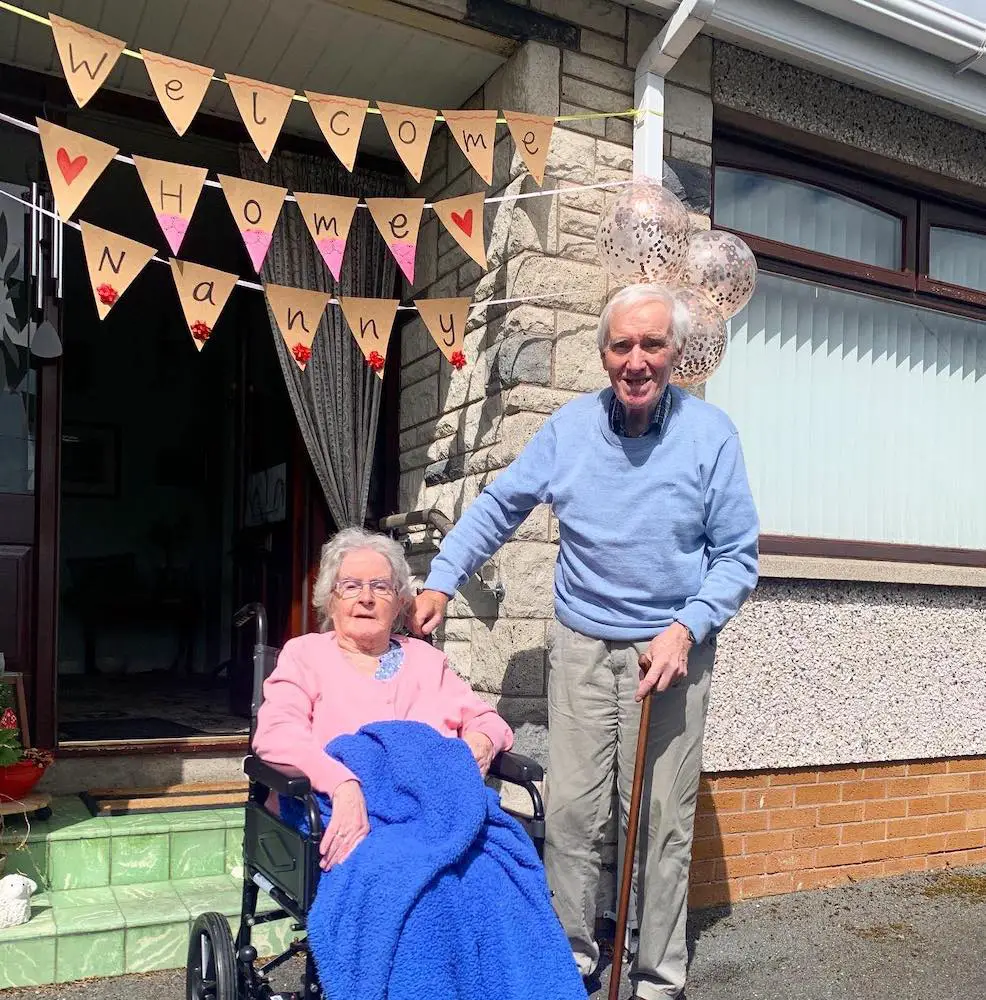 A Co Armagh care home resident has beat Covid-19 just weeks after her 88th birthday.
Vera McCoy, of Tassagh, made the triumphant return home to her family today (Friday) after being given the all clear.
She had been a resident at Dunlarg Care Home, in Keady, when she tested positive for the coronavirus.
Her daughter, Anne O'Hea told Armagh I that the family were "indebted" to the staff at the care home, saying: "We are a very, very fortunate family that we are taking her home and not burying her."
Explaining how the news was broken, Anne added: "She was tested for Covid, I think because there had been incidents of it in the home, although she was visibly unwell as she had been fighting a kidney infection.
"The test was done on a Tuesday and we were told on the Thursday that it had come back positive. It was horrifying news. That was Thursday the 16th.
"She was in bed and battling it – very, very weak – and her birthday was the 20th April. She turned 88."
Vera's daughter said that it had been distressing for the family who could only stare in through the window to wish her happy birthday.
Anne continued: "When all the residents were confined to their bedrooms that was quite distressing. We hadn't been able to come in and see her for a number of weeks. That is in no way being critical of the care homes, they were following protocols and doing the best they could.
"When I went down I would take my father with me, he would be 87 in June. He has Parkinson's and dementia, so we've been nursing him at home.
"It got to the point on days in which he was fit, I would've taken him down and he would've stood at the window and we had to talk to mummy via the carers."
Anne was full of praise for the carers, saying the had been brilliant and had even moved her mother's bed closer to the window so they could speak to one another through it.
She said: "I honestly believe that the good care that she got, along with her own wee bit of fight, because she's had three major strokes, and prayer, the good wishes, the candles, and all of that were a huge factor in it."
Vera arrived back to her house at around 11am on Friday, to be greeted by family who had placed a banner welcoming her home.
She believes this would not have happened had it not been for the care at the nursing home.
"We would very much like to praise the nursing staff, the caring staff, the cleaning staff, the cooks, everyone in Dunlarg Nursing Home," said Anne.
"Because those people have gone above and beyond, the care they've given, the love they've shown – we were deeply upset when we were contacted and I really think those people are worth their weight in gold.
"They are some of the worst paid people in society. We always knew they were very good, but in times like this, you truly realise how amazing these people really are.
"Many of the caring staff in those homes are quite young girls, and they show a maturity way beyond their years in their compassion and kindness and empathy.
"The nursing staff are amazing. They cheered and clapped when we got the positive news that mummy had come back as negative for the disease.
"We are delighted to have mummy home, although it is rather overwhelming, as with our small family base it is hard to think how we will manage to nurse both her and daddy, but we feel blessed."
Anne also wished to thank all of those in the community who have helped the family during this time.
She said: "The community spirit in a small town like this has been amazing. You can just feel the love. My sister works in a shop and she has just given up work and everybody would've been asking and sending best wishes.
"We also benefited immensely from the generosity of Basil Sheils – they have been delivering meals to daddy all this time and that has helped me immensely.
"I have not been able to shop for five weeks because, besides myself, the carers and my nieces, no others were allowed to come into the house. We offered a token but they would not accept payment."
Anne added: "The other thing with local support, the local Centra is now offering delivery and that has really helped with making everything manageable.
"All in all, without that whole network of support, including the social workers, doctors and nurses, we would be lost."
On top of all of this, Anne revealed that her son's partner was also due to give birth yesterday, so in the midst of all this the family are also awaiting a new arrival!
She said: "It is rather a hectic time in the McCoy – O'Hea family, but we are blessed and just happy to have mummy home."
Sign Up To Our Newsletter