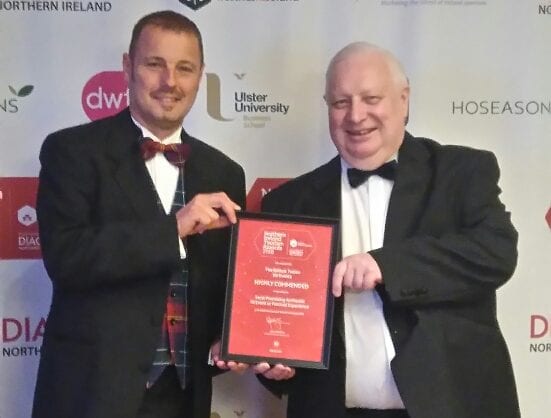 The Belfast International Tattoo has been named Hospitality and Tourism Business of the Year in the 2018 Business Eye First Trust Small Business Awards.
The prestigious award was presented to Keady man and Drum Major of the Belfast Tattoo, three-time world champion Brian Wilson MBE, and Event Producer Colin Wasson, at the BEFTAs, held at the Crowne Plaza, Belfast.
It was the second accolade bestowed upon the successful event in the past week.
Last Thursday the Belfast International Tattoo was also highly commended in the Most Promising Authentic NI Event category in the 40th Annual Northern Ireland Tourism Awards.
"What a week this has been" said Colin Wasson. "All our hard work is being rewarded and we are very proud indeed. We are a small team with a big but simple vision: to showcase the artistry of the marching band within the context of the outward-looking Ulster Scots culture.
"One in three of our audience travels to the Belfast event from outside Northern Ireland. They are staying here in the province and spending here in the province, so the event is increasingly generating business and other tourism and economic benefits for Northern Ireland.
"XO Events is a small business in growth and this kind of recognition is very encouraging indeed. Already we have expanded into Glasgow and our first Liverpool Tattoo takes place the week after the Belfast Tattoo this September."
Colin added: "I would again like to thank everyone who has participated in or spectated at our events and to the small team who work hard to make it all possible."
The Hospitality and Tourism Business of the Year award is aimed at Northern Ireland's growing number of small tourism and hospitality related enterprises. Also shortlisted in the category were Naturally North Coast and Glens, Lost City Adventure Golf and Rayenne House Holywood.
The Belfast Tattoo, held at the SSE Arena over three nights in September 2017, featured over 600 performers, attracted over 13,000 visitors, created over 7,000 bednights and generated over £500,000 in direct economic impact for Northern Ireland.
The event was recorded for subsequent television broadcast on the BBC securing a primetime Saturday evening slot on BBC2 last October, attracting a viewing audience over 80,000 across the UK and Ireland.
On the opening night, patrons were wowed by a planned RAF fly-pass overhead at the SSE Arena, Belfast.
The 6th annual Belfast International Tattoo takes place on Friday 7th and Saturday 8th September 2018 at the SSE and will showcase its most diverse line up yet with performances from the Royal Canadian Mounted Police, The Band of the Ghurkha Rifles, the Band of the Irish Guards and much more.
Sign Up To Our Newsletter