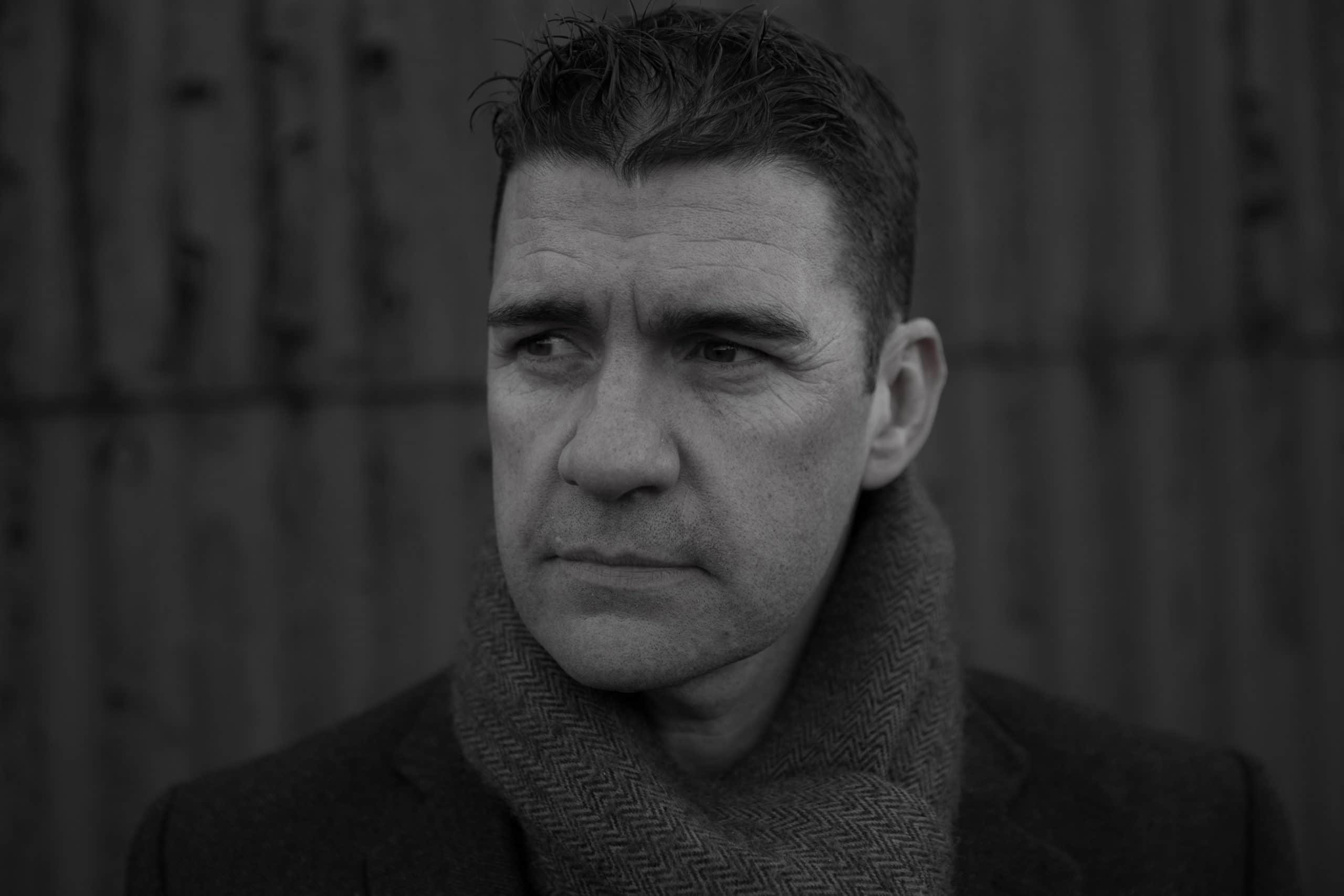 From the outside looking in, it would be easy to peer enviously at Designer Kitchen by Morgan and the many accolades the business has accrued over the last 11 years.
This small family run business, nestled in the border town of Keady, County Armagh, has continually proved to be one of the most successful kitchen companies in the UK and Ireland, winning a string of awards for their innovative and creative designs.
But this success has not come easily, and when recalling his childhood and how he grew up, owner Darren Morgan is clear about the challenges that needed to be overcome.
"When I was at school I remember talking to various careers' advisors and suggesting that I wanted to be a designer; you have to remember that this was the early 90's and at that stage, local opportunities in the field of design may not have been as good as they are now.
"At every turn I was reminded about how this profession lacked opportunities locally, and that if I was serious about it, I would need to move away in order to get a job.  This did not sit well with me as I am family-oriented, and proud of being from the Keady and Armagh area.  So, I never really had any intention of leaving long-term."
Darren had to make the difficult decision to park that heady notion of having his dream job and opt instead for "a real one".
However, this desire to stay around home was soon challenged again when Darren left secondary school.
"I was always into music, and I was passionate about playing the drums, probably because my dad played in bands all his life," he said.
"I was really lucky to fall in with some 'real' musicians at school and suddenly we had a band! We just gigged locally as we were only about seventeen at the time, but suddenly we were offered an opportunity to do a two-month residency in Bordeaux in the south of France.
"It was an unreal experience where somehow, I ended up being the singer and learning the songs on the plane to France, it was mad, as we were probably way out of our depth.  But it went so well we were invited back the following year, and the experience of being thrown in the deep end has probably helped me a lot."
Darren's accidental music career continued for another five years where he played with various bands touring England, Scotland and America.
During this time he managed to study Economics and Business Studies at both the University of Ulster and Queen's, but eventually the strong connection to his family and his hometown of Keady drew him back to his roots, where he ended up looking after the accounts at a local kitchen company.
And it was here that one chance encounter changed everything.
Darren recalls: "One day when there was no one in the showroom, a customer arrived unannounced. I had no experience of the showroom whatsoever and my role didn't include talking to customers or designing kitchens.  I had been told that if this situation ever happened there were three things I needed to remember; get the client to pick a door, a handle, and a worktop. So, in a nutshell, that's the extent of the training I got.
"So, on that fateful day I ended up just going out and having a chat with the customer who walked through the door. I found that this casual conversation ignited something in me, and I was hooked!
"I stayed with that company for a number of years and ended up designing some amazing projects. But eventually it came to the point where, I suppose, there was a parting of ways; the approach I wanted to take was bold and very design-focused, so I decided to take the plunge and go it alone.
"But, you have to remember, this was 2011 and we were in the middle of a recession.  It was a proverbial leap of faith and a jump into the unknown. Showrooms were closing, businesses were shutting and things did not look great."
But Darren was not alone and pulled on his strong family ties to gain the confidence needed to get the business started.
"It might sound clichéd, but people always say that behind every good man, there's a better woman, and I have to say that I am very lucky to have my wife, Helen.
"Helen has been fundamental in shaping the business and everything that we do. It was actually Helen's support that pushed me over the edge and gave me the confidence to say, right okay, I'm doing this. I might be the face of the business, but Helen is the foundation and she's a brilliant designer as well."
However, passion and vision don't put food on the table and for the first three months of starting his business, Darren didn't even hear the phone ring…not once!
"We started off very humbly," Darren recalls. "I had a building but no showroom. I had a laptop and a table, and six sample doors, as it turned out, but I never doubted it from the start; it was almost as if this was the path I was meant to take.  But we had no clients, we had no business, no projects and the phone wasn't ringing. It was one of those things like, 'okay, I know I believe it, but I'd soon want to see it'."
So, the next stage was all about getting practical.
"I approached Invest NI because I wanted to get advice; there was a certain amount of funds that we could add into the business ourselves but that was limited. We obviously had a certain level of investment to undertake on top of that in order to get things moving.
"It wasn't just the case of Invest NI opening their doors and offering me a grant either. I had to create a business plan, and Invest NI helped by aligning me with a business advisor who helped to format a solid model for the business.
"This took place over those first three months when we were just starting out, and maybe this process helped me to retain focus and distracted me from the fact that we really didn't have a business yet. We needed some funds to advertise the business, we needed to tell people our story and showcase our services. So, luckily, the consultant we were working with was brilliant, and he helped to formulate a solid structure within the business and get our business plan ready."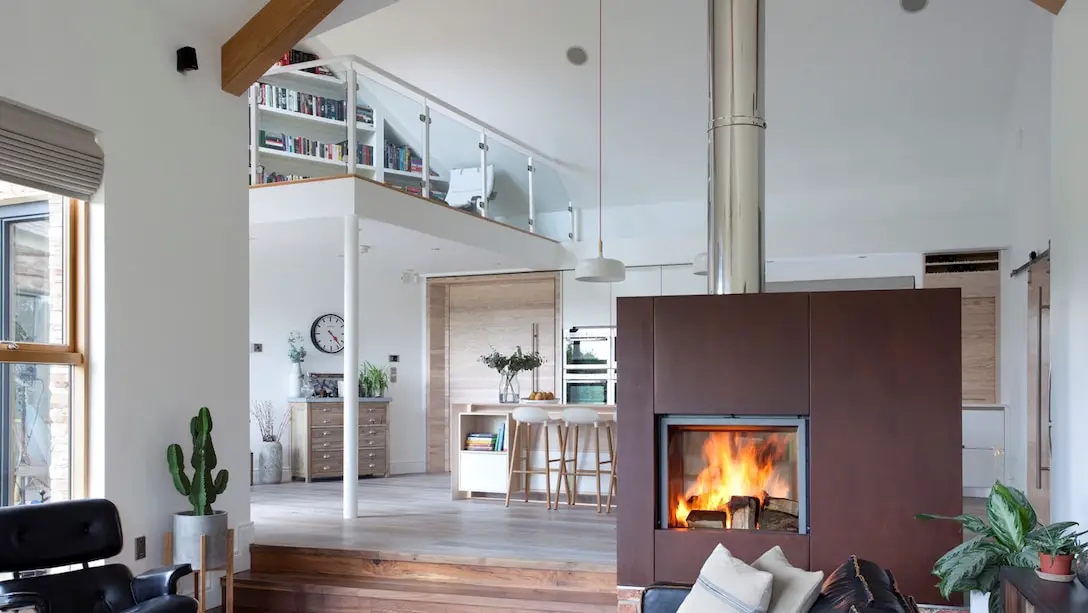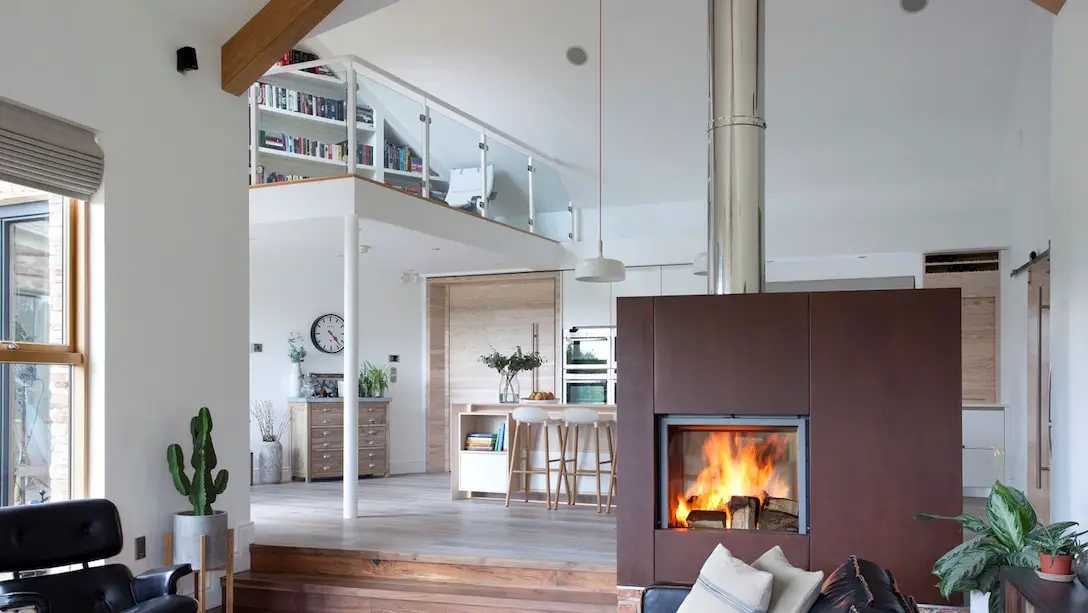 The written part the business plan was 52 pages long but with the help of Invest NI, Darren was able to go to the Bank of Ireland, and secure a small business loan.
"Never undervalue the importance of specialist knowledge," Darren emphasised. "A grant may not be forthcoming for a new business; but seeking advice from an expert can be as valuable as money. Remember, no matter what you do for a living, none of us can be an expert in everything."
Over those first few years Darren and Helen worked tirelessly to get the business off the ground. In an effort to get noticed Darren started writing about design for magazines and websites and was soon getting published in the UK, North America and Asia, and eventually, over time, and in the throes of a catastrophic recession, the business started to get noticed for all the right reasons.
"It was such a relief to be honest, especially when the very first kitchen order came in.  It was December, right at the edge of Christmas and I got a small deposit on a kitchen project we'd been working on. I'll never forget it. I remember driving down the road from Belfast, and thinking 'thank goodness, we'll be able to put Christmas over', that was the mindset. It was as basic and simple as that. I know you can have belief and passion about things, but you need results to put food on the table."
For Darren, times may have changed, but no matter what image social media might present – the glamorous award ceremonies, interviews and magazine articles – the Keady man believes that the hard work remains.
"We've been lucky to have seen and experienced some success, but we work incredibly hard. I might be at a glitzy awards ceremony one day, and then the next day, I'm on my hands and knees on site measuring up, or I'm up a scaffold in the freezing cold. This is the reality; it's hard work all the way.
"People always assume that being your own boss is great, with loads of fringe benefits, the reality is that your work becomes an obsessive passion, that doesn't switch off, and you end up working more hours than you should and putting every ounce of energy into making it a success.  You only get out of life what you put in!"
While hard work is a prerequisite, some things are constantly changing, especially how Darren promotes the business.
"Gone are the days of print," he adds. "Instagram, Facebook, and Linkedin are huge channels for us. We offer a unique, design led service and product range that delivers amazing kitchens and interiors, so the result is very visual. We're lucky in that sense as we can visually show off our finished installations in all their glory."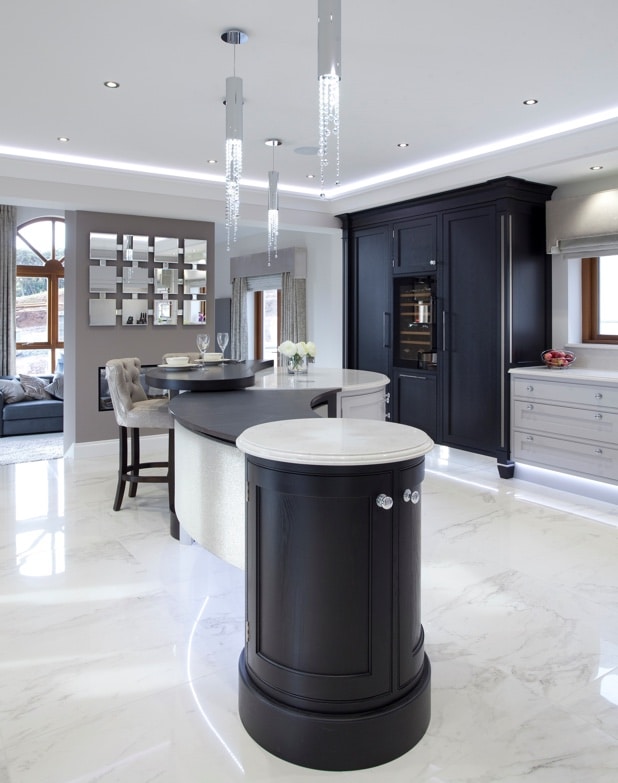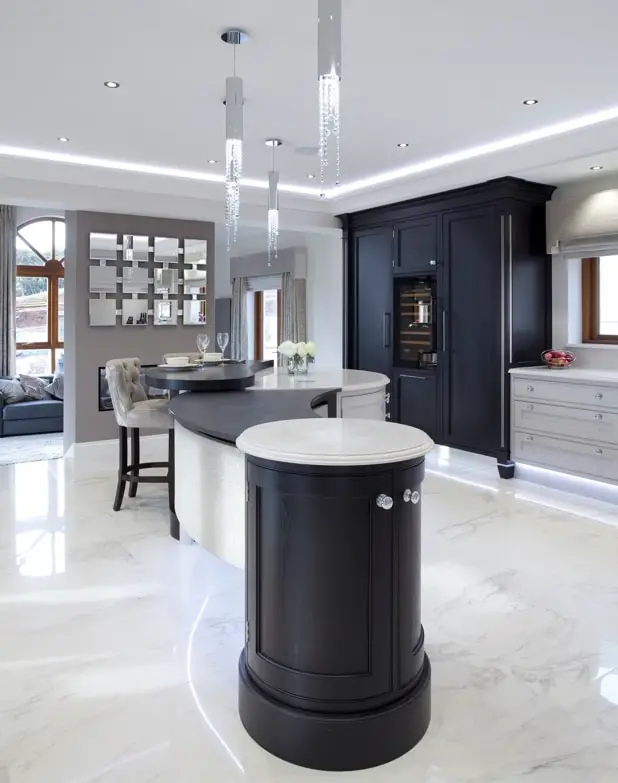 Winning awards, such as the KBB Designer of the Year last month, also helps…
There's a humility in his response to being quizzed on that.
"The KBB award was huge – absolutely huge; but what absolutely floored me about the experience was the number of messages we received immediately afterwards. We got messages of congratulations and support from all over the place; from old and existing clients, other business people and also from the local people of Keady and surrounding area. I was floored by it, because Helen and I just go about our work, we do our thing, and you don't really think anybody's paying attention".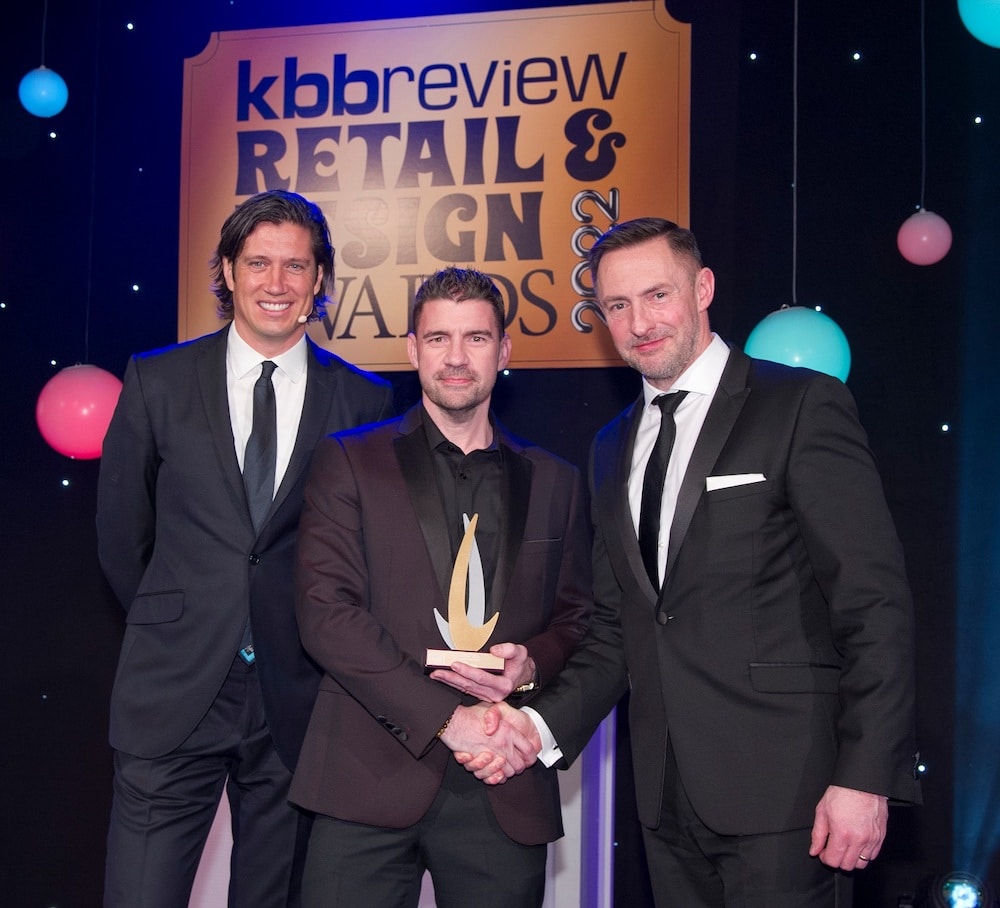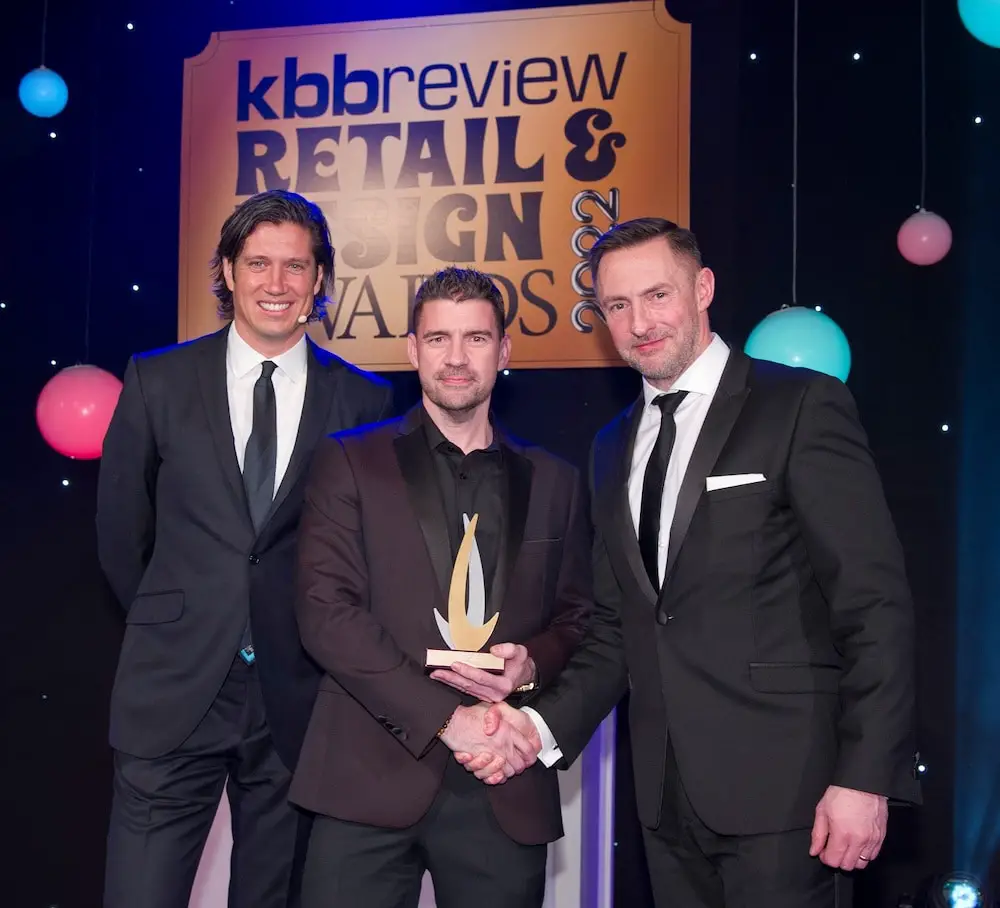 "But you know what, the people of Keady really got behind it. I was so pleased and humbled by some of the comments that were sent, it's great. Just because you're from a small rural area doesn't mean that you can't achieve great success on the bigger stage."
"And to achieve success, the bit of advice Darren imparts is simple: "Make sure you have a good plan and stick to it. Believe in yourself and make sure your passion comes to the fore – be absolutely obsessive, never give up and be prepared to work incredibly hard.
"If you can see it in your head, you can hold it in your hand!"
You can follow Darren's journey on Instagram here.
This interview first appeared in our NI Entrepreneur newsletter, which details the stories of founders behind the businesses. You can sign up to it here. 
Sign Up To Our Newsletter