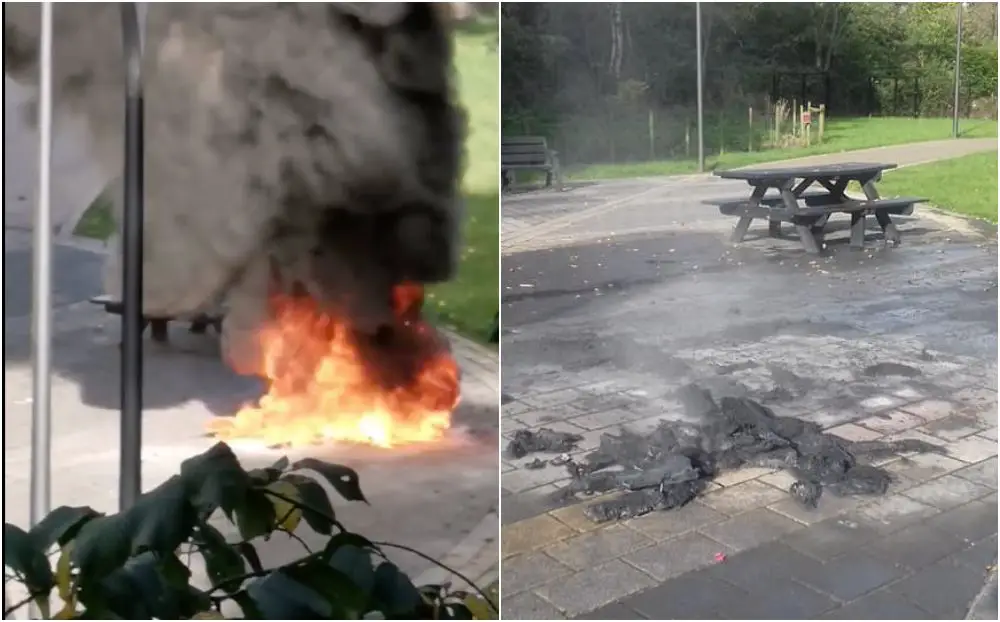 A number of benches were destroyed in a mindless broad daylight arson attack in Keady earlier this afternoon (Thursday).
The blaze broke out in the Keady Glen / Mill Walk area in the centre of the town a shortly before 2.30pm.
Smoke could be seen billowing from the walkway after a number of benches were set on fire using a number of tyres; one burnt to a cinder – the other now barely useable.
It comes almost two years to the day the glen was re-opened to much fanfare following a £190,000 environmental improvement scheme.
Sinn Fein Councillor for the area, Darren McNally, said it was a "heartbreaking" sight.
"It really is unbelievable that someone, or persons, would do this," he told Armagh I.
"This was done in broad daylight, in a park created for the residents of the town and surrounding areas; it's such a mindless act."
Councillor McNally said community representatives work so hard to keep the area clean and tidy for everyone to enjoy.
"I really would condemn this in the strongest possible terms; the glen was opened two years following a huge investment in the town, coupled with the new Tommy Makem Centre and play park, it's heartbreaking to see this today."
He added: "Before that, the area had been somewhere where there were anti-social elements but with the environmental improvement scheme, it was made much more user friendly and inviting to the public."
Councillor McNally believed the culprits more than likely scaled the locked gates to get onto the walkway but said they were due to be opened up again following a clean-up of the area.
Meanwhile, the ratepayer will be left footing the bill for this incident.
A NIFRS spokesperson said one crew from the nearby Keady station attended the incident at 2.25pm.
"Firefighters were called to a large quantity of tyres on fire on Market Street, Keady this afternoon.
"Firefighters used a jet to extinguish the fire. The incident was under control by 2.45pm and the cause of the fire is believed to be deliberate ignition."
Sign Up To Our Newsletter