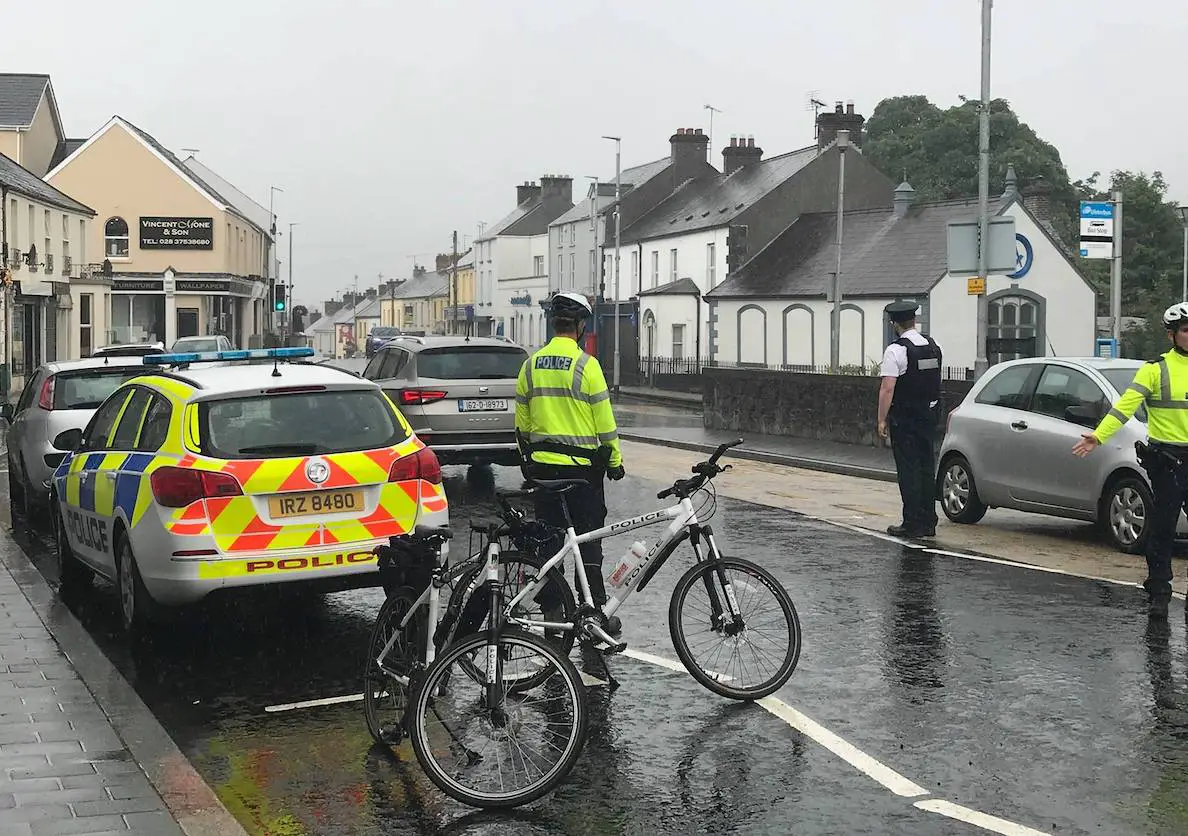 A man has been sentenced to three months in prison for a what a district judge has described as a "catalogue of serious offences".
Court heard that one witness feared that the 46-year-old would knock down children as he drove through Keady.
Kevin Fitzpatrick, 46, of Cookstown, Co Tyrone, pleaded guilty to driving whilst disqualified, dangerous driving, failing to provide a breath specimen and using a vehicle without insurance at Armagh Magistrates' Court on Tuesday.
Court heard that on October 27, at around 6pm, police received reports of a suspected drunk driver on Kinelowen Street.
The van, driven by the defendant, was seen swerving on the road over white lines, travelling on the wrong side of the road and hitting both kerbs.
One witness stated that they feared that the defendant would knock over a child crossing the road in Keady.
Three members of the public tried to get Fitzpatrick to pullover; he did for a brief time before driving off again.
The defendant eventually stopped outside Pizza Mia in Keady, where the keys were taken from the ignition and handbrake pulled to prevent the van rolling back.
Police then arrived. Checks showed Fitzpatrick had been disqualified from driving for 18 months on April 4, 2018, at Craigavon Magistrates' Court.
The defendant refused to submit to a breath test either at the roadside or whilst in custody.
Court heard Fitzpatrick was insured on the vehicle but this was invalid as he had not disclosed to the insurance company that he was a disqualified driver.
When interviewed, the defendant said that he was aware that he was a disqualified driver and stated he had been drinking the night before.
Defence counsel said: "This is a plea at the earliest opportunity, there is a positive recommendation from probation.
"Mr Fitzpatrick is essentially an alcoholic and he needs to sort that out."
He continued: "There was a possibility he could have caused someone serious harm. This was atrocious behaviour.
"He had very little memory of the incident as he was just coming off a drinking binge."
District Judge Peter Magill stated: "With respect to each of these offences the maximum is six months in prison and you have 13 prior convictions.
"The problem is you did not just drive whilst disqualified, you also drove dangerously and six o'clock on a Saturday night with people all over the road."
He added: "You did not co-operate with police and failed to provide a specimen of breath. Any one of these matters in this serious catalogue of offences carries a sentence of six months in prison.
The district judge commented: "There must be a proper and appropriate punishment, people must know that you cannot behave in this way without consequences."
Fitzpatrick was sentenced to three months in prison and disqualified from driving for four years.
Defence counsel made court aware that the defendant wished to appeal this sentence and he was released on his own bail of £100.
Sign Up To Our Newsletter