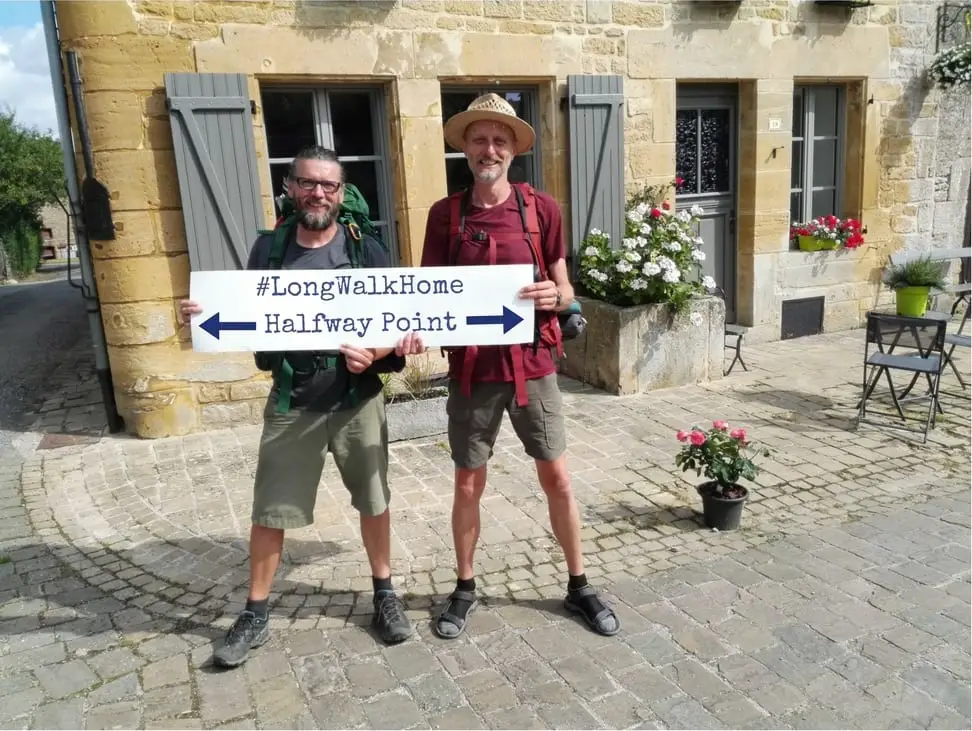 An Armagh man has reached the halfway point on his epic 'Long Walk Home' for Dementia Research – a 2,500km+ Trek across Europe to Northern Ireland to raise awareness and funds.
Armagh man, Eamonn Donnelly and his good friend Sepp Tieber from Graz in Austria have just reached the half-way point on their epic 2,500km (1,550 miles approx) trek across Europe to Northern Ireland to raise awareness and much needed funds for dementia research.
They reached the milestone near the town of Antheny in Northern France as they make their way towards Calais, to catch the ferry to Dover, England.
Their journey will then see them trek across England and Wales, before taking another ferry from Fishguard to Rosslare in County Wexford, for the final leg northwards across Ireland to Eamonn's native home in Keady in County Armagh.
The expedition entitled 'The Long Walk Home' is inspired by the life of Eamonn's mother Margaret who died in April 2014 at the age of 71, having suffered from a rare and extremely aggressive form of dementia.
It is aiming to increase awareness about the importance of this issue while also raising funds for dementia research in Northern Ireland/UK, Ireland and Austria.
It has enlisted the support of The Alzheimer's Society in NI and UK as well as The Alzheimer Society of Ireland, who will both benefit from funds raised by the trek.
While Armagh is still the place Eamonn calls home, he has lived in Austria since 1990 along with his wife and three children.
Here he teaches English as a foreign language, but also with Sepp formed the Irish band Boxty which plays all over Austria and further afield. In the last year, they came up with the idea of 'The Long Walk Home', borne out of a frustration about the disease.
Eamonn outlines his motivation for the trek: "The idea for 'The Long Walk Home', from my adopted home near Graz in Austria to my native home in Keady, featured in many a late-night pub talk, but that's where it started and ended.
"When my mother Margaret passed away a few years ago, after suffering from a rare and extremely aggressive form of dementia, the idea took on a whole new meaning and purpose.
"Frustrated and feeling helpless that nothing could be done to alleviate the symptoms let alone cure this cruel disease, it became apparent to me and my family that much more needed to be done to understand and tackle it.
"The Long Walk Home' is a very small step along the way to doing just that, hoping to raise awareness and much needed funds for dementia research, while also honouring the life of an amazing wife, mother, grandmother and friend."
The two men set themselves a challenge to do the trek the old-fashioned way, climbing, trekking and camping all the way across Austria, Germany, France, England, Wales and Ireland.
The fact that it has coincided with Eamonn's 50th birthday also added a particular incentive.
Now six weeks into the trek and over 1250kms down the journey has been marked by many ups and downs, both literally and emotionally.
Eamonn explained: "The journey so far has been marked by a mix of emotions. It's been tough and yet it's been amazing.
"We've experienced the extremes of walking in 35-40-degree heat to facing the cold of the lower Alps. We've seen it all…breath-taking scenery at every turn matched with the beautiful (if not a little dangerous), forces of nature, especially throughout 3 days of heavy thunderstorms in the Alps.
"We have also been greatly encouraged by the kindness of human nature, both in person and through the online donations and support we have received for the trek.
"The generosity and curiosity from total strangers about our adventure has been truly inspiring and has on more than one occasion been the extra motivation to wake up and do another 35-40km the next day.
"There has been plenty of time to think and remember why we are doing this crazy challenge in the first place.  As things stand, and a bit like our end destination, a cure for dementia seems to be a distant dream.
"We strongly believe that we need to be exploring paths to eventually reach it and I hope that in some very small way, 'The Long Walk Home' might help answer some of the most fundamental questions surrounding the disease."
The men plan to arrive in Dover, England on August 9/10 and hope to arrive in Ireland around August 29.
They then plan to reach Keady on September 7/8.
They are recording their trek and journey via their website through a written and video blog here. This is where you can also make a donation through a variety of means.
https://thelongwalkhome.wixsite.com/thelongwalkhome
Sign Up To Our Newsletter