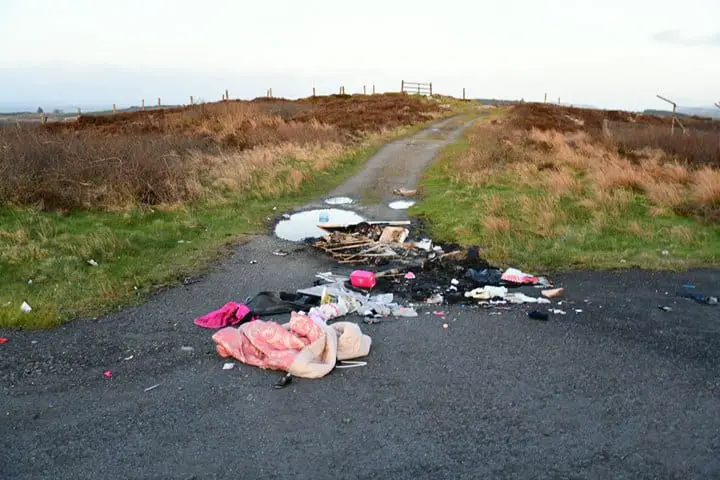 More waste has been dumped and set alight on top of Carrickatuke Viewpoint.
Household rubbish and clothing was torched at the popular beauty spot.
But the ongoing incidents are angering locals and putting tourists off visiting.
Community activists behind the 'Take Back the Carrick' campaign – who hope shortly to introduce measures and initiatives to transform the area for everyone to enjoy – have hit out at those responsible.
They are on a mission to restore Carrickatuke to its former state as a major attraction for families, walking groups and tourists.
They have spoken of their "anger and disappointment" that yet another dumping incident has taken place for the second time this week.
They sat it could have "placed the entire mountain range at significant risk".
Sinn Fein councillor Darren McNally, who is working closely with the group to regenerate the area, condemned the actions as reckless and said those responsible had "no regard to human life never mind the abundance of plant life and wildlife".
He told Armagh I : "It is actually unbelievable that some idiot would take their rubbish up to Carrigatuke and set it on fire.
"It is not inconceivable that we could have had an extremely dangerous gorse fire on our hands that posed a significant threat to all those who live in the close vicinity."
The councillor also warned that actions such as these, which could potentially set fire to growing vegetation, is not only an extremely dangerous practice, it is also illegal.
"It is completely unacceptable for a person to act so thoughtlessly as to set fire to rubbish and then to simply walk away from the consequences of that action, when those consequences could destroy the very lives and livelihoods of their own neighbours," added councillor McNally.
"I am taking this opportunity to call on all rural dwellers, farmers, forestry workers, and landowners to unite with us in their response against the unacceptable behaviour of a small minority of careless and reckless people."
Local activist Bróna Haughey appealed to people to use the numerous facilities and services provided by council to dispose of their rubbish in a responsible manner, stop destroying an area of natural beauty and desist from the reckless behaviour of endangering life.
"We are working closely with the environmental health team in Armagh City, Banbridge and Craigavon Borough Council to have the viewpoint cleansed again today," she said.
"We need action to tackle this scourge, we cannot sit by and expect the council to continually carry out clean ups. We need to tackle the root cause of this dumping and we intend to do just that.
"Because we realise that actions speak louder than words, our campaign 'Take Back the Carrick' is getting ready to introduce measures and initiatives that will transform this wonderful natural resource for everyone to enjoy and ensure that it is protected for years to come."
Sign Up To Our Newsletter