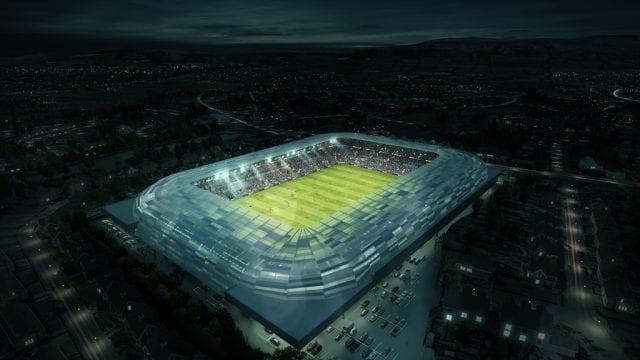 Plans for the redevelopment of Casement Park in Belfast have been unveiled by Ulster GAA today.
The new scheme plans to transform the disused ground with an enhanced atmosphere and iconic new stadium bowl, which will be used as part of Ireland's 2023 Rugby World Cup bid.
The mixed use facility proposes a range of resources to advance the economic, cultural and heritage opportunities for the local community.
The design has a proposed capacity of 34,500 inclusive of 8,500 (approx.) standing terracing.
Speaking at the design unveiling, Tom Daly, Chairman of the Casement Park Project Board commented: "Today's design unveiling demonstrates Ulster GAA's willingness to engage, listen and evolve our plans for a new Casement Park stadium.
"In the new scheme we have reduced the scale, mass, size and capacity of the stadium whilst at the same time creating a first class atmosphere for GAA supporters through the bowl design and up-close spectator experience."
Michael Hasson, Ulster GAA President, added: "GAA members, supporters as well as people across the local community are looking forward to an exciting new beginning for Antrim and a Provincial Stadium for Ulster.  We want to create a positive sporting legacy and iconic stadium that will be a beacon to inspire young GAA players throughout, West Belfast, Antrim and across Ulster."
The proposed design includes:
·         Conference and banqueting facilities
·         Handball courts
·         Community space, including café
·         Exhibition space / cultural centre
·         Replacement social club
·         Car parking available for use on non-match days
·         Enhanced public realm to Andersonstown Road
·         Dedicated traffic and travel operations including supporter coach travel and dedicated off-site park and ride transportation
·         The ability to positively contribute to the local economy of West Belfast and further afield.
Read more news:
Three people taken to hosptial following two-vehicle crash
GP services 'at the point of collapse' – it's time to stop denying there is a problem
Bridesmaid lands dream wedding band for best friend after Facebook post goes viral
New Irish language centre team appeal for votes to win 'jobs and investment' funding
Council postpones pavement cafe licence fees as fears voiced some could close
Armagh's custody suite to be closed as part of £1 million savings plan
Archbishop of Armagh in joint invitation to Pope Francis 'to visit Ireland in 2018'
Sign Up To Our Newsletter