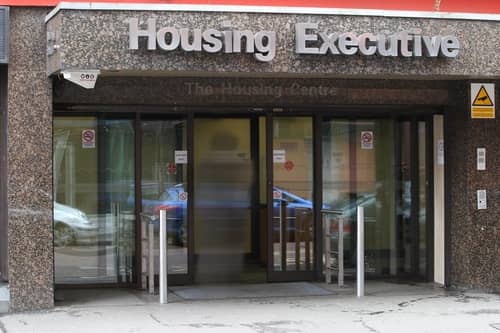 Two Housing Executive properties in a south Armagh village have lay empty for two years as hundreds of people struggle for adequate housing across the county.
Following an investigation by a local councillor in Whitecross, it was confirmed that two adjacent properties were converted into one large dwelling to accommodate a severely disabled person and their family.  This person is now deceased and the family has moved on.
The discovery was made following a Sinn Féin constituency clinic.
Councillor Roisín Mulgrew, who hosted the clinic along with Assembly Member Megan Fearon, explained the case which was brought to her attention saying: "The first Sinn Féin clinic in Whitecross which took place on Saturday, July 5, was a great success with many people presenting for assistance with routine issues.  However during the course of the morning it came to light that two Housing Executive properties in the area have been vacant for almost two years.
"The property has not been occupied since, which is a disgrace considering the number of families and individuals in housing stress at the moment."
Roisin Mulgrew said that she believed that the Housing Executive intends to reinstate the properties into two separate dwellings and that this will involve reinstalling interior walls.
"There are no structural issues with these properties so it beggars belief that the Housing Executive have taken so long to get moving on this.  I have been informed that the houses will not be ready for habitation until April 2015 at the earliest, meaning that the properties will have been idle for three years."
Councillor Mulgrew added that this is not a unique situation in south Armagh, identifying at least four family homes which have been rendered vacant due to red tape and bureaucracy.
"I am urging the Housing Executive to address this problem as soon as possible.  The housing shortage is bad enough without suitable properties being left vacant."
Assembly Member Megan Fearon who was present at the Whitecross Clinic added: "I was shocked to hear of so many instances of Housing Executive vacant properties however I surmise that the problem is far more widespread and I have lodged a question with the Minister for Social Development Nelson McCausland to assess the scale of the issue across the North and his plans to deal with this.  We cannot allow a system to persist which leaves families in substandard accommodation while properties lie vacant."
Read more news:
Man due in court after stolen £75,000 telelift recovered in Banbridge
In memory of Jude: Camlough couple's work to help others after loss of baby son
We have the 'chance to lead the way' in changing how we look at the debilitating illness Fibromyalgia
Tributes paid to Co Armagh student following suspicious death in England
New £22.5m further eduction campus announced for Craigavon
Kennedy writes to BBC seeking 'improved' TV coverage of rural Twelfth venues
Vulnerable victim Owen (40) hid in wheelie bin after brutal murder
Portadown's High Street Mall put on the market for sale
Newsletter
Sign up for our weekly newsletter here.