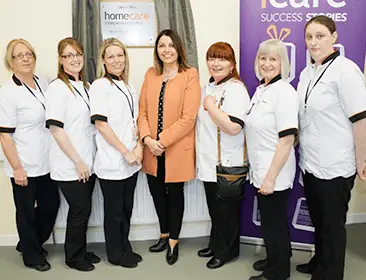 Ireland's leading homecare provider is to abolish zero hour contracts over the next 12 months to give care workers financial security to reaffirm its commitment to raising the value of health and social care.
Homecare Independent Living, which employs 1,200 people – 900 of which are fully trained care workers, says a new Fixed Hour Contract (FHC) will be rolled out over the next 12 months in 14 operational areas.
Mairead Mackle, Homecare Independent Living's chief executive said her company is taking this step to show care workers how critical their jobs are.
Ms Mackle said recruitment to the sector is already very difficult and giving its staff financial stability, as well as belief in the sector, is paramount to her trained team delivering high quality care to people who need it most.
She said: "This Fixed Hour Contract (FHC) pilot scheme will be rolled out in our 14 operational areas. It's a scheme which will be monitored and managed on an ongoing basis in terms of efficiency and effectiveness. We are committed to rolling out the FHC scheme company-wide.
"As advocates of raising the value of health and social care, as a society, we welcome the Government's plans to increase the minimum wage from £6.70 an hour to £7.20. We further welcome news that the Department of Health have said the tariff rate paid to providers would "inevitably have to be reviewed".
"We all need to protect our social care workforce, we need a system which is sustainable and we need our decision makers to put vulnerable people first. Taking the move to abolish zero hour contracts is our commitment to raising the value of social care for the patient, our staff and the sector.
"Not having a sustainable home care system means bed blocking is costing millions of pounds per year, it's preventing patients from getting cared for in their own homes and it also contributes to others waiting to get the hospital care they need.
In Northern Ireland, 13million hours of care are delivered to patients every year – 68 per cent of which is delivered by the independent sector.
According to the most recent UKHCA Report the average hourly rate in Northern Ireland for the independent sector is at least 30 per cent less than in the rest of the UK.
In order to bridge this gap, this means £43million needs to be injected into the independent sector to enable community based care to deliver these crucial services.
Ms Mackle said: "We welcome moves by the Department of Health because, if nothing is done, it's likely that almost 70 per cent of services provided in Northern Ireland will be forced to cease by April 2016.
"By 2021, we are expecting a 67 per cent increase in over 85-year-olds. There is an increase in chronic illnesses such as Chronic Obstructive Pulmonary Disease (COPD) and Diabetes. If there is no sustainable system in place the situation will become even more challenging than it is today."
Thousands of people across Northern Ireland, on a daily basis, require care in their homes. Ms Mackle said if this crisis continues it will be the most vulnerable in our society and their families who will suffer most.
She said: "The right thing has to be done because the stark reality of the funding crisis is frightening. Putting value on our older people, and giving them the choice to be cared for at home with dignity, has to come first which is why we are abolishing zero hour contracts."
Sign Up To Our Newsletter