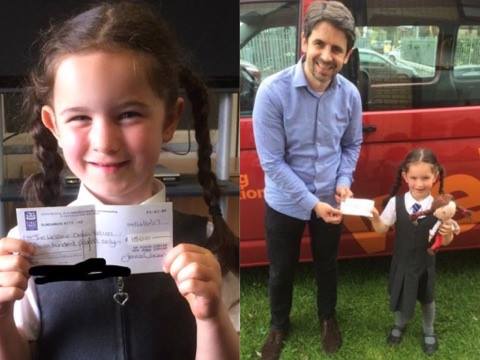 A five-year-old Benburb girl has raised an amazing £1,500 to help the homeless after completing a sponsored cycle.
Little Holly Corvan cycled from her home to Moy on Sunday, watched closely by mum and dad.
And the driving force behind this amazing little girl's efforts was quite simply because she wanted to help others.
Armagh I reported in April that a justgiving page had been set up after Holly told mum Jenna how sad it made her that some people had to sleep outside.
She said she wanted to "buy them all a house".
Together they came up with the idea for the fundraiser and Holly – a pupil of St Jarlath's Primary School in Blackwatertown – has been the driving force behind it.
People have been so good and so generous and the smile on her wee face as she handed over the proceeds from Sunday's cycle says it all.
Holly handed over a cheque to the Welcome Organisation and Outreach Street Programme in Belfast for an incredible £1,500!
And mum Jenna is thrilled to bits with her kind-hearted daughter's efforts and the way in which people rallied round to help and support her endeavours.
She told Armagh I : "We are just beyond proud of Holly and blown away by everyone's kindness!
"I knew she would do well but didn't expect the level of generosity from our family, friends, her football club that she attends and her wee school!
"She also managed the whole bike ride in an hour, and that included numerous stops, so I definitely underestimated how well she would manage.
"She arrived to a round of applause from numerous people who had taken time to meet her at the end point so it really has been a fab experience for us all!"
What an amazing little girl – a heart of gold! Well done Holly – you're an absolute star!
Sign Up To Our Newsletter