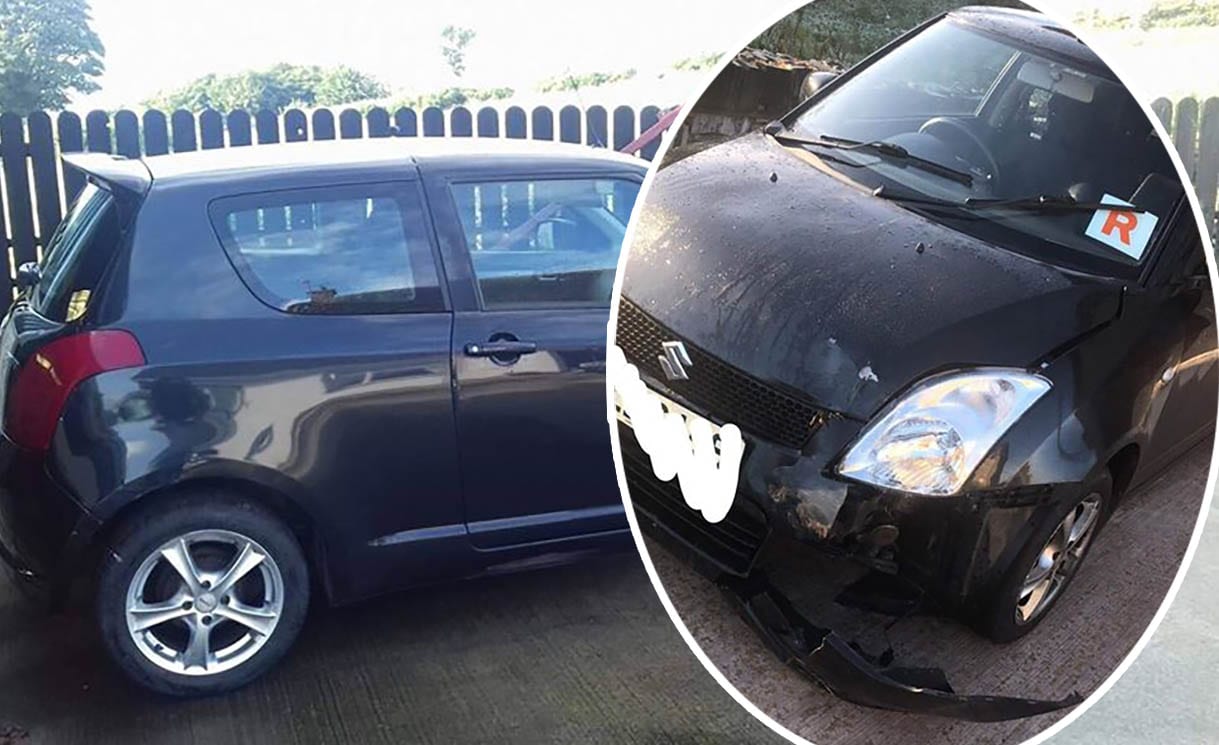 An Armagh father has hit out at the lack of winter maintenance on a Keady road after his teenage daughter smashed her new car on a patch of black ice earlier this week.
Sean Mone, whose daughter Courteney wrote her car off months after purchasing it, has made an impassioned plea for gritters on the Clea Road, on the outskirts of Keady.
For years there have been calls for action on the road during the winter months, with accidents and near misses reported religiously on an annual basis.
The road is also home to Clea Primary School, however, the Department of Infrastructure – responsible for the roads – have insisted over the years that traffic volumes on the road do not warrant Roads Service going out of their way to salt.
"I know this has been an ongoing issue for years," said Sean, speaking to Armagh I this evening.
"My 17-year-old daughter had just passed her test in April this year," he explained. "She worked many hours in her part–time job whilst still in school full time, in order to save every penny she had for a car. Her insurance alone cost in excess of £2,500.
"Both myself and her mum had constantly been telling her to be careful on the roads, even more so now that it was in the winter months, where there was a danger of ice and frost."
However, despite their warnings – and Courteney's conservative driving, disaster struck.
"On Thursday night – the first night of a hard frost on the roads – my daughter had just finished work at 11pm and was heading home along the Clea Road.
"On a straight part of the road her car hit ice an slid off the road and into the ditch, narrowly missing a steep drop on the road side.
"Her car is wrote off and she does not have the money to replace this to take her to school an her job.
"To say she is devastated is an understatement; she is traumatised – not just for the loss of the car but how close she came to serious injury or worse.
"Luckily enough she was the only car on the road at the time as this could have ended much worse."
Sean added: "As a very concerned father I fear for her safety on the road in the future, especially as there is a refusal to salt this busy road, with many houses and a school on it.
"I would like to make an appeal to councillors and the Department to re-assess this before there is a serious accident or death on this road."
Earlier this year, SDLP councillor Thomas O'Hanlon insisted it might have to take a tragedy before action is taken to try and improve public safety.
The most recent correspondence in response to local calls came in December 2016 when Roads Minister Chris Hazzard pointed to the outcome of a 2001 review of winter procedures.
He wrote to the councillor at that time, stating: "One of the key outcomes of that review, which was fully debated and accepted by the Assembly, was that the practice of targeting the limited resources available for this service, on the busier main through routes, should continue.
"The review also recognised that to include all school bus routes, would more than double the cost of the salting operation, and would involve the treatment of some very minor rural roads.
"Apart from the substantial initial capital investment that would be required, it would also cost over £5 million extra each year."
Councillor O'Hanlon described the road as a "death-trap" earlier this year following reports of a number of accidents during a school run.
Sign Up To Our Newsletter