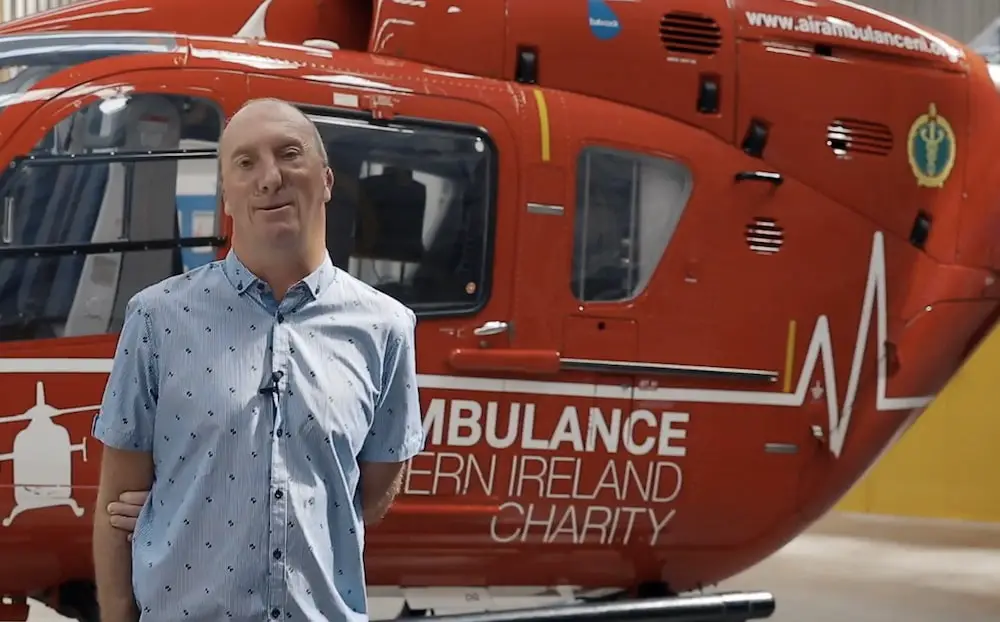 A well-known Dungannon man has added his voice to the continued calls for support to the NI Air Ambulance who he credits with saving his life.
November 9, 2017, was a day like any other for Tom Hadden, who is originally from Caledon, as he headed out on the rounds working as a bin lorry driver – a job he has been doing for 35 years.
However, this would be a day which would lead to a "life-changing experience" for the 51-year-old.
Tom and his colleague Nigel were driving up a hill on a country road when they were involved in a head-on collision with another lorry.
After the impact, all Tom remembers is his colleague Nigel getting out of the lorry and calling for help, which arrived in minutes.
Nigel also contacted Tom's wife who recalls hearing Tom's screams of pain in the background and she immediately rushed to his side.
When the Air Ambulance NI Helicopter Emergency Medical Service (HEMS) team arrived on the scene, Tom was in a great deal of pain as he had sustained a multiple crushing injury to his right leg
They worked to help ease this by providing sedation and advanced pain management for extraction.
In a video posted by Air Ambulance Northern Ireland – for Air Ambulance Week – Tom describes being trapped in the lorry for around 90 minutes and feeling pressure building in his right leg.
Once free from the vehicle, he was then flown by the Air Ambulance to Craigavon Area Hospital and rushed into surgery.
Tom's first surgery, led by Dr Watson, was life-saving, relieving pressure from his leg injury over 11 hours.
He was then back in for more surgery three days later to close wounds and stabilise his injuries before being moved to the Royal Victoria Hospital.
Tom has no recollection of these first few days after the accident.
Once at the Royal, Tom underwent further surgery to have a frame fitted on his leg. Three days later he was moved to Musgrave Park Hospital for rehabilitation.
Sign Up To Our Newsletter