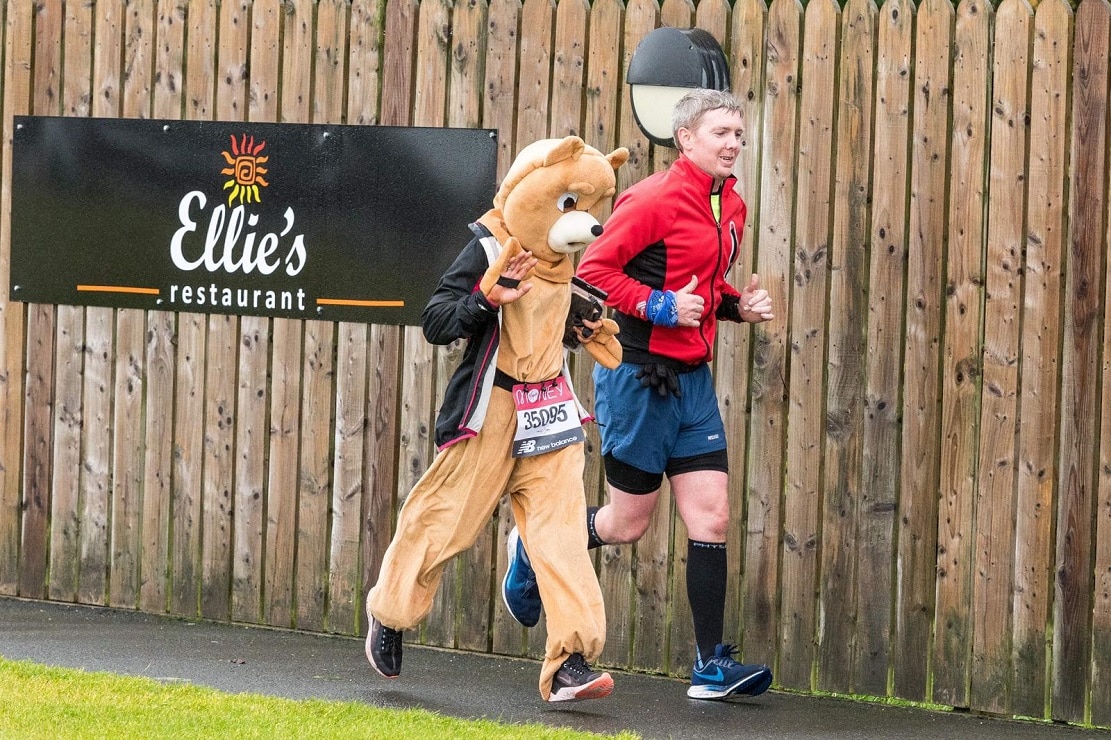 A Moy woman took on the virtual London Marathon dressed as a teddy bear to raise funds for a charity that tries to bring comfort to those who have suffered the heartbreaking loss of a baby.
Aching Arms supports parents who experience the death of their baby during pregnancy, birth or soon after.
The charity provide bears for parents as a comforter to hold, lets parents know they are not alone and directs them to support agencies who can help in the devastating days, weeks, months and years after their loss.
Susan O'Neill became aware of the charity after they offered support to her close friend Laura Kelly following the loss of her one-week-old son, Cormac, back in 2017.
Speaking to Armagh I, Susan said: "Laura has not had an easy life, that can be said for sure, but with the different struggles this is the first one where I felt like I couldn't help her.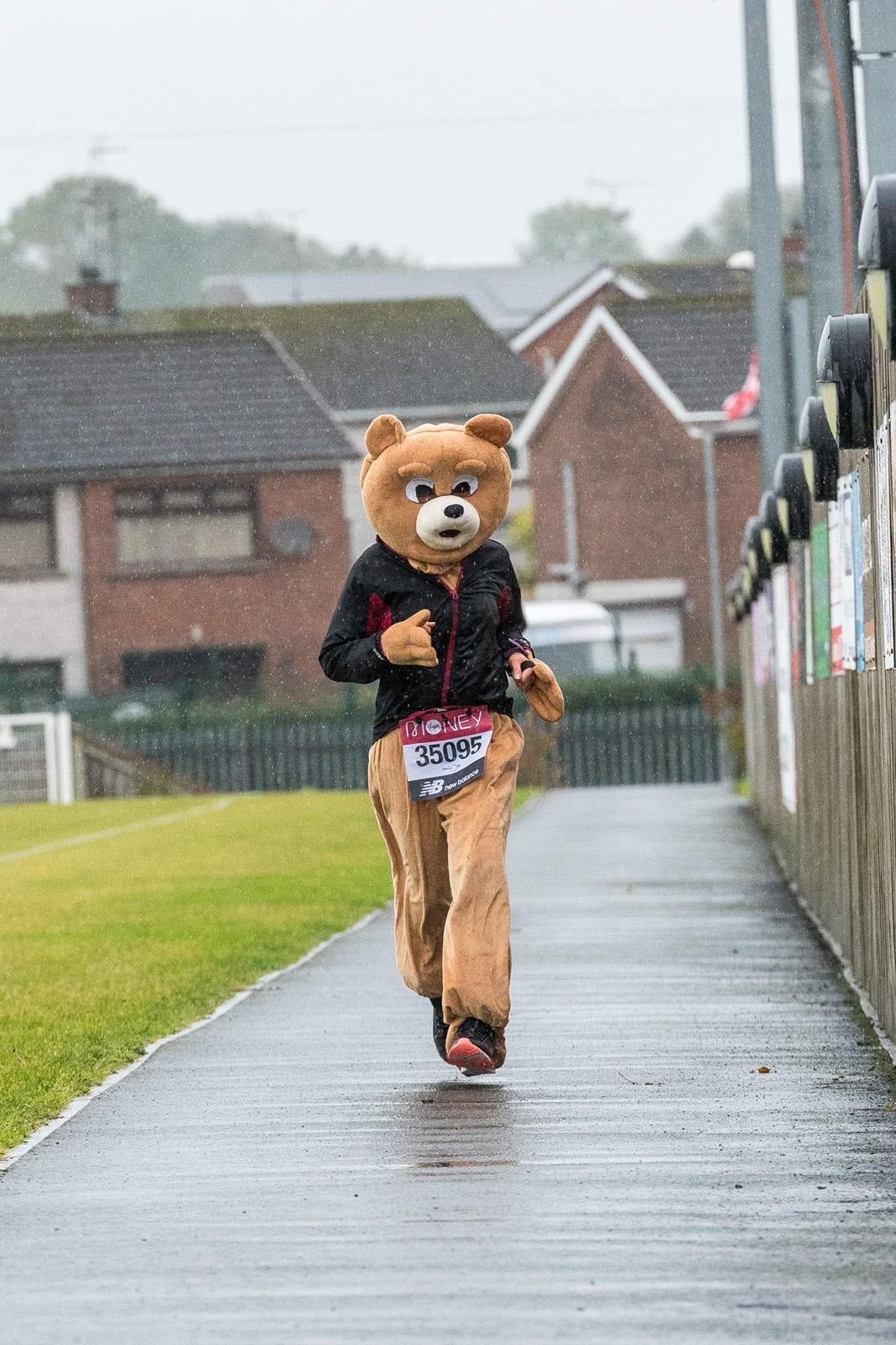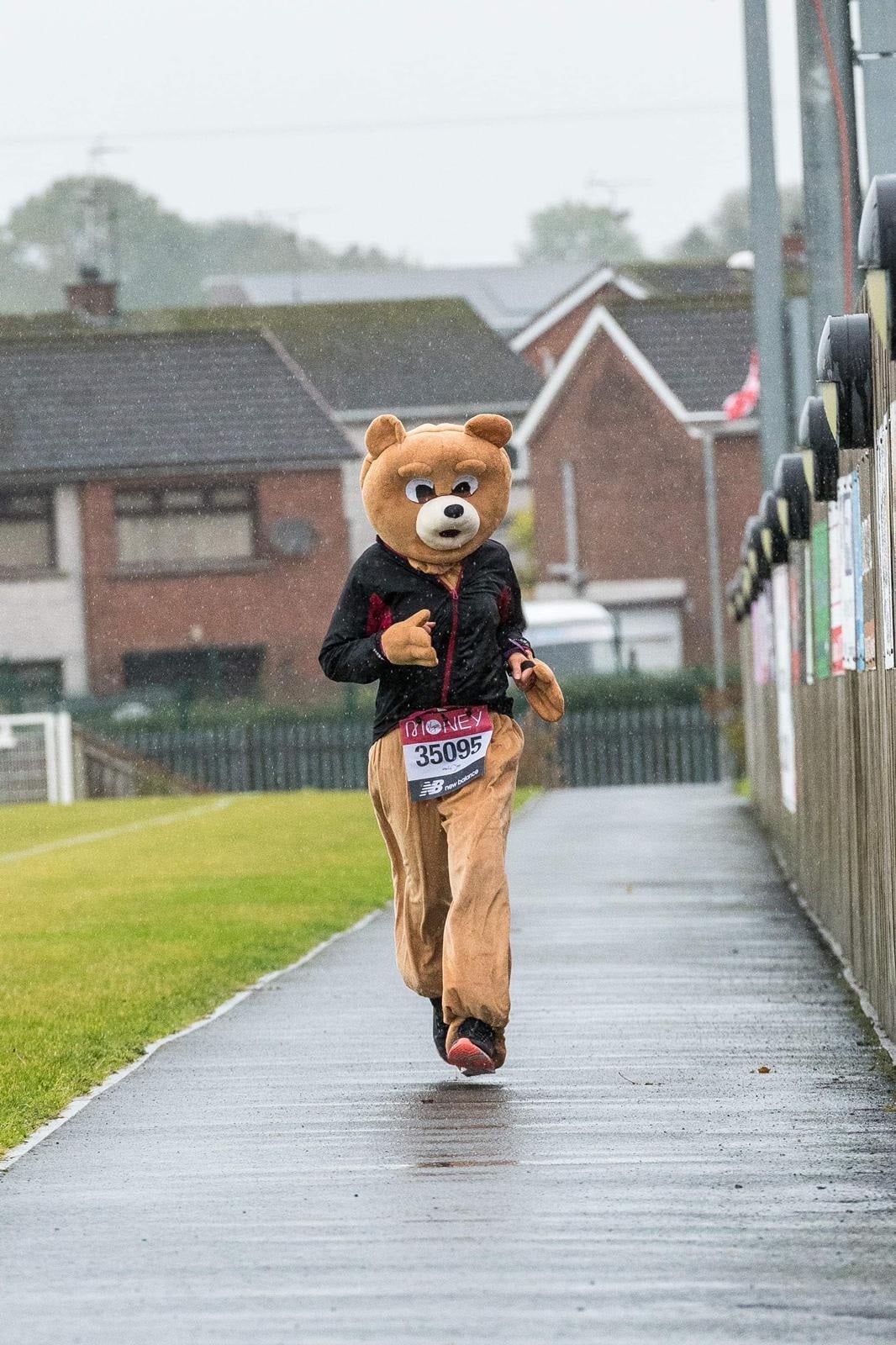 "You just don't know what to say, but in Aching Arms she found this wee community and there were others who knew what to say, they helped her more than I ever could.
"It was hard to watch her go through it, one week was never going to be enough."
Susan said the fundraising was a way for her to say thank-you to the charity for the support which Laura received.
"I have been amazed when people find out about the charity I am fundraising for, just how many have lost a child or been affected by it."
Susan previously fundraised for the charity two years ago, but was called upon again four weeks ago and was informed there was space for her in the virtual London Marathon – if she was up to the task.
A member of the Tri-Limits club in Tyrone, Susan said: "I had a bit of chuckle, because anyone who knows me, knows I do endurance runs, so my longest run would be 103 miles. I have done some 24 hour runs.
"So the thing is that if I was to say to people I am going to do a marathon, they would say sure you do that for breakfast, so I thought I needed to up the ante a bit."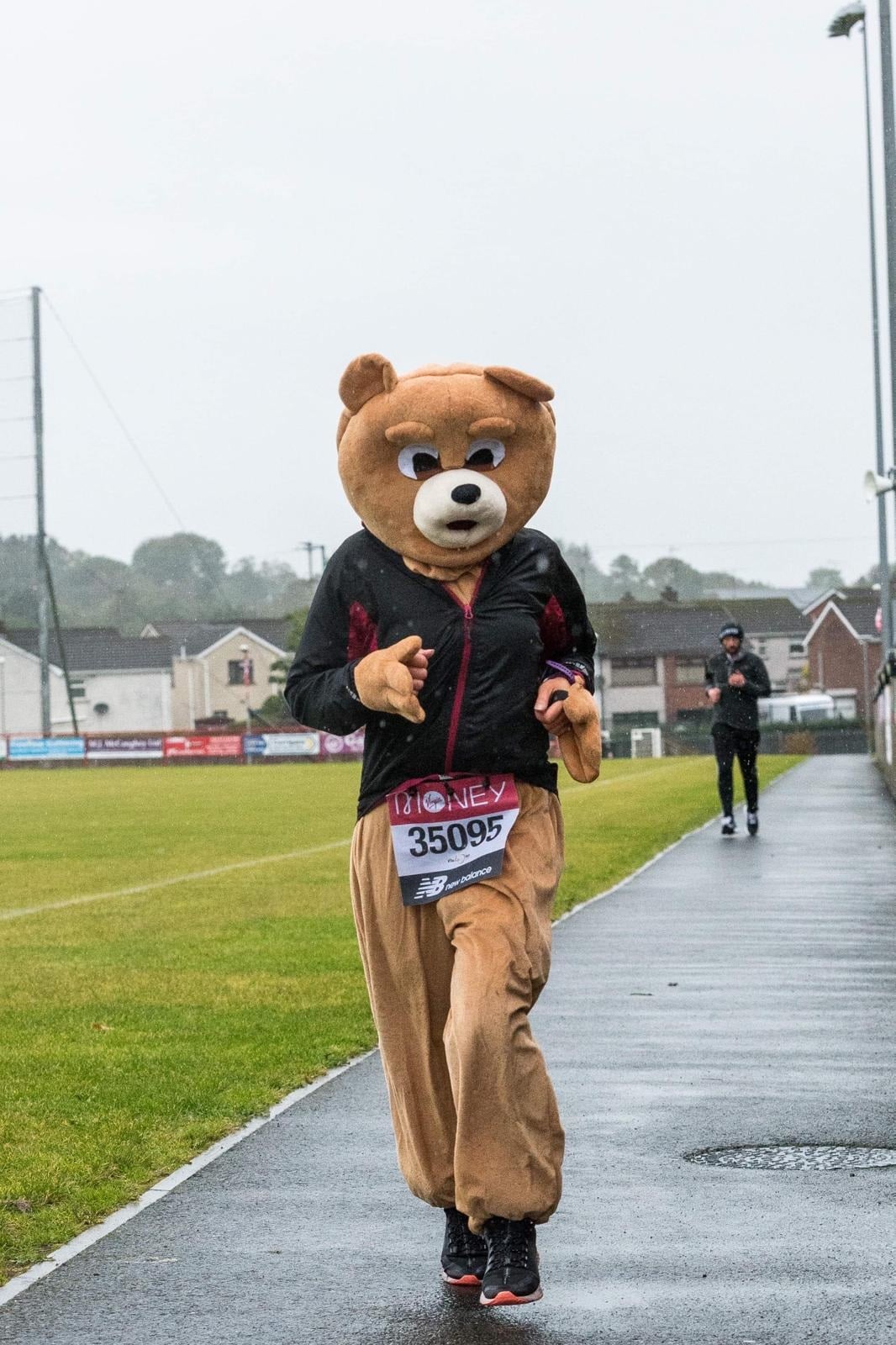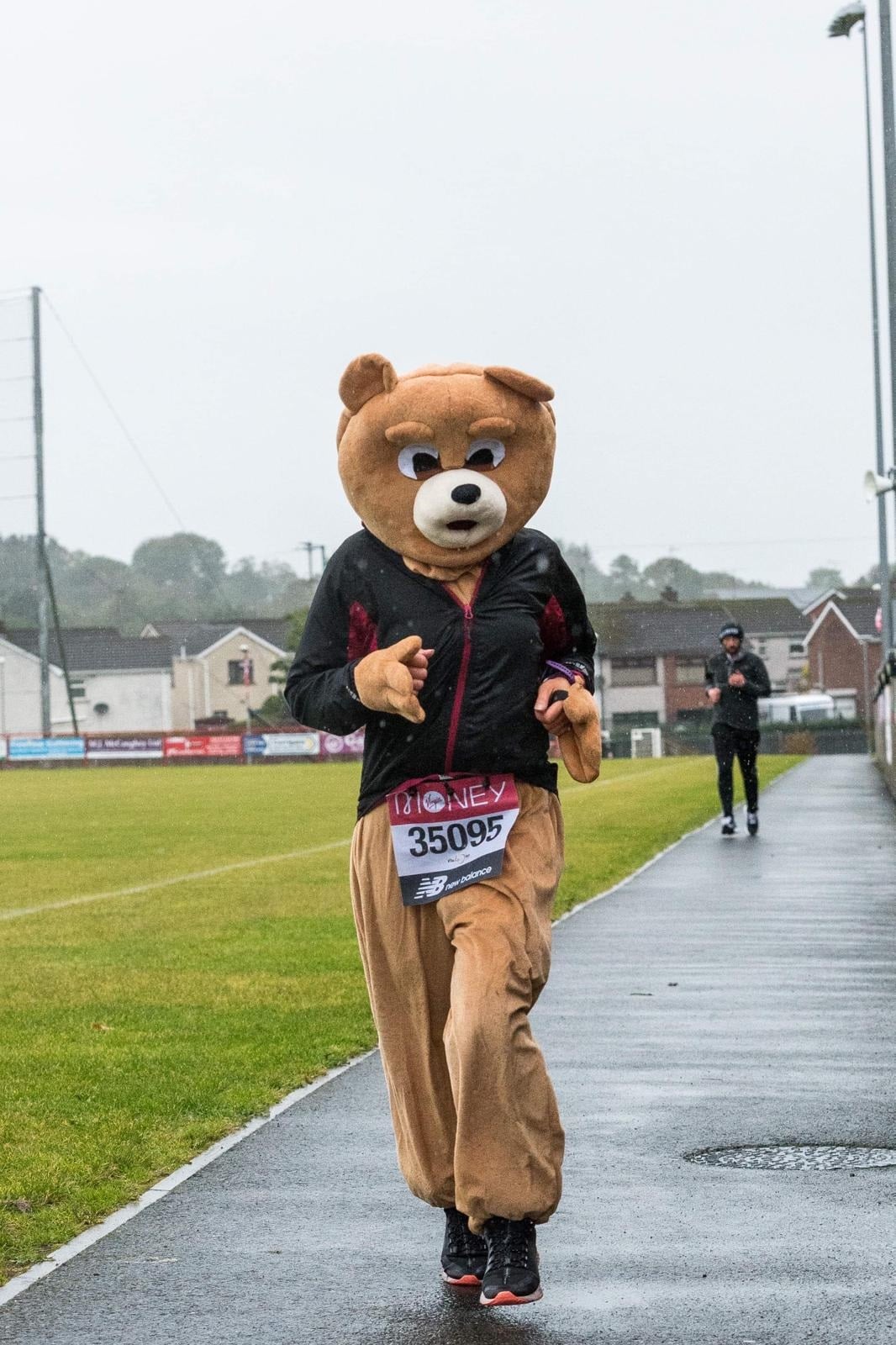 With that, Susan decided to don a bear suit during the marathon and joked: "It made sense at the time!"
Anyone who was unfortunate to be out and about on Sunday will have no doubt been caught out due to the extremely wet conditions.
Susan commented: "It is one thing running a marathon, but doing so with what can only be described as a onesie with a heavy hood on, it just stuck to me with the rain, it was like trying to run with wet trackie bottoms."
She added: "I would like to thank Tri-Limits for all their support, everyone who donated to the raffle, Philip Blair photography for the photos and Eoghan Ruadh Hurling pitches for letting me use the club as a base for 26.2 miles
"I should also thank my boyfriend, Stephen McKenna, who ran a half marathon with me over the duration whilst also making sure I had all the fuel needed and everything was set up for me."
Susan also said well done to Richard Bradley and Paul Henry who ran the Virtual London Marathon with her.
Laura Kelly told Armagh I that this was just another example of Susan showing her "determination to help others".
"We have been friends since school, she has been there for me through everything like when my sister and my dad died, she has picked up the pieces for me repeatedly." she said
"Whenever I began volunteering for Aching Arms, she decided she was going to fundraise for them doing this Virtual London  Marathon."
Laura is just one of two volunteers in Northern Ireland for the charity which operates throughout the UK.
She said: "The tagline for this year's baby loss awareness week is that you are not alone, because it is very isolating whenever you lose a child.
"Especially now with Covid, you can't just go to your friend for a cuddle and you can't go to your mum or your dad or your siblings.
"But you are not on your own because there are so many charities doing amazing work and there are so many families who have gone through it."
If you would like to find out more about Aching Arms you can visit their website and if you would like to make a donation you can visitSusan's fundraising page.
Sign Up To Our Newsletter