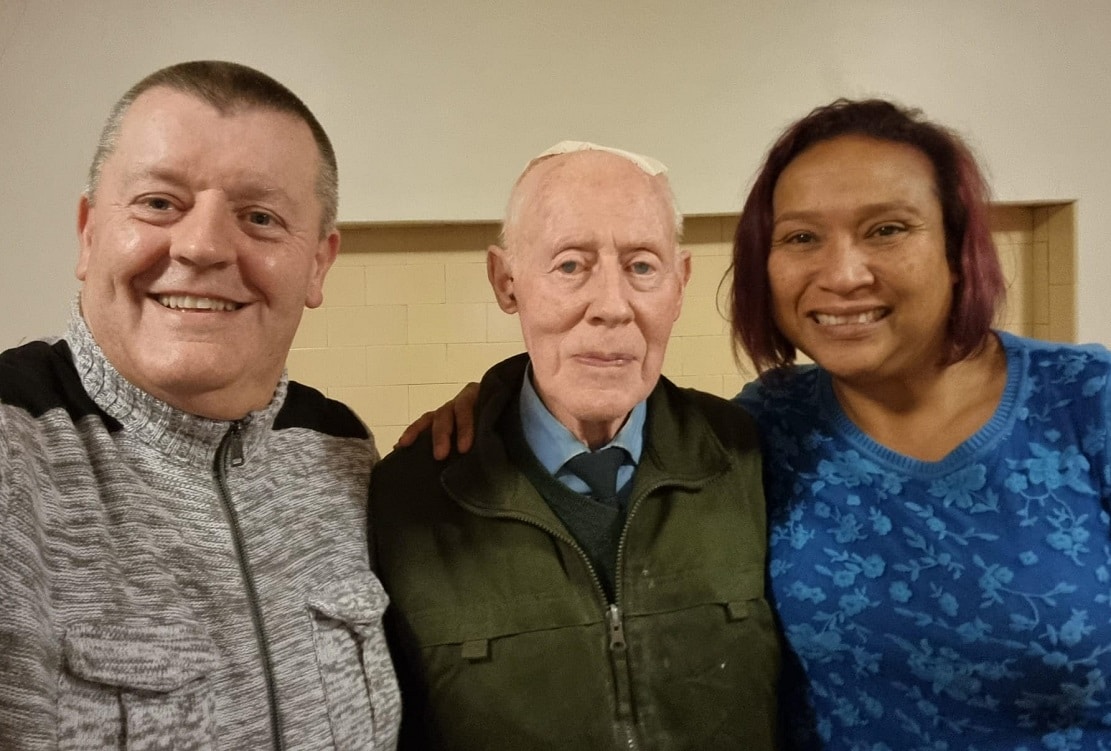 A Co Tyrone man is due to get the biggest birthday surprise ever today (Saturday) when around 90 bikers from all over Ireland roll up to help mark his 9o-year milestone.
Peter McLernon is something of a legend in The Rock, just outside Cookstown, where he ran the family shop and pub until just two years ago.
He is also renowned for his storytelling, love of Gaelic games and knowledge of local history.
And it was the warm welcome that he provided to a group of bikers in 2021, during the Irish Photo Rally annual motorcycling event, that sparked the idea for the birthday plans.
The bikers have organised the event as a way of saying thank  you "to a very special man who has touched the hearts of many of us over the past year".
They added: "Peter McLernon welcomed many of us bikers, as complete strangers, to the village of Rock in Co Tyrone …
"He took the time, whenever he could, to come out and chat and give us a glimpse of the true gentleman that the locals affectionately call 'Petie'."
The group has been working closely with a committee, made up of members of the community, to give Peter a day like no other.
And although the man himself knows there are some celebrations are under way, he is not aware just how much has been planned.
The day will begin with Mass at 9.30 in the Sacred Heart Chapel at The Rock, followed by tea and biscuits at the old Rock school.
At around 12 noon on the main street, Peter will be presented with a specially designed bench dedicated to him, after which around 90 motorcyclists will salute him with a drive-through.
This will be followed by a two-hour show at the Rock Community Hub.
Cyril Cush, chairman of the Hub, said it will include a 'Who Do You think You Are' sequence, recalling significant events in Peter's life.
"The first time he climbed Croagh Patrick, back in 1967, him and another man called Brain Campbell slept in a hayrick in a middle of a field as they had nowhere to stay, so Brian is going to be there to tell that story," he said.
In fact, Cyril reckons Peter climbed Croagh Patrick for 37 years in a row, with possibly just one year in which he couldn't do it.
He also went to Lough Derg for 17 or 18 years and formed a friendship with a Cork woman which has lasted 30 years, and she too will be telling the story of how they met.
Added Cyril, "Another man he met coming down Croagh Patrick and he ended up staying in their house, and he did that for 17 years running as well.
"The man is dead now but his wife and Petie kept up a friendship over the phone and she's coming up."
A non-drinker all his life, Peter will also be presented with his lifetime Pioneer pin  by the president of the Pioneer Association.
There will be video messages from people around the world, including sports personalities such as former Kerry player Pat Spillane, while local woman Eimear McVeigh has written a poem which will be shown alongside Peter's favourite piece of music, Mise Éire."
Another committee member also spoke of Peter's dedication to the parish.
"He sits and waits after Mass every Sunday morning until 12 o'clock when he goes in and rings the bell for the Angelus. He has been doing that for 47 years," she said.
Peter had run the shop single-handedly following the death of his sister Mona McLernon eight years ago. Like her brother, she had worked in the family business from she was a child until she died at 87.
"Peter doesn't realise the high esteem he's held in in the parish," said Cyril. "McLernon's of the Rock was there for over 100 years supplying goods and Petie was the last of the generation running it.
"If you couldn't get anything in a big shop in the town, you were guaranteed to get it in McLernon's.
"It's going to be a fantastic day."
Sign Up To Our Newsletter