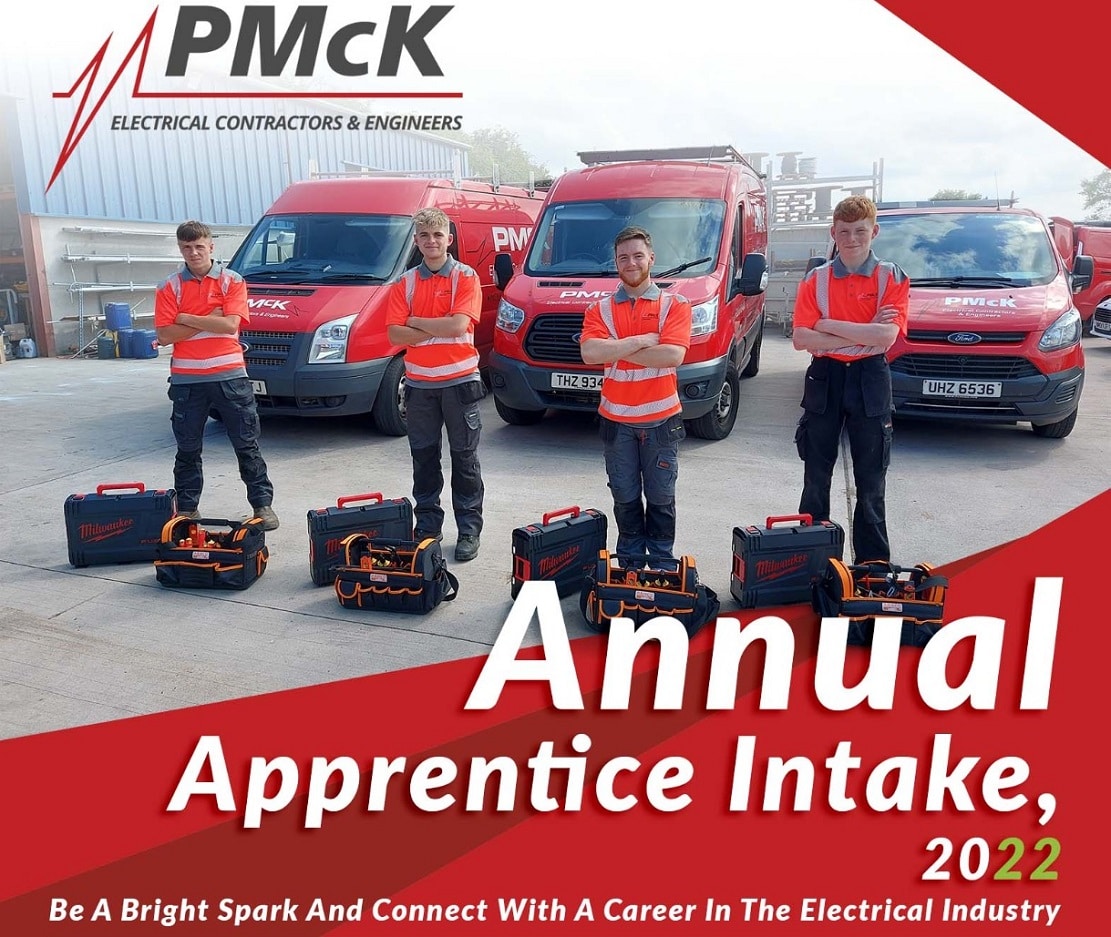 Having served his time as an apprentice, the head of a successful Moy electrical business knows only too well the benefits it can bring for both employer and employee.
And it is one of the reasons why Paul McKearney, owner of family-run PMcK Electrical Contractors & Engineers, has taken on apprentices since first establishing the business in 1984.
The company has just launched its latest round in a bid to attract the brightest talent and launch them on a career, acknowledged to be the highest paying of all the trades.
Paul's son Peter, who joined the firm in 2002, also came through the ranks as an apprentice.
He explained that the company, which employs 120 staff and serves customers throughout the UK and Ireland, usually takes in between six and eight apprentices, but may recruit up to 12 this year.
And he said the benefits for apprentices are many and include a variety of pathways within the company.
The scheme is open to young people who have just left school after GCSE or A-level as well as to those who are older but want a change in career direction.
The NVQ Level 3 in Electrotechnical Engineering takes four years, and consists of a mixture of classroom and on-the-job training, at the end of which the participant emerges as a fully qualified electrician.
Those coming in at 18 with their core subjects of English, maths and science, can take a Higher Level Apprenticeship and be qualified within three years.
And for those who wish to progress further, a foundation degree can lead to a career in design or consultancy.
PMcK Electrical undertakes work in industrial, pharma and data centre projects, along with local installation and maintenance work in the food, agri-food and manufacturing sectors, and the  highly respected company has built up a reputation for quality work, reliability and top calibre staff.
Said Peter: "Most of the apprentices are based around Dungannon, Armagh and Belfast for the first couple of years but as they gain more skills they move out to other jobs.
"When they qualify, they can take different routes within our company, such as estimating, contracts management, supervision, inspection and testing, or aftersales roles."
He added: "There is a big demand for places. An electrician is probably one of the best paid trades. In fact, it's probably one of the best paid professions at the moment.
"There is a European shortage of electricians. As a company, we are working in Dublin, Belfast, Glasgow, Zurich and  Frankfurt. Skilled tradesmen are in short supply across all trades but particularly electrical and mechanical.
"School and university is not for everyone. The vocational route has often been disregarded by many people but the big attraction for apprentices is that they are coming out with a qualification, experience and no debt.
"The electrical industry is a good industry to get into. It provides career progression and stable, well-paid work."
Applicants must be physically fit and mobile and must not be afraid of heights or colour blind.
On starting, they receive a full set of tools, company workwear, a senior mentor to look after them over the course of the four years and the approved Joint Industry Board (JIB) rate of pay.
Said Peter: "We take pride in having a very high retention rate. In fact, most of our senior staff and senior management team are apprentices that started within PMcK.
"As a family-owned company, we are proud of our tradition of employing, developing and retaining apprentices. We see our regular annual intake of apprentices as our investment in the longevity of the company."
To apply, send an email for an application pack to info@pmkelectrical.com. Applications close on June 15 and apprenticeships will start in early August.
PMcK are also accepting applications for various roles across all departments to include qualified and approved electricians, third & fourth year electricians, electrical testers, supervisors and chargehands.
To request an application pack, email info@pmkelectrical.com
Sign Up To Our Newsletter