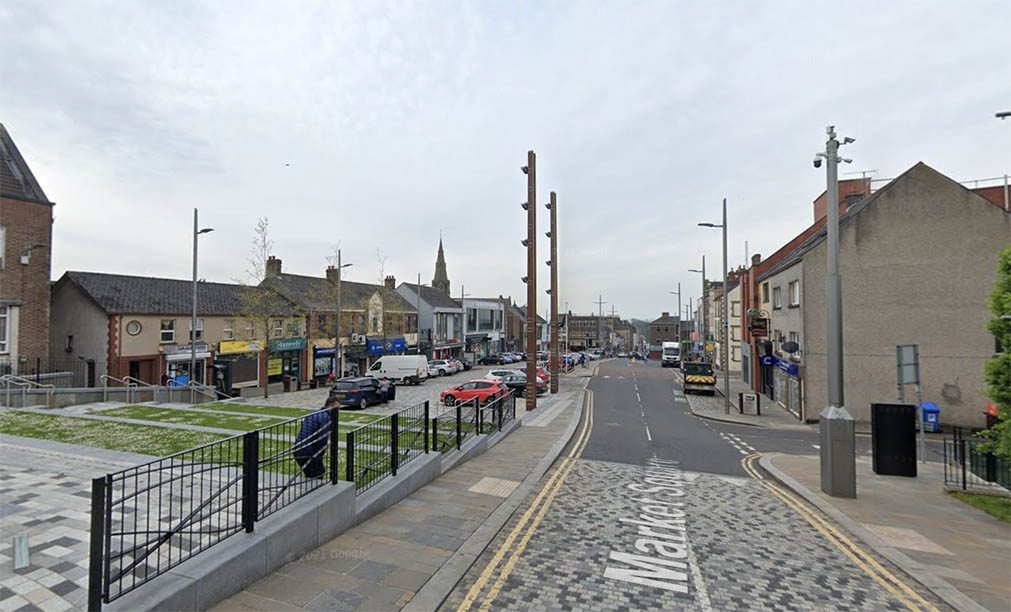 A twenty-nine-year-old man has been remanded in custody following an incident in Dungannon on Saturday afternoon in which it is alleged a broken bottle was used to stab the victim.
Tyrone McFall from Market Square, Dungannon is charged with unlawfully and maliciously causing grievous bodily harm to a male with intent to do him grievous bodily harm and being in possession of a broken bottle as an offensive weapon, with intent to commit grievous bodily harm
Offending is alleged to have occurred on July 7.
A detective constable told Enniskillen Magistrates' Court the charges could be connected.
He explained police received a number of 999 calls from members of the public reporting two men fighting in the Scotch Street area of Dungannon.
On arrival officers found the victim with a serious injury to his right arm and he claimed McFall had attacked him during the altercation.
The injured party was taken to Craigavon Area Hospital for treatment to his injuries which required eight stitches.
McFall who was arrested on suspicion of inflicting previous bodily harm and possessing an offensive weapon.
During interview he accepted an incident occurred which began when he told the injured party: "I wanted my subs (Subutex). He asked me if I had any and I said no. That's all.
Pressed further, McFall told them: "I was defending myself and a bottle broke on the ground."
Asked had he thrown the broken bottle neck towards the injured party, he replied: "I might have thrown the bottle at him, but I don't know."
Related: Man charged following afternoon stabbing in Dungannon town centre
Objecting to bail the detective said there is a risk of reoffending as the latest alleged incident occurred while McFall was on bail for other matters and has breached conditions on various occasions.
It was further noted McFall has a prolific record comprising of 95 previous convictions.
A defence barrister told the court that McFall provided an account to police and was cooperative throughout his time in custody.
"No-one is denying that this is a very serious case but that in itself isn't a reason to object to bail," said the defence.
"This will take some time to be investigated to fruition and for a prosecution file to be completed. If it remains as the charges are, it's not unusual for these cases to take over six months to reach committal stage, never mind into crown court, given the medicals and forensic reports which will be required."
The defence agreed McFall is currently on bail since May 30 for unrelated matters without any breaches thus far which, "shows he can adhere to conditions".
The barrister added: "He has a viable address and with very stringent conditions including a curfew, electronic tag and exclusion one around the area of alleged offending, concerns regarding bail could be assuaged."
District Judge Alana McSorley, however, disagreed and refusing bail, stating: "The risk of further offences is too great."
McFall was remanded in custody to appear by video-link at Dungannon Magistrates' Court on August 9.
Sign Up To Our Newsletter