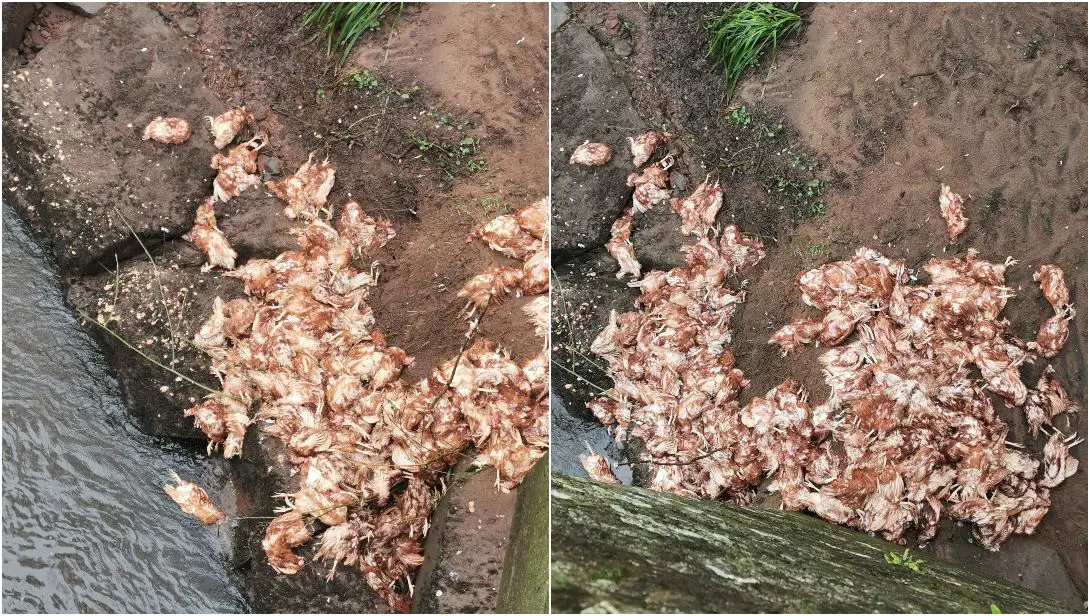 The Department of Agriculture, Environment and Rural Affairs have confirmed that the dumping of hundreds of hen carcasses in a Co Tyrone river is not being treated as a suspected avian influenza case.
Last week, residents of a rural community on the Tyrone-Armagh border were left horrified following the discovery in a nearby waterway.
The gruesome find on an embankment of the River Oona, which runs into the nearby River Blackwater, was made by a passerby out walking their dog last Wednesday morning.
One resident, speaking to Armagh I, said he and other residents were "shocked" to see the hens illegally disposed of over the top of the Oona Bridge.
He also voiced concern "not only for the pollution of the river, but the current bird flu restrictions".
However, the Department of Agriculture, Environment and Rural Affairs have confirmed, after due consideration, they are not treating this as a suspected avian influenza case, but rather as a carcass dumping incident.
A department spokesperson said: "The responsibility for the proper disposal of animal carcasses rests with the owner or person responsible for the carcasses.
"The manner in which these birds have been simply dumped at the side of a river is both reprehensible and a criminal offence."
The carcasses have since been removed and investigations into the circumstances surrounding the incident are ongoing.
DAERA have urged anyone with any information to report it to them on 0300 200 7840 or by email to environmentalcrime@daera-ni.gov.uk – all information will be treated in the strictest confidence.
Speaking at the time, Sinn Féin Fermanagh and South Tyrone MP Michelle Gildernew, said the discovery was "extremely concerning".
She added: "The illegal dumping of these hen carcasses will have a detrimental impact on our local environment, and could pollute the Oona river and conjoining rivers.
"There is absolutely no place in our community for this criminal act.
"I have contacted the Department of Agriculture, Environment and Rural Affairs to request urgent action is taken to ensure that those responsible are held to account."
Sign Up To Our Newsletter