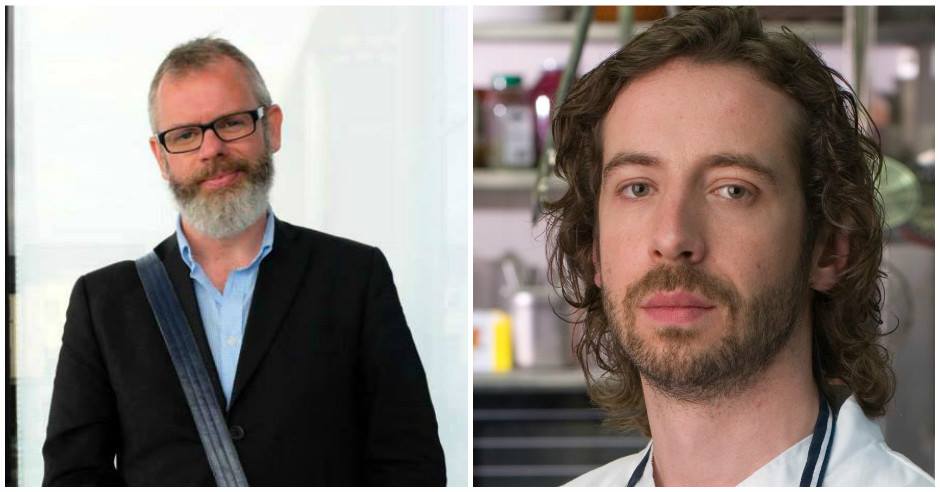 County Armagh has a long and proud history of all things pertaining to the arts.
And now two locals – both former students of St Patrick's Grammar School in Armagh – are preparing to unwrap the next chapters on their already hugely successful careers.
Playwright Daragh Carville's latest work 'History' will be premiered in Belfast, while there is a change of direction for actor Michael Hughes, who has just released his first novel 'The Countenance Divine'.
Armagh City native Daragh is an award-winning playwright and screenwriter whose works include Language Roulette, which has been staged in London, Edinburgh, Dublin and Belfast, and the movie Middletown, with Ripper Street's Matthew MacFadyen as a priest returning home to find a community in need of salvation and determined to lead them from their earthly pleasures – whatever the cost.
Daragh's new play 'History' is one of three new pieces of theatre being brought to the stage by Tinderbox.
Along with 'Hiatus' and 'Hen', the three form a powerful and unforgettable stage experience, titled 'What We're Made Of', featuring an incredible ensemble of players who will make us question who we think we are, challenge what we think we know and celebrate what it means to be alive.
'History' opens in a quiet cafe on a normal day, where Emma drops a bombshell that rocks the very foundations of Declan's happy, settled life. Passions that were never allowed to blossom are suddenly acknowledged and there is nowhere to hide.
Daragh Carville's new play goes straight to the heart of love and how we long for a passion stronger than ourselves.
'What We're Made Of' – directed by Patrick J O'Reilly – opens at the Crescent Arts Centre in Belfast this Thursday, September 15, and runs until Friday, September 23, with performances at 7.30pm each evening. There will also be 3pm matinee performances on Saturday and Sunday, September 17 and 18.
Tickets, which are priced at £14 and £10 concession, are available from The Crescent Arts Centre website  or call the Crescent Arts Centre box office on (028) 9024 2338.
Keady man Michael Hughes, meanwhile, will be holding a launch night for his novel 'The Countenance Divine' in Belfast this week.
And he will also be giving a reading in Armagh as part of the Culture Night celebrations.
Michael – from Keady – has a host of stage and screen credits to his name, most recently playing a defence barrister in the four-part adaptation 'The Secret', the controversial drama based on Colin Howells' and Hazel Buchanan's deadly affair.
He has also starred in 'The Fall' and 'Happy Valley', among other things, and in 'Good Vibrations', the Belfast-based biopic of Terry Hooley, the iconic Ulsterman and godfather of punk who established a record shop and label and used music as a uniting influence during dark days of division.
Michael – who goes under the stage name of Michael Colgan – will launch the book at an evening in No Alibis book shop in Belfast this Thursday, September 15, at 7pm.
Spanning key events across four centuries all linked by a common thread, it deftly weaves historical fact with fiction, from the 17th Century world of Paradise Lost scribe John Milton, to that of the visionary poet William Blake and Jack the Ripper's blood-soaked Whitechapel streets, to the doomsday prophecies and fear struck by the impending Millennium bug.
It is both a stunning and stimulating debut.
And, in addition to the launch at No Alibis, Michael will be appearing at Armagh Public Library at Abbey Street for Culture Night, this Friday, September 16, when he will give a reading from his work.
This event, which begins at 8.15pm, is open to all.
Those wishing to attend the launch in No Alibis should book their place via email to David or call the shop on (028) 9031 9607.
We wish both Daragh and Michael the best of luck with their latest ventures and are sure the good people of Armagh will show their support now and in the future.
Daragh Carville (left) pic by John Baucher, taken at the Market Place Theatre during the John Hewitt Summer School. Michael Hughes' picture is on the right.

Sign Up To Our Newsletter