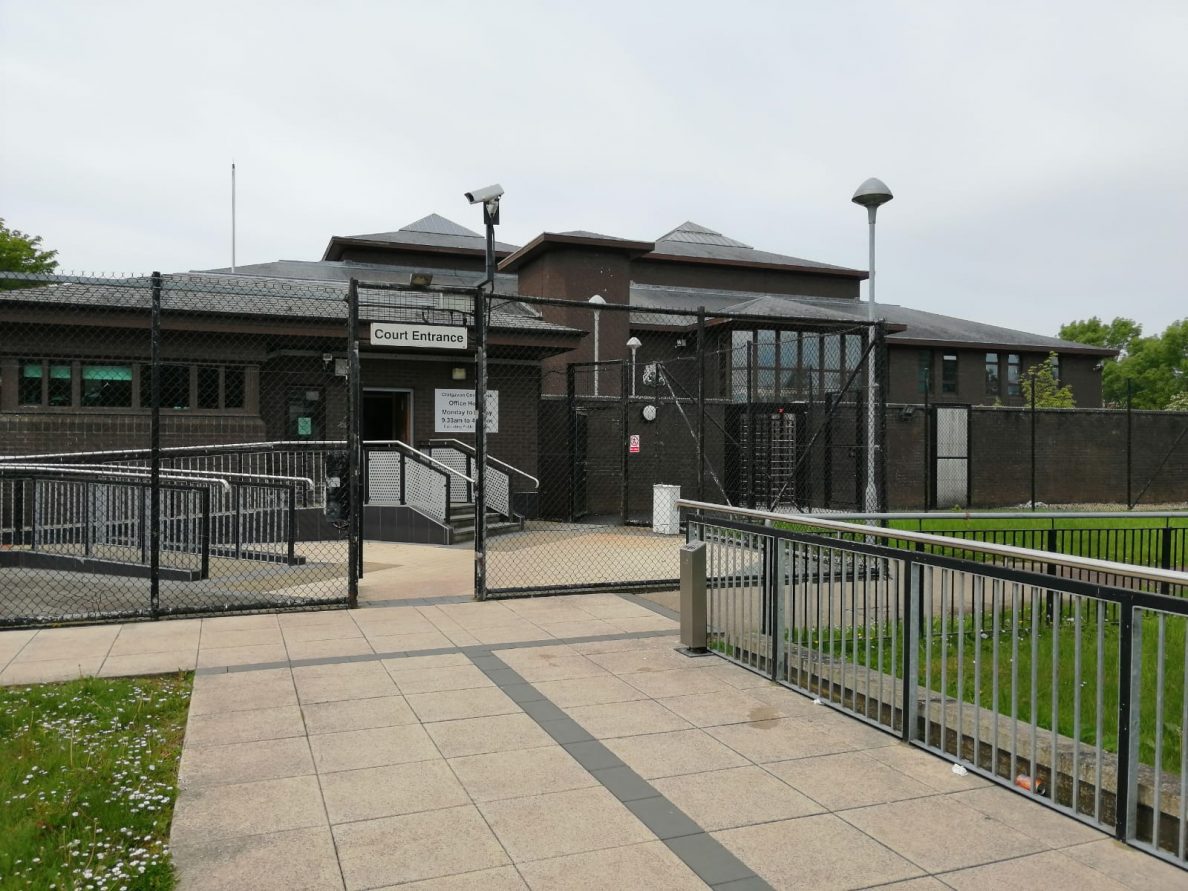 A woman accused of throwing a glass from a balcony and hitting a 14-month-old child has been refused bail.
The defendant is also alleged to have spat on one police officer, kicked the chest of another.
The prosecution also claim the 23-year-old also spat at the child's mother but that her spit also hit the 14-month-old girl.
Elizabeth Sterrett, of Black Mountain Walk in Belfast, appeared via videolink from Hydebank at Craigavon Magistrates' on Wednesday, for the purposes of a bail application.
The 23-year-old faces charges of common assault, possession of an offensive weapon with intent to commit an indictable offence and two counts of assault on police.
On Friday, when the bail application was opened, prosecution outlined that at 6.30pm on September 20, police received a report from a female.
She claimed to have been helping a distressed woman in her home, when the defendant began shouting abuse at her from a second floor balcony.
It was alleged that Sterrett then spat from the balcony, hitting the reporting person's 14-month-old child.
She then proceeded to throw a glass which hit the same child on the foot, leaving them with bruising, it was further alleged.
Police arrived at the scene to arrest the defendant, who is alleged to have struggled, spitting on one officer and kicking another in the chest.
During interview, the defendant claimed she did not even think that she had been at the apartment at the time.
At the early court appearance, defence barrister Robert McTernaghan stated that Sterrett had been serving a sentence for a Crown Court matter for which she was due to be released on licence in September.
However, due to new Covid-19 early release directions, the defendant was to be released on June 23.
A bail address in Greenisland was put forward, however, police had concerns as the address was also home to another female who had recently been released from prison.
The case was adjourned for prosecution to gain information on the person with whom the defendant has proposed she reside.
Speaking on Wednesday, prosecution stated that the female in question had been released under the Covid legislation in early April.
She had come to police attention on April 20, for an alleged offence of grievous bodily harm with intent, driving whilst disqualified and driving with no insurance.
Prosecution said: "She was interviewed and released pending DNA evidence, she is due to have a second interview sometime in July".
Mr McTernaghan addressing the court stated: "The Crown on the previous occasion stated that my client spat on the child, myself and my instructing solicitor went through the papers and believe this is incorrect.
"This was reported widely in the Sunday papers, as a result the defendant's mother has been subject to online abuse and the defendant has been left distressed, I would ask that this is amended."
Prosecution stated that this could not be amended at this time and confirmed that their papers allege that Sterrett's spittle did hit the 14-month-old child.
Mr McTernaghan stated that his instructing solicitor had made an application for this to be done.
District Judge Nigel Broderick commented that this had only been received yesterday and due to the current situation things were moving slower.
Outlining objections, prosecution stated: "Police do not believe the address is appropriate due to the other person who resides there.
"It is also felt that the defendant would be a flight risk as she has had 10 bench warrants issued from October 2017, the most recent being in December 2019".
It was heard that Sterrett had 15 prior convictions, the most recent entry on her record being in October of last year.
Prosecution continued: "The defendant has four previous breaches of court orders, it is felt it would be unlikely that she would abide by bail conditions.
"She also has eight previous breaches of bail, the most recent in September of 2019."
Mr McTernaghan stated: "The other lady has a full alibi for the alleged offences and is entitled to the presumption of innocence.
"With the flight risk, Ms Sterrett would be subject to a mandatory 90 day tag, she would be under the watch of the PBNI and would have to attend with them".
He added: "She has a critically ill son, for whom she has parental responsibility for. This was due to be a contest in March but that was vacated due to the current health crisis.
"It is the case where she does not know and we do not knew when a contest will take place. These offences are fully contested and she is entitled to the presumption of innocence."
District Judge Broderick stated: "The defendant is a sentenced prisoner, due to the Covid situation she is eligible for early release at the end of June, prior to this she had a release date of September 9, 2020.
"This is relation to a relevant Crown Court offence. The defendant has 15 prior convictions, she has the presumption of innocence but I am satisfied there is sufficient evidence in the facts.
"The proposed address is with an individual who has also been released from custody, she has been subject to an arrest, although I caution myself that she too has a presumption to innocence".
He continued: "The defendant faces a quite serious alleged assault on a young child, it would appear the defendant has a number of issues with abuse of substances and a propensity for violence.
"There is a fear of further offences and it is the courts assessment that this is not a suitable address, she wishes to reside with a person who has their own difficulties."
Bail was refused in the case which was adjourned.
Sign Up To Our Newsletter