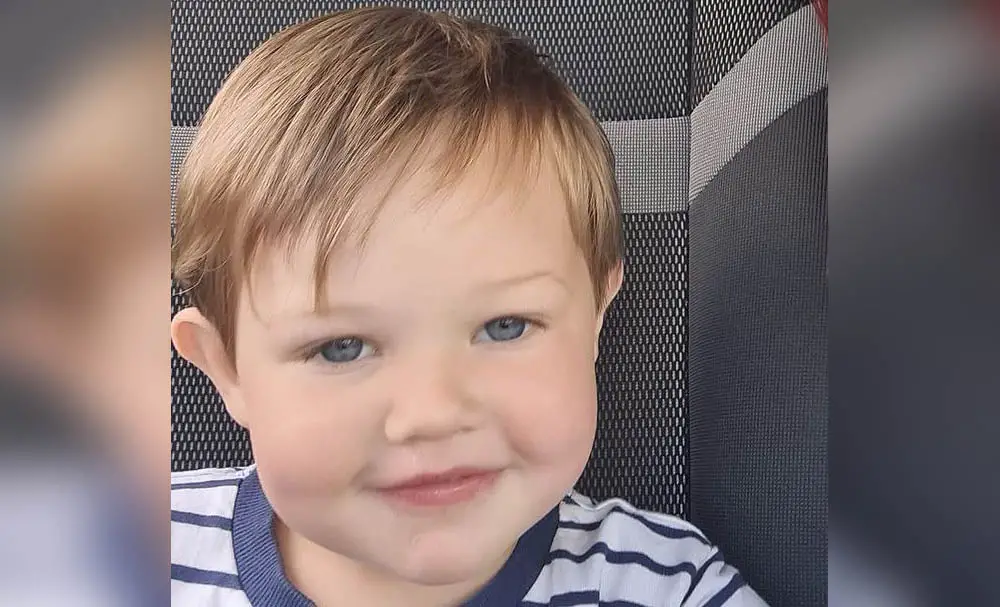 The mother of two-year-old boy tragically killed in an accident this week said "our lives will never be the same again" as she laid her son to rest earlier today (Saturday).
Little Harry Magee lost his life in an incident involving a vehicle near his home on the Boghead Bridge Road at Aghalee on Tuesday.
Mourners at the his funeral in St Joseph's Church, Glenavy heard how Harry "was the most sweetest, most beautiful little boy in the whole world".
Mum Leanne, who delivered an emotional and heart-wrenching farewell message to her son, said: "Harry, words cannot describe the pain in our hearts; our hearts are not only broken, instead, our whole hearts have died with you baby boy.
"Our lives will never be the same again. Our home will be so empty without you but our love for you is everlasting.
"When you smiled, you lit up the whole room, you were the most sweetest, most beautiful little boy in the whole world and you have touched so many people's hearts.
"Mummy, daddy, Cameron and Charlie we'll miss you so very much. We wish this was all a bad dream, and someone would wake us up but sadly, this is reality.
"And we have to live with the pain for the rest of our lives, but you, our beautiful little baby, will never be forgotten. You are loved so very much.
"We all tried to save you Harry but sadly this was not meant to be. You, my love, have gone to a better place and will be forever young."
Leanne reserved a special mention for the staff and first responders who "tried so hard to save our little baby".
"Paddy, myself and our family will be forever grateful to the staff of Craigavon Hospital for all your love, help and support," she added.
"Thank you for looking after our little angel. To everyone for your kind words, love and support, no matter how big or small, you have touched us as a family.
"You will never understand how much we appreciate everything you've done for us. So, baby Harry, this isn't goodbye, just a long goodnight. We love you and miss you deeply. Mummy, daddy, Cameron and Charlie."
Parish Priest, Fr Colm McBride, described Harry's death as "a shocking nightmare".
"Little Harry's death has touched our entire community and indeed, further afield.
"In the aftermath of all accidents we torture ourselves with thoughts of 'if only'. In doing that we just remind ourselves that every day is full of such potential 'if only' moments. We simply have no answer to this tragedy."
He added: "Harry was a very loving child, an innocent and inquisitive wee fellow with a lovely – some say almost permanent – smile.
"And although he was progressing in the use of language, his understanding of technology was astonishing. He had mastered the remote control for the TV. He knew how to find Netflix, and where to find his particular choice of programmes.
"Paddy and Leanne were privileged to bring into this world. And he was blessed to have them."
Harry was laid to rest in the adjoining cemetery. May he Rest in Peace.
Sign Up To Our Newsletter