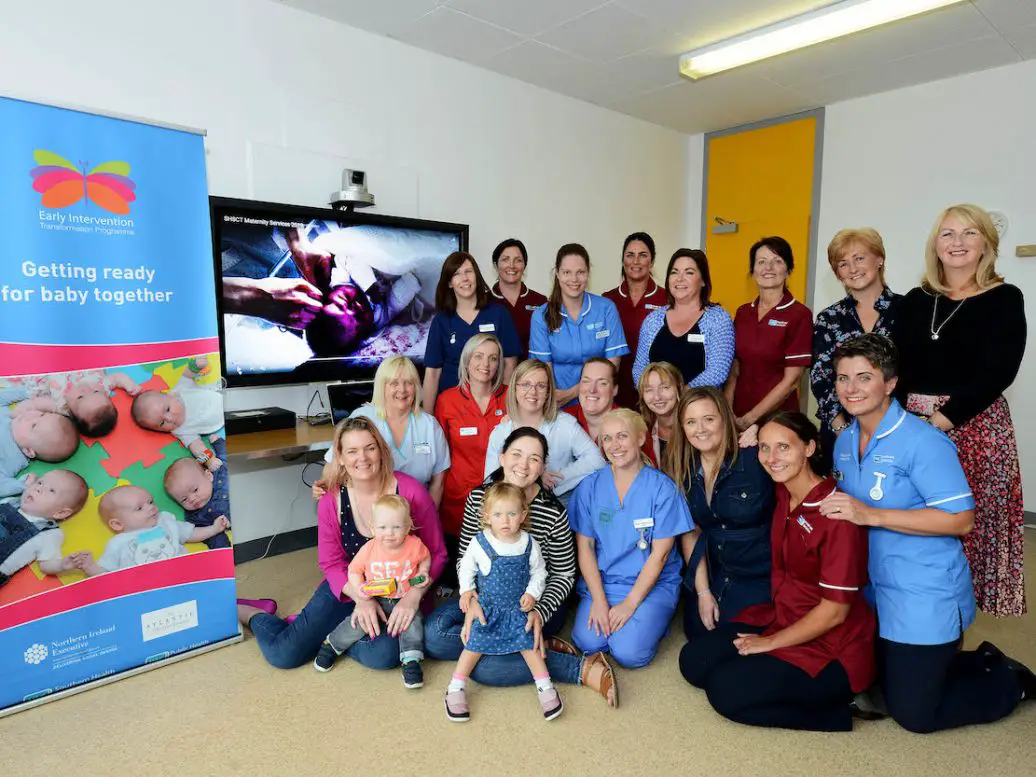 Local mums, their babies and maternity professionals have recently celebrated the launch of a video providing an insight into Maternity services in the Southern Trust.
With around 6,000 babies born each year, the video takes viewers through the pregnancy journey from the moment a positive pregnancy test is carried out to when women walk through the front entrance of the hospital.
Wendy Clarke, Head of midwifery and gynaecology, said: "I am delighted to launch this new video for maternity services and it will be an excellent resource for mothers and their families throughout their pregnancy journey.
"The video provides a fantastic insight into the care women will receive from our amazing team throughout pregnancy, birth and after their babies are born. We are proud of and grateful to the new mothers and their babies who were involved in the development of this useful resource."
The video highlights how easy it is to make a self referral to midwife either online or via your GP.
It gives an overview of the work of the community midwifery team, which supports women with antenatal and postnatal care and those choosing to give birth at home, and the antenatal and new born screening teams, ensuring women  are empowered to make the best choices for themselves and their babies.
A first time local mum explains how her and her husband benefitted from the 'Getting ready for baby programme' she talked about how the practical element of changing a nappy was helpful and she highly recommends the programme. Other mums talk about their real life birth experiences from home birth to caesarean section etc.
The Labour Ward, with teams of midwives and medical staff providing specialist care during labour and birth, also features in the video.
Viewers also get to see the Midwifery Led Unit where women with healthy pregnancies can have their babies in surroundings likened to a home from home environment rather than a hospital.
Specialist staff working in the obstetrics theatres helping women who need extra care and where babies are born by caesarean section are also shown during the film.
The Neonatal Unit, looking after the sickest babies in the region, is also part of the video to show how the trust is able to care for those infants most in need of medical attention after birth.
Sandra Hewitt, Infant Feeding Lead Midwife talks about the health benefits of breastfeeding for mum and baby.
Consultant in Obstetrics and Gynaecology, Dr Beverley Adams talks about mental health support for mum and baby during and after pregnancy.
To find out other information about the maternity services click here.
Sign Up To Our Newsletter