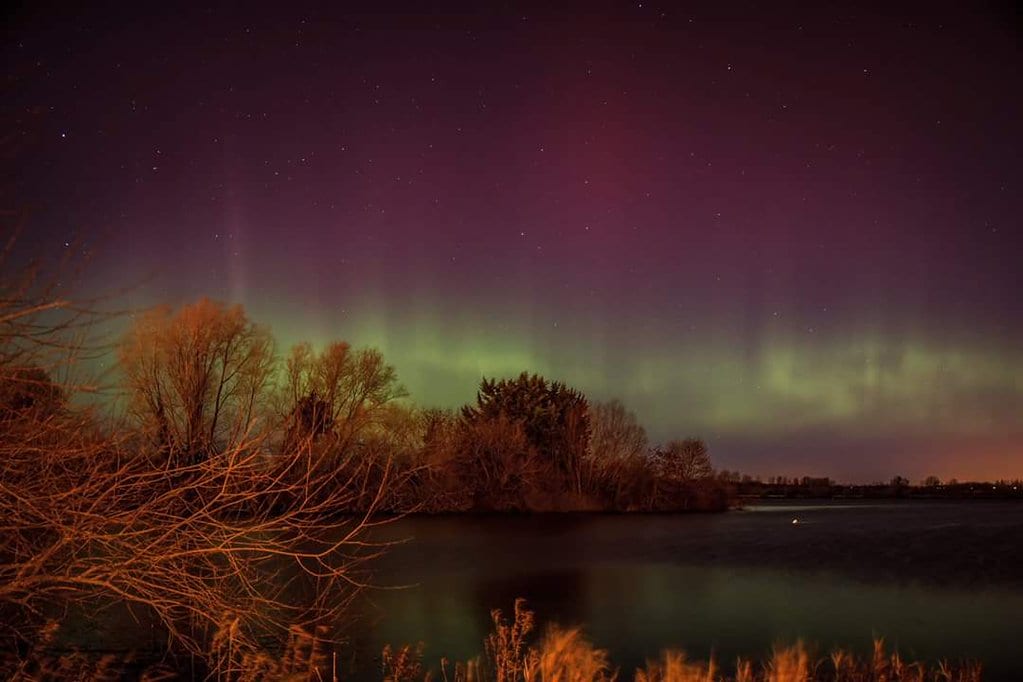 An incredible natural display of the Northern Lights (Auroraborealis) was captured on camera in the county Armagh skyline last night (Sunday).
Photographer Paul Wharton snapped the amazing pictures at Craigvon lakes around 10.30pm.
Speaking to Armagh I, he said: "I'm in to photographing the aurora so I'm always checking the KP (aurora) forecasts.
"There was a major storm yesterday so I went down to the lakes at about 10.30pm and it was a white band across the sky but it shows up green on camera. Half an hour later it kicked off and was green with the naked eye with tall spikes and I even made out the red."
He added: "I usually go to the north coast or Iceland but this is the first time I've seen them from Craigavon Lakes."
The Northern Lights are caused by the interaction of the solar wind – a stream of charged particles escaping the Sun – and our planet's magnetic field and atmosphere.
They occur most frequently in a belt of radius 2500 km centered on the magnetic north pole.
This so-called auroral zone usually extends over northern Scandinavia, Iceland, the southern tip of Greenland and continuing over northern Canada, Alaska and along the northern coast of Siberia.
The aurora from Craigavon Lakes. #Craigavon #Auroraborealis pic.twitter.com/q16ZKd7Nms — Paul Wharton (@paulwharton1970) December 21, 2015
Short time lapse of Sunday night's aurora at Craigavon Lakes. pic.twitter.com/uESTWYZGTS

— Paul Wharton (@paulwharton1970) December 21, 2015
Read more news:
Two men arrested after weekend stabbing
Motorbike seized and teenage boy reported for motoring offences
Two males attempt to smash into house after occupant fails to answer door
Police appeal for help in finding missing Jamie Lutton
Tragic Dr Hinds' partner, mother and colleague collect posthumous BBC honour
Astronomer says object in Armagh skyline could have been a rocket
Four Seasons confirms to MLA 'formal offer' made to buy Hamilton Court
Newsletter
Sign up for our weekly newsletter here.