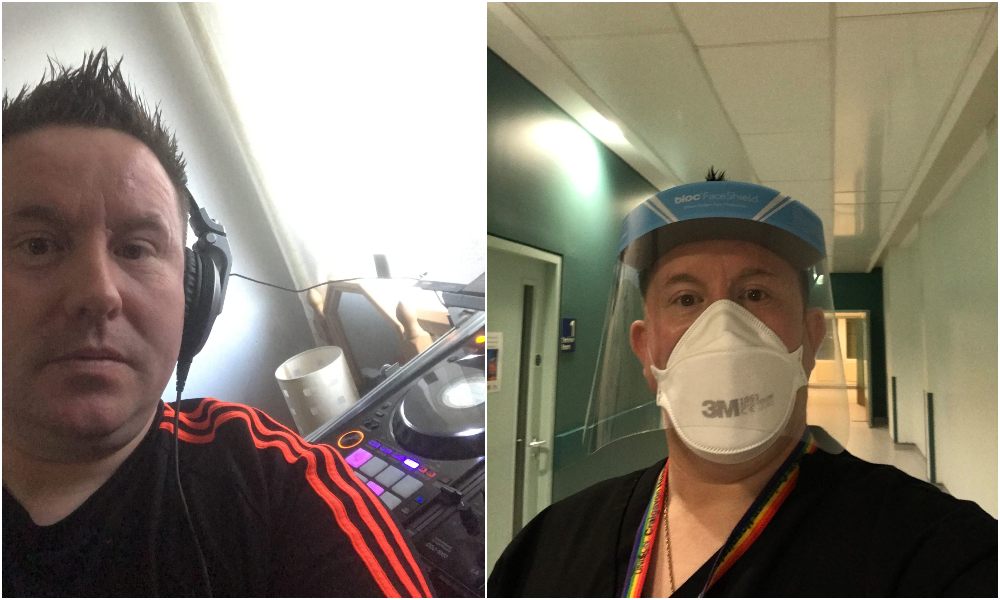 A ward assistant at Craigavon Area Hospital has staged a non-stop disco marathon to try and buy supplies to put a smile on his colleagues' faces.
Darran Heaney enlisted the help of local DJs to make the event a reality.
And so far the music-mad local's efforts have brought in well over £2,000 and counting!
Darran, who works at the respiratory Emergency Department at Craigavon, is also a shop steward for Unison Craigavon Hospitals Branch.
Like his colleagues, they have been putting themselves at risk to help save lives.
And to that end, Darran thought he would put his passion for music to good use and stage an eight-hour marathon of dance tunes to bring in donations.
He told Armagh I : "I have worked at the hospital for 15 years and I am also a DJ.  I DJ for a global internet radio station called toohotradio.net
"I decided to do this fundraiser as I work on the frontline with many, many great people – nurses, doctors and other support services.
"I realised this was a very trying time, so after consultation with some representatives I decided I would do this to get extra food, toiletries and sanitary products for all the staff – and use music to put a smile back on the faces of those who are doing a fantastic job."
Darran – who DJs under the name Di-tech – put his contacts to good use and soon had a willing band of helpers for the big fundraiser – which was held on Saturday night.
And since then the money has been flowing in in support of a very worthy cause!
Added Darran: "I rounded up a team of eight well-known local DJs to do an 'Eight DJs Eight Hours' marathon. As well as myself there was Simy McKee , Mark Casey, Chris Dunwoodie, Micheal McSherry, Keith Montgomery, Peadar McConville and Gary Ferris.
"I started of with a £500 target and it was smashed within one day!
"Then I continued to put the target up, right up until the event, with it smashed four times right up until then.
"The support was becoming overwhelming. Too Hot Radio themselves then got involved and decided to do a build-up with different DJs playing from 1pm on the 2nd of May, right up until I went live at 8pm.
"I opened the 'Eight DJs Eight Hours' with my own one hour set and smashed the £2,0oo target during my set.
"The reaction from the staff at the hospital and Too Hot Radio and Unison and the other seven DJs was unreal.
"I never expected such support which made things more emotional on the night of the event."
For Darran, it has been an incredible experience and he knows the money will help make a big difference and will be go greatly appreciated.
He is also buzzing after he got recognition and congratulations from international superstar DJ Judge Jules when one of his mixes from the night made it into the top 10 Mixcloud Chart!
Darran also wants to thank two great donations which were raffled which helped add to the total. Local artist Chris Dummigan handed over a painting which was won by Stephen Ozzie Burns, while frontline services worker Janice McCourt contributed a set of prints which were won by Colette Baylis.
He said: "We have done a final count today (Friday) and have managed to raise £2323.49. We will be organising a presentation to hospital representatives John Creaney and Dawn Emerson in the coming weeks."
Darran and his DJ pals are so grateful to all who donated and anyone who would still like to contribute can click the link here:
For Darran it has been a fantastic experience.
And how did it feel to raise all that money?
"Immense," he says.
Sign Up To Our Newsletter