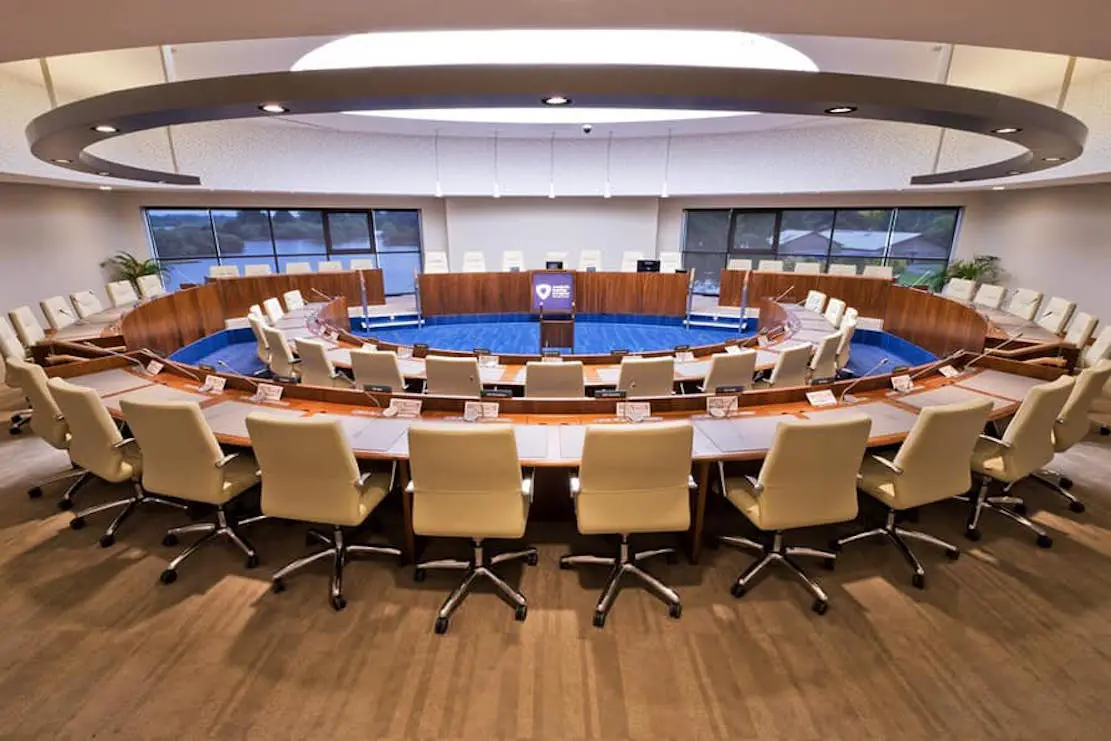 A Sinn Fein councillor threatened to make an official complaint to the Ombudsman over remarks made during an ABC Council debate on exploring the potential of a lasting tribute to UDR Greenfinches.
Councillor Catherine Nelson accused an Ulster Unionist speaker of "sexism" during the course of a heated debate on Monday evening.
And she told the chamber she would be making an official complaint if Councillor Kyle Savage did not apologise.
Things came to a head in a debate which saw ABC Council back plans to explore the possibility of creating "a lasting tribute" to the women of the Ulster Defence Regiment, known as 'Greenfinches', to recognise the "significant" role they played in the "defeat of terrorism in Northern Ireland".
The motion was brought forward by UUP Alderman Glenn Barr and was seconded by his party colleague Alderman Ian Burns.
However, not everyone in the chamber showed support and during the debate emotions ran high.
With both the SDLP and Sinn Fein signalling their opposition to the motion, a vote was required which saw the 25 Alliance Party and unionist councillors present vote in favour of the motion while the 13 republican and nationalist councillors present voted against it.
Alderman Barr's motion read: "This council recognises the significant contribution that women have made and continue to make in defence of our great nation.
"The Ulster Defence Regiment Bill received Royal Assent on July 18, 1973, which enabled the recruitment of women to the Ulster Defence Regiment.
"Armagh City, Banbridge and Craigavon Borough Council recognises the significant impact that the Greenfinches had in the defeat of terrorism in Northern Ireland and in conjunction with the Regimental Association of the Ulster Defence Regiment CGC will recognise and honour the sacrifice they made.
"Council will explore a lasting tribute to the Greenfinches of the Ulster Defence Regiment CGC."
Introducing the motion, Alderman Barr said as the local authority's veterans' champion he was "absolutely delighted" to bring it before council and noted the Greenfinches were "the first case of complete integration of males and females in a British military unit by almost 20 years".
Seconding the motion, Alderman Ian Burns noted that between 1974 and 1992 four Greenfinches were murdered by the IRA – Private Eva Martin on May 2, 1974; Lance Corporal Gillian (Jean) Barbara Leggett on March 7, 1976; Private Margaret (Ann) Hearst who was off duty on October 8, 1977 and Corporal Heather Catherine Jean Kerrigan on July 14, 1984.
"We owe these, and all the, ladies of the UDR a debt of gratitude," he said. "They helped to defeat terrorism, we must never forget that and I am happy to second the motion."
DUP Councillor Margaret Tinsley told the chamber a friend of hers was a former Greenfinch who served in the borough in the 1980s and 90s before reading a brief poem about the UDR Greenfinch.
Alderman Stephen Moutray told the chamber he was of a generation that "remembered the Greenfinch being active" and said "it was really shameful that four of them had to pay the supreme sacrifice" and asked that the Regimental Association of the UDR has a role in any lasting tribute council brings forward.
Councillor Ian Wilson told the chamber he was delighted to support the motion, noting he has a close family member who was a Greenfinch and Alderman Sydney Anderson said he was "delighted" to support the motion.
Alliance Councillor Brian Pope confirmed his party would also support the motion in principle but sought assurances over "what form of tribute was being proposed".
"Once that is shaped and finalised, including details of the finance, an ultimate decision could be made," he said.
"We do recognise there are sensitivities around our past and so we wish to see this handled in a respectful way recognising the diverse views in our community.
"Ensuring women are appropriately reflected in council's tributes is a welcome step going forward and it is important to reflect on the full diversity of our borough."
Sinn Fein Councillor Catherine Nelson said her party would be opposing the motion and criticised the UUP for bringing it forward at a "time when the people of our borough are experiencing a once in a generation cost of living crisis".
"It is blatant electioneering from a party so numbered in its days that it is deeply seeking to find relevance," she said.
"There is absolutely nothing to celebrate in a regiment that is so discredited that even the British government was forced to disband it.
"In the most rigorous of terms we will be opposing this motion tonight."
SDLP group leader, Councillor Thomas O'Hanlon said while he recognised the work Alderman Barr does with veterans' groups his party would not be supporting the motion.
"We recognise there are many families who have lost loved ones but not all our communities have the same experience that the member has in relation to the UDR in this community," he said.
"There are well documented example in the media and before the courts of the organisation being infiltrated by loyalist paramilitaries and for that reason we cannot support the notice of motion tonight."
UUP Councillor Kyle Savage said he wanted "to quickly respond to that little tantrum Councillor Nelson had" telling the chamber he spoke as the son "of a proud UDR member who served this country well".
He advised Cllr Nelson to "take a look at her history" noting the UDR was formed to "fight terrorism".
Councillor Nelson then asked Councillor Savage to "reflect on the sexism he just displayed" and said that "if an apology is not forthcoming I will be making an official complaint to the Ombudsman".
"That certainly wasn't a tantrum that was my democratic right to speak on any matter that is raised in this council. I am really disappointed in Councillor Savage."
Bringing the debate to a close, Alderman Glenn Barr noted an inaccuracy in Councillor Nelson's comments telling the chamber the UDR was "not disbanded, they were amalgamated with the Royal Irish Rangers to form the Royal Irish Regiment".
He then went on to explain the legacy to which the motion refers could be as simple as a small civic reception through the civic budget or through educational pieces to ensure young people in the borough are made aware of the role these women played.
With a recorded vote taking place, those who voted in favour of the motion were: Alderman Sydney Anderson, Alderman Glenn Barr, Alderman Mark Baxter, Alderman Ian Burns, Alderman Gareth Kennedy, Alderman Stephen Moutray, Alderman Paul Rankin, Alderman Jim Speers, Alderman Kenneth Twyble and Alderman Gareth Wilson.
Lord Mayor Councillor Paul Greenfield, Deputy Lord Mayor Councillor Tim McClelland, Councillor Paul Berry, Councillor Julie Flaherty, Councillor Jessica Johnston, Councillor Peter Lavery, Councillor Jill Macauley, Councillor Lavelle McIlwrath, Councillor Louise McKinstry, Councillor Kyle Moutray, Councillor Sam Nicholson, Councillor Brian Pope, Councillor Kyle Savage, Councillor Margaret Tinsley and Councillor Ian Wilson.
Those who voted against the motion were: Councillor Paul Duffy, Councillor Keith Haughian, Councillor Thomas Larkham, Councillor Liam Mackle, Councillor Declan McAlinden, Councillor Sorcha McGeown, Councillor Darren McNally, Councillor Eamon McNeill, Councillor Catherine Nelson, Councillor Thomas O'Hanlon, Councillor Grainne O'Neill, Councillor Kevin Savage and Councillor Ciaran Toman.
With the votes counted the motion was adopted by council with 25 votes in favour and 13 against.
Sign Up To Our Newsletter