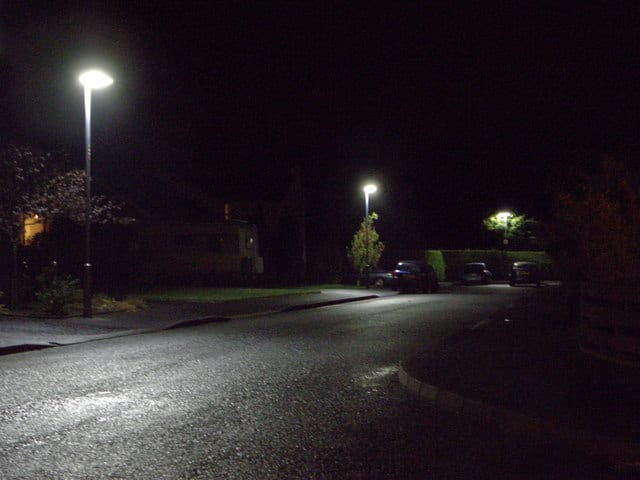 A multi-million pound 'greener' street lighting pilot which has led to scores of complaints across Counties Armagh and Down could yet be rolled out to all areas in Northern Ireland.
But the Minister in charge has said he wants to take "greater stock of the assessment of the pilot" before committing himself either way.
The new lights were installed across areas including the former Craigavon and Banbridge Council areas with the possibilty of then being extended to other areas.
But the lights failed to find favour with the people, as many complained of reduced visibility and warning the 'reduced' glow would actually put lives at risk and lead to an increase in crime in residential areas.
Infrastructure Minister Chris Hazzard has said that 268 complaints had been received by the start of last week.
And these were "typically in relation to reduced lighting levels and the level of light spilling into residential gardens".
Speaking in the Assembly, Minister Hazzard said: "All complaints received are individually recorded and assessed, with lighting levels checked against the required standards.
"An assessment of the lighting levels at each of the sites found that 199 were within the appropriate levels that the Department aims to provide, and 69 were, indeed, adjusted to come up to that level."
The Minister was giving his assessment of the LED lighting pilot this week in response to a question from Upper Bann DUP MLA Sydney Anderson.
It was in 2014 that the review of street lighting was carried out and retrofit sodium street lighting units were replaced with LED in response to 'resource pressures' to achieve energy and maintenance savings.
It was agreed the Craigavon and Banbridge areas would be used as a representative pilot.
Minister Hazzard explained: "The completion of the LED pilot has seen the replacement of over 15,000 sodium street lighting units with new low-energy, long-life LEDs that produce good-quality white light.
"It is estimated that the LED pilot will provide annual savings of around £360,000 in electricity, carbon and maintenance costs for an investment of around £3 million.
"The pilot also allowed my Department to gain direct experience of how it can best deliver the necessary surveys, the design specification of LED equipment and the procurement of the equipment, as well as to assess the LED technology in a wide range of residential scenarios."
Mr Hazzard said he acknowledged concerns raised by residents, elected representatives and councils about the "loss of generalised lighting to the front of houses, gardens, pathways and front doors".
But he added: "It is the Department's responsibility to light adopted roads and footways only. "In all, it has been a worthwhile pilot that delivered on its aims to provide savings and a better understanding of LED street lighting."
Mr Anderson, meanwhile, said the scheme had been rolled out across Craigavon and Banbridge with "little or no consultation".
Asked if it was intended to proceed with the introduction of LED lights in other areas, the Minister said: "I want to take greater stock of the assessment of the pilot before we consider rolling it out right across the north."
Sign Up To Our Newsletter