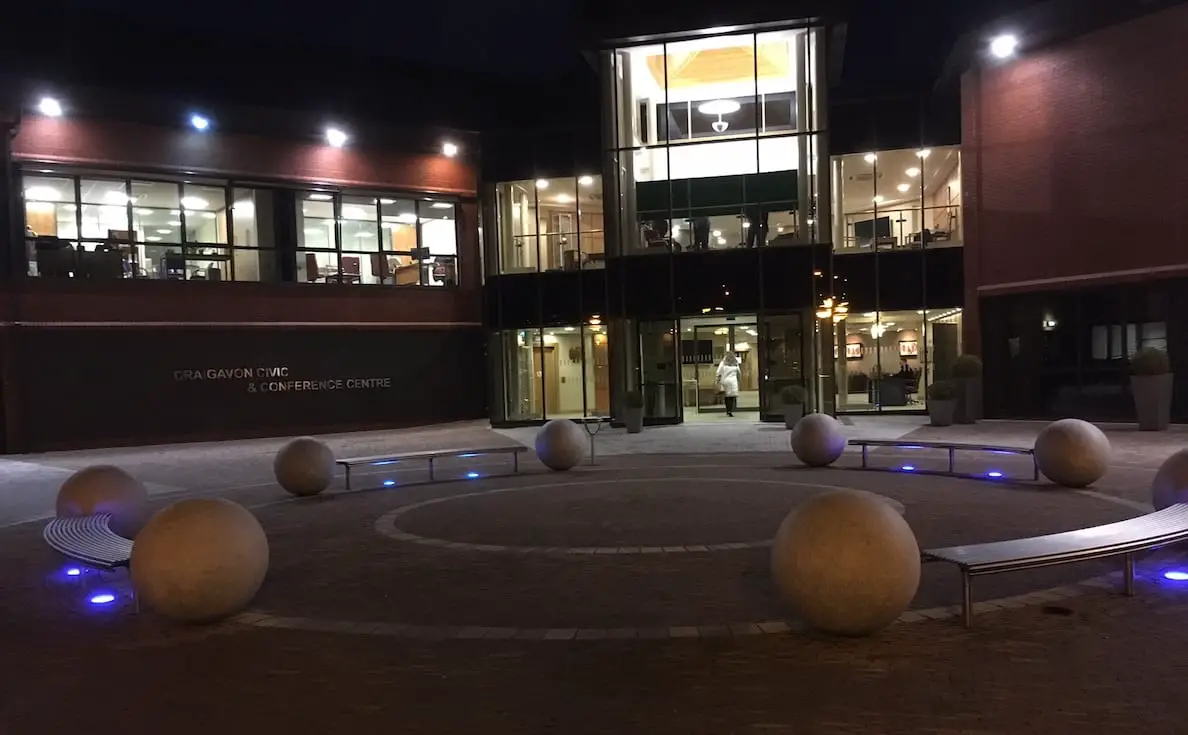 A Middletown mother has slammed the organisation of a walk-in vaccine clinic by the Southern Health Trust as a "complete shambles".
She did so after being turned away and refused the chance to get a booster jab at Craigavon Civic Centre tonight (Wednesday).
For the past number of days the Southern Trust has highlighted the availability of booster jabs for both appointments and walk-ins.
It comes days after the Executive confirmed plans across Northern Ireland to accelerate its vaccination programme in light of the growing threat from the Omicron variant were being introduced with immediate effect.
The Southern Trust has been advertising, via social media, that walk-ins were available throughout this week and today (Wednesday) was offering extended hours at the Civic Centre until 8pm.
Those attending for jabs were advised that walk-ins would be accepted up until 7pm.
However, in true Christmas fashion the woman said she arrived to find there was no room at the inn and walk-ins were being turned away despite arriving well ahead of the advertised deadline.
The mother of three said the Trust failed to notify people that no more walk-ins would be accepted.
She hit out: "It's a complete mess. Why advertise something and then fail to deliver?If your plans change at the very least the public should have been notified and told via social media.
"When I saw the post on Facebook I decided to go for the jab. The online booking service is not available to anyone under the age of 40 and the advice was simply to turn up, which I did.
"I work in a shop so had to take time off work and rearrange my shift and get someone in to sit with the children, so there was quite a bit of planning involved.
"I then set out on what would be a round trip of close to 60 miles to get my booster.
"I'm not the easiest with needles and this type of thing and was worried about getting it and had actually psyched myself up to go.
"I left home in plenty of time to get there before 7pm and actually arrived around 6.30pm.
"I could see half a dozen cars in front queuing to get down into the Civic Centre grounds.
"A man in a hi-vis vest came walking up the queue and indicated for me to wind down the window and asked if I had an appointment. I said no and he said we are not taking any more walk-ins. He said it's mad down there and told me to turn around and go.
"He indicated for me to do a u-turn at the junction and basically go away.
"I don't know what time they actually started turning people away from.
---
Covid vaccination centre to reopen at South Lake Leisure Centre
151 cases of Omicron variant now confirmed in NI as renewed pleas made on jabs
---
"I was too shocked to respond. They tell you how important it is to get your booster and you go out of your way to do that only for this to happen. I lose an evening's pay and and I'm no further along.
"It's unlikely I will get another evening off this side of Christmas because the shop is so busy and I don't know now when I will be able to go for the booster.
"I know it's not the staff's fault and they have done a great job delivering this vaccine programme over this past year.
"To me the Trust have messed up.
"In my opinion it is far from good enough; don't promise something you can't deliver!
"I am out of luck and out of pocket. If you advertise a walk-in available until 7pm, you should make sure a walk-in service is available until 7pm.
"It's a complete shambles and far from acceptable."
A Southern Trust spokesperson said: "Whilst we are delighted so many turned up for the vaccine, regrettably it was more people than we expected and a clinical decision was made to cease walk-ins at 6.30pm, earlier than the planned time due to health and safety reasons.
The queue was screened for priority groups and the public were encouraged to approach our team if they had any queries. Those who had to be turned away were provided with information regarding forthcoming clinics.
We apologise for any inconvenience caused and ask people to please not be put off, staff are doing their best in difficult circumstances. We would urge people to book an appointment time if they can – dates, times and venues can be found on our webpage https://southerntrust.hscni.net/news/covid-19-vaccination/"
Sign Up To Our Newsletter