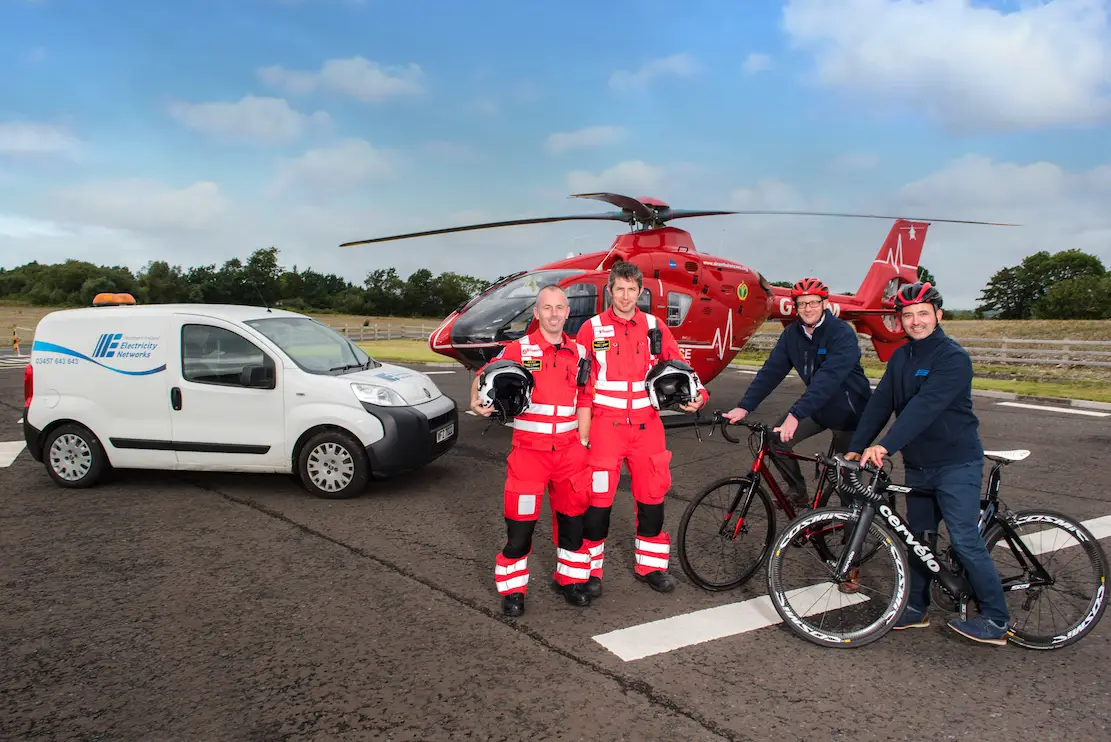 Northern Ireland Electricity Networks has announced Air Ambulance NI as its official Charity of the Year.
The new partnership will see employees at NIE Networks' Craigavon depot join colleagues across its regional network of 13 sites throughout Northern Ireland fundraise for the charity through a wide range of activities.
In addition, NIE Networks has pledged a further £25,000 to the charity.
Paula Leathem, Senior HR Business Partner at NIE Networks, explained: "As part of our ongoing employment engagement strategy we placed the decision regarding our Charity of the Year into the hands of our employees, who voted for the charities they felt most passionate about.
"No one can fail to be inspired by the tremendous work that Air Ambulance NI does in saving hundreds of lives across Northern Ireland every year, and this reflected in our vote to nominate a charity partner.
"Our employees work exceptionally hard to 'keep the lights on' in homes, businesses and farms across Northern Ireland 365 days a year. Our engineers and ground teams carry out high risk work every day and at times this can be in remote locations and in dangerous weather conditions to repair power outages, especially during storms.
"The medics in the Air Ambulance NI crew, similarly, overcome serious geographical, environmental and weather challenges on a daily basis to help those in their hour of need. Safety is our priority and while we hope we never need to use the service, it's hugely reassuring for us as an organisation to know that if any of our teams were ever in trouble, Air Ambulance NI would be there to support us.
"We are excited to be partnering with such an outstanding charity and look forward to doing our bit to support its amazing work in the coming year."
September is Air Ambulance NI awareness month and NIE Networks will kick off its fundraising endeavours with the 'Tour de Network' – an employee-led 251-mile cycle over three days around each of the organisation's regional office and depot locations. Employees will also be undertaking sponsored walks, spin-a-thons and coffee mornings amongst lots of other activities in aid of the charity later this month.
With 999 call outs already responded to since coming into operation, Air Ambulance NI can deliver their trauma service to anywhere in Northern Ireland in approximately 25 minutes.
According to Kerry Anderson, Head of Fundraising for Air Ambulance NI, the support of businesses like NIE Networks is crucial in helping the charity sustain the service to save lives and improve overall outcomes for patients.
"We are delighted that NIE Networks has chosen us as their charity of the year," said Kerry.
"We need to fundraise £2 million per year, so corporate partnerships such as this are so important to us.
"We couldn't provide the service we do without donations from generous support such as NIE Networks, so we are really looking forward to working with them in the year ahead."
Air Ambulance Northern Ireland (AANI) is the local charity that provides the Helicopter Emergency Medical Service (HEMS) for Northern Ireland, together with its partners at the Northern Ireland Ambulance Service (NIAS).
The service brings urgent medical assistance to anywhere in the province, operating seven days a week for 12 hours per day. It can get to anywhere in Northern Ireland in approximately twenty-five minutes.
This Doctor / Paramedic led service benefits those whose lives are at serious risk following significant injury or trauma. Effectively the service brings emergency hospital care direct to the casualty.
Sign Up To Our Newsletter