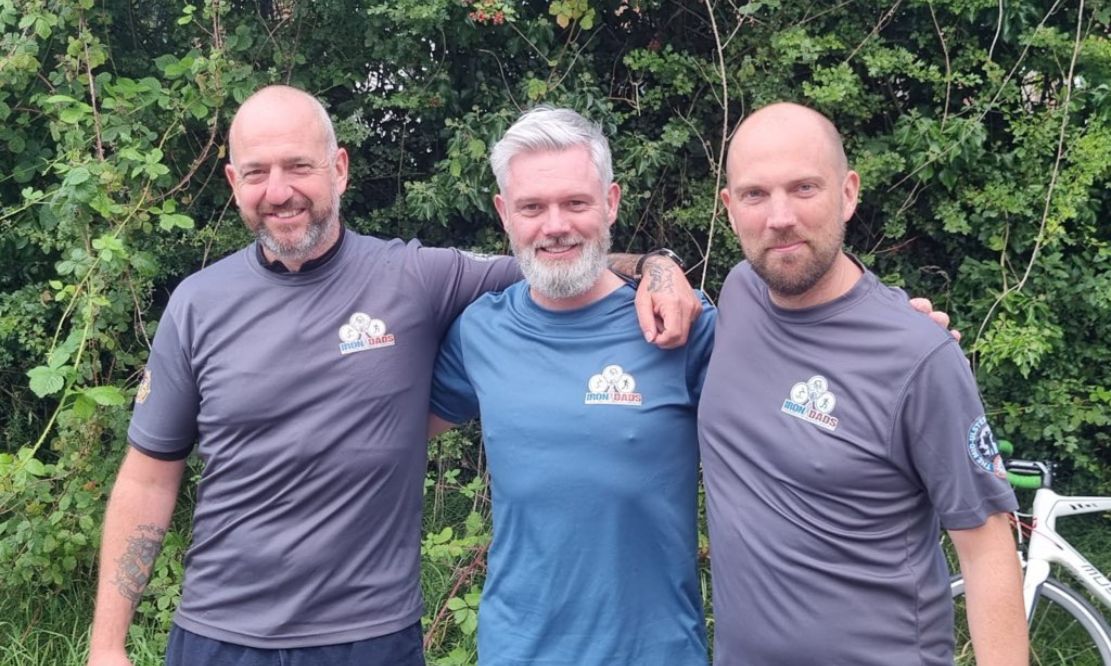 Three members of the Mid Ulster Mountaineers hiking group are preparing to take on a mammoth 'Iron Dads' challenge in Portadown for the benefit of Prostate Cancer UK.
Behind the challenge are self-confessed 'ordinary Dads', Mark Jameson, Arthur Wenlock and Andrew Foster.
The trio, who have just recently completed a three day Four-Peaks hiking challenge in June, have been training for a year to take on the Iron Man-style triathlon event, which is what the group now call a 'side-hustle'.
Since their formulation in 2019, the hikers have consistently planned annual fundraisers, with all benefitting charities being of particular significance to a group member. The 'side-hustle' was born out of the one year they were unable to hold their main event.
Group Founder, Mark said: "Every year we pick a charity to support. It all started in 2019 when we supported the Southern Area Hospice.
"In 2021 we missed a year due to covid, but it was to be for the Lynsey Courtney Foundation, which helps fund a Queen's University team which researches cervical cancer. In 2022, we supported the Children's Hospice.
"Each of the charities have helped families or someone affected by cancer. While planning for the Lynsey Courtney Foundation event my cousin and I decided to take part in an extra event that has become known as the 'side hustle'.
"That year, we ran for four miles every four hours for 48 hours. Last year, five of us walked around Lough Neagh over two-and-a-half days. This year I wanted to take on an Iron distance triathlon."
Explaining the inspiration behind the effort, Mark said: "I was on a plane last year heading away on holidays, listening to an audio book by George Mahood – Operation Iron Man. He developed cancer on his spine, and when in hospital recovering, decided he would take on an Iron Man, with no training, in three months.
"I found it very inspiring and on the plane wrote a note saying, 'swimming lessons… get the bike serviced… start running again'.
"I managed to convince two of my friends to join me, Arthur Wenlock and Andrew Foster. I couldn't swim. Could probably just about save myself if I had to and without any grace or technique! That, I had quickly found out, is detrimental to getting from one end of a pool to the other!
"As soon as I got home, I got a friend who is a swimmer to teach me for an hour how to do a front crawl. Looking back, I'd say it was comical. I watched a lot of YouTube videos and read and listened to books that deal with long distance triathlon races. I knew how to cycle and running is running. You just have to keep doing it.
"Andrew is a seasoned marathon runner but isn't a cyclist and has a bit of swimming history in his youth. Arthur is a 'gym bunny' who trains at Crossfit. His wife is a swimming instructor and has helped Arthur along to be a very strong swimmer."
Whilst each man has his strength, each also has his weakness. As 'ordinary Dads' and hikers by hobby, Mark believes the comradery will see them through: "Our main hobby is mountain hiking but, as you can see, we do all at least have one discipline, but we do have our weak points.
"We'll be pulling each other along the whole way and doing it together."
The event, both in its charity partner and in its essence, is designed to help raise awareness of men's health.
Joint Chair for Mid Ulster Mounatineers, Yvonne Gowdy said: "We wanted to do something for men's health. Whilst all the charities are worthy, we hadn't done one specifically for men before and we feel strongly that men should be more vocal about their health, about checking themselves and raising awareness".
On Sunday, August 27, the Iron Dads will start early morning with a 2.4 mile swim at South Lakes Leisure Centre, they will then move onto a 112 mile cycle, finishing with a 26.2 mile run – all to be completed within 17 hours.
The rest of the Mid Ulster Mountaineers will also be present on the day of the challenge to show support, stock up and hand out resupplies, with some even 'tagging along' in the different disciplines, although, as Mark points out, "all except the swimming!"
At the time of writing, the group's JustGiving page has already raised a total of £3,564 of their £5,000 target. They are hopeful that the triathlon will push them over their earmarked figure.
If you wish to support the Iron Dads in aid of Prostate Cancer UK you can make a donation to their JustGiving page here.
Sign Up To Our Newsletter