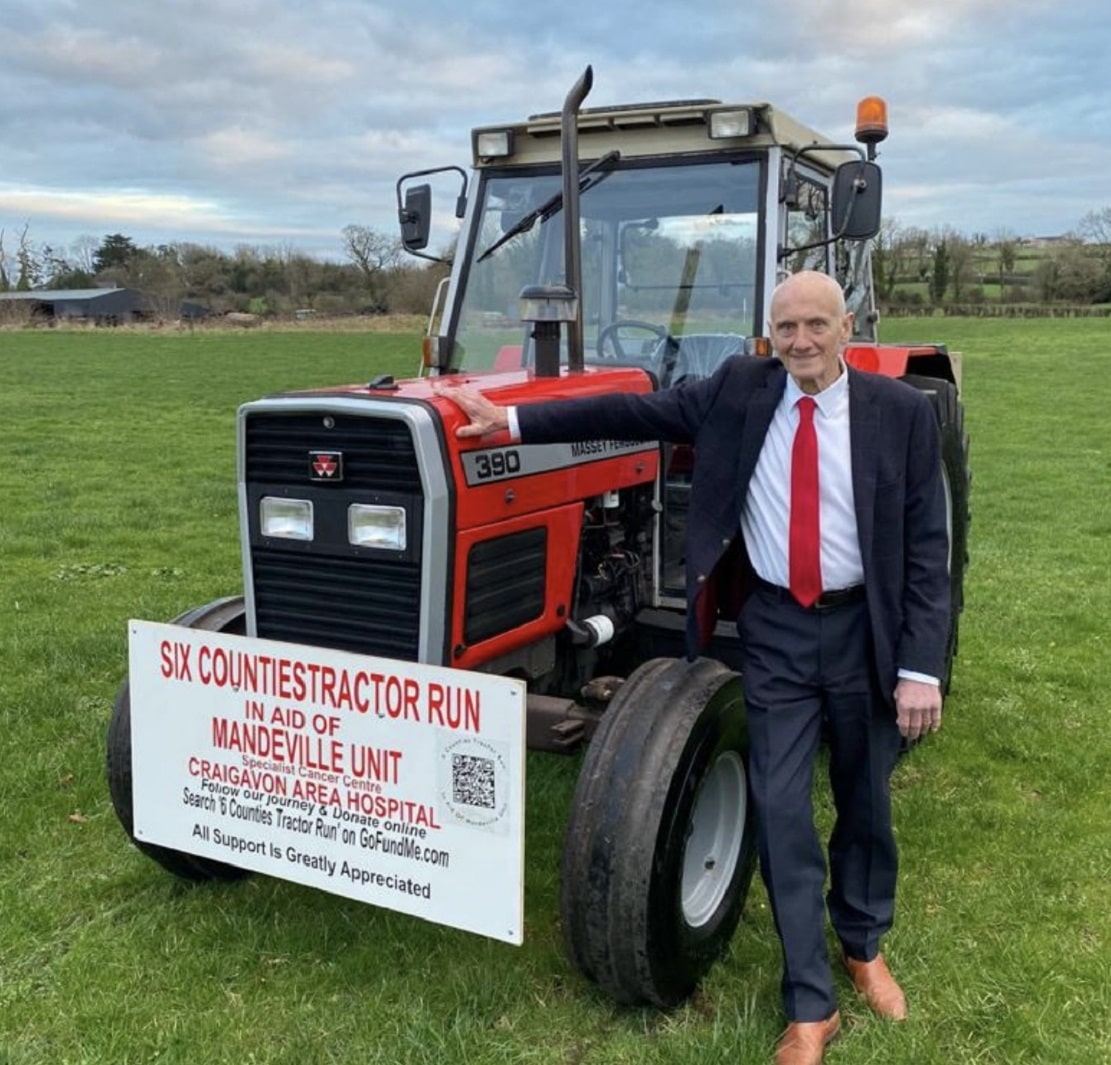 A pensioner who lost his wife to cancer 12 years ago is set to drive his tractor around the six counties in a bid to raise as much money as possible for the Mandeville Unit at Craigavon Hospital which cared for her.
Michael Timmons, from Lower Ballinderry, hopes to start the sponsored drive in his Massey Ferguson 390 on April 27.
The event is something he had been thinking of for a while but as he explains, "I was 75 on February 7, so I thought it was time I was doing it".
Mr Timmons' much-loved wife Joan passed away in May 2011, after battling cancer for 10 years.
She was diagnosed with breast cancer when the couple's three children were still in primary school but just months after being given the all-clear, was told she had multiple myeloma.
She underwent various treatments including a stem cell transplant.
He said: "The staff in the Mandeville Unit were always fantastic with Joan and always went above and beyond to give her the best level of care possible as well as helping support us as a family.
"Dr Hull, who looked after Joan, was more than a consultant. He was a friend of the family."
Mr Timmons is hoping to stop off and chat to people at different points along the way.
He is being supported by his sons, daughter, daughters-in-law, son-in-law and two grandchildren.
This is not the first time he has organised a tractor run.
A number of years ago, he and his late wife organised one around Ballinderry to help a friend who needed to go to China for stem cell treatment.
And around 20 years ago, Mr Timmons, along with neighbours, ploughed three acres of ground with vintage tractors, with the resulting DVD, Lower Ballinderry Corn Harvest, sold to raise money for the Ulster Cancer Foundation.
He and brother-in-law Wesley Higginson are also planning another tractor run around Ballinderry for the Air Ambulance later in the year, and are expecting a big turnout of tractors on the day.
"I like to try and help other people, and I like meeting and chatting to different people," he said.
"All the money raised by the April run will go to the Mandeville Unit. Any expenses will come out of my own pocket.
"If Joan was here, she would be encouraging me to do this."
The exact route has still to be decided but anyone wishing to donate should look out for Michael on his tractor.
Donations can also be made to his GoFundMe page – search for 'six counties tractor run' – with the amount to date having already reached almost £1,300.
Anyone interested in helping with the fundraiser, whether through promotion or sponsorship,  should email him on michaeltimmons65@yahoo.com or call 07703 674 398.
Sign Up To Our Newsletter