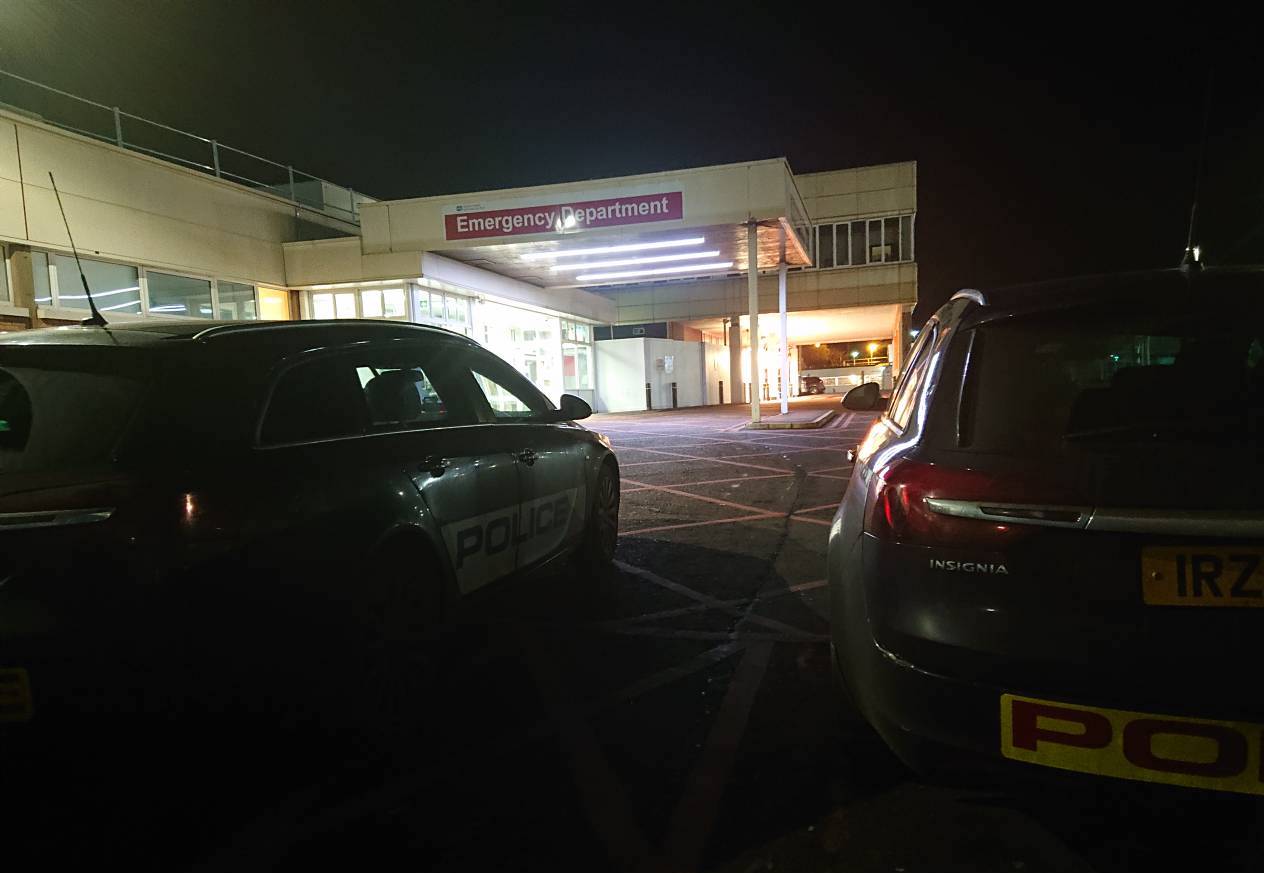 A man who was disorderly in Craigavon Area Hospital and spat at a police officer after being apprehended in his boxers is to appeal against a three month prison sentence.
Sentencing the 26-year-old, the district judge stated: "We are in a pandemic, medical and ancillary staff are at breaking point, there are people in this country who can't get transplants, there are people who can't get cancer treatment."
Robert Owens, of Donegore Drive in Antrim, appeared for sentencing on two counts of disorderly behaviour, two counts of assault on police, tampering with a motor vehicle, common assault and two counts of criminal damage at Armagh Magistrates Court, sitting at Newry on Tuesday, via videolink from his solicitor's office.
Prosecution outlined how on February 19, at 1.30pm, police were tasked to Sinton Park in Tandragee after reports of a number of individuals fighting in a garden.
Whilst there, officers received further reports of a male in just his boxer shorts causing annoyance at the Spar store on Mill Street.
Police observed this defendant, matching the description given, running in the direction of the Scarva Road with blood on his forehead.
Owens appeared under the influence and had white residue around his mouth. He was apprehended but then became aggressive towards police.
He struggled with officers, attempting to grab one constable by the throat, before he was taken to the ground and handcuffed in a controlled manner.
The defendant was made sit on the ground to calm down but continued to make verbal threats towards police before being placed in a cell van.
Police subsequently spoke to staff at Spar and they claimed the defendant had entered the store and begun throwing items from shelves onto the floor.
They described how an elderly customer had been shouted at by Owens, putting them in fear, before defendant began banging on the perspex shield in front of the till.
Whilst outside, Owens squared up to a pedestrian signalling a confrontation before pulling at the door of a passing van, demanding the keys from the driver putting them in fear of violence.
Due to the defendant appearing to have a head injury and unknown substances in his system, police conveyed him to Craigavon Area Hospital.
En route, Owens continued to shout and banged his head repeatedly on the walls of the cell van.
He was placed in a wheelchair and taken to a cubicle at the hospital's A&E department, where he continued to shout abuse and issue threats. Owens also damaged a wall in the hospital by pushing his wheelchair at it.
Court heard that one female doctor had refused to treat the defendant due to the abuse she had received from him, including being told to "f*** off" whilst attempting to take his bloods.
The defendant continued with his behaviour, going on to spit at a constable with the saliva landing on nearby medical equipment.
He was subsequently taken to Lurgan Custody Suite, where he was charged with the offences before the court.
Addressing the court, defence barrister Neil Moore stated that having viewed body worn footage his client's behaviour was "over and beyond appalling".
He said Owens needed to "break the cycle" of "drink, drugs and continued offending", commenting that the defendant had spent a considerable amount of the last 10 years in custody.
Mr Moore stated that Owens was "disgraced" by his actions on the day in question, including what was described by the barrister as "repugnant" behaviour whilst in hospital.
District Judge Bernie Kelly said: "This was absolutely appalling behaviour throughout the entire episode…..there is a lack of acceptance in what he has done, for example he recently denied a drug test for probation.
"Mr Owens does not appear amenable to the help and assistance of probation. We are in a pandemic, medical and ancillary staff are at breaking point, there are people in this country who can't get transplants, there are people who can't get cancer treatment."
Owens was sentenced to three months in prison with an additional fine of £100.
Mr Moore informed the court of his client's wish to appeal the sentence. The defendant was granted his own bail of £500 to appeal.
Conditions included; not to enter Craigavon Area Hospital, not to enter any licenced premises and not to be in possession or under the influence of alcohol or any non-prescribed drugs.
Sign Up To Our Newsletter