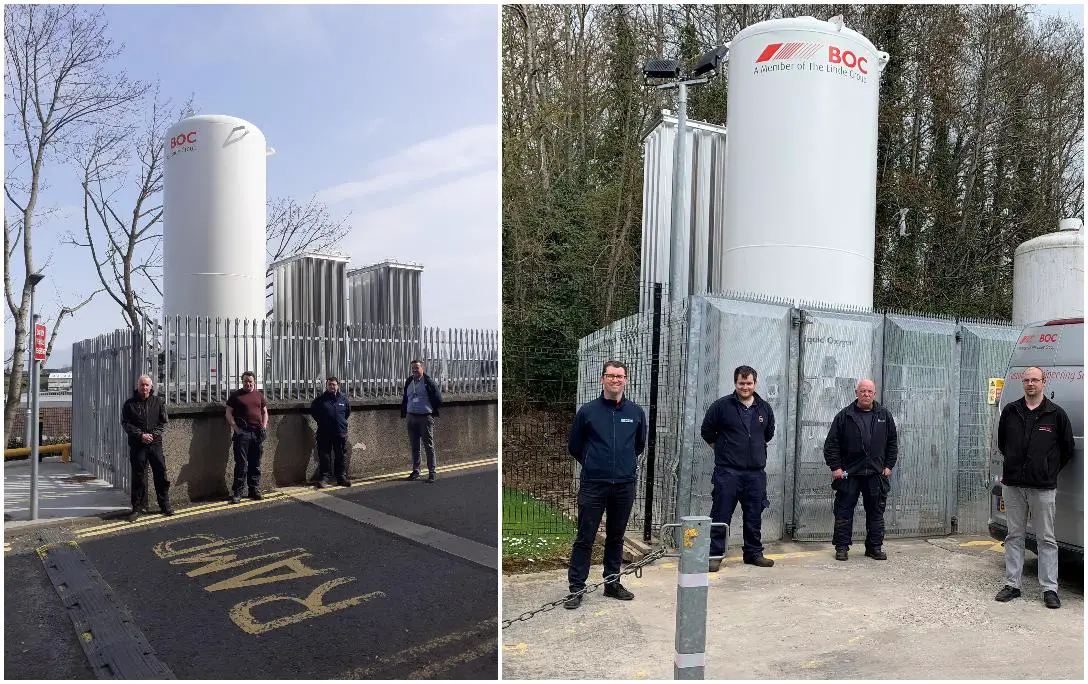 The Southern Trust has invested £140,000 in upgrading oxygen supply across Craigavon and Daisy Hill hospitals.
Oxygen supply at Craigavon Area Hospital has increased by 150% while Daisy Hill's is now improved by 250%.
Helen O'Neill, Director of Finance, Procurement and Estates for the Southern Trust explains: "As the Covid-19 pandemic took hold last year, we knew there would be a surge in demand for piped oxygen supplies in both of our acute hospitals.
"Early modelling showed that our existing infrastructure would become under huge pressure without careful management and a robust contingency plan.
"From April 2020, our pharmacy, estates and clinical staff worked closely alongside our oxygen provider BOC, to carefully monitor and manage supply against demand and ensure patient.
"We also greatly appreciate the support from our colleagues in other Trusts who agreed that BOC could prioritise our work ahead of theirs, due to the increasing pressure on our services and ageing infrastructure of our hospitals."
Melanie McClements, Director of Acute Services continues: "The third surge of the pandemic in January was undoubtedly the most challenging.
"In just nine days, community transmission of Covid-19 in the Southern Trust area quadrupled, resulting in five times the hospital admissions that we saw in surge one and oxygen demand increasing by six times normal use.
"Our estates team worked with pharmacy and clinical staff around the clock, installing temporary oxygen storage and portable concentrators to treat as many patients as we safely could. At our peak, when we reached capacity for oxygen therapy, 79 patients from our area had to be brought to the Mater Hospital in Belfast for their care."
Supply across both sites has now been significantly boosted, with an upgrade to liquid oxygen storage and improvements to pipework, greatly increasing capacity to convert to the medical gas used to treat patients.
Craigavon Hospital can now continuously supply 2000 litres of oxygen each minute while Daisy Hill has been boosted to 1000 litres per minute. Oxygen back-up supplies to both hospitals have also been upgraded to ensure the same flow rates should their primary systems be out of use.
Ms McClements added: "This upgrade to our system is greatly welcomed by our clinical team and we commend our estates colleagues who worked tirelessly, early mornings and late nights, to avoid any disruption to hospital services throughout the project.
"We are now confident that we have a much more resilient oxygen supply and whilst we hope that we will not reach the position we experienced in January again, our medical team have more options for enhanced oxygen therapy to offer patients the best treatment if needed."
Sign Up To Our Newsletter