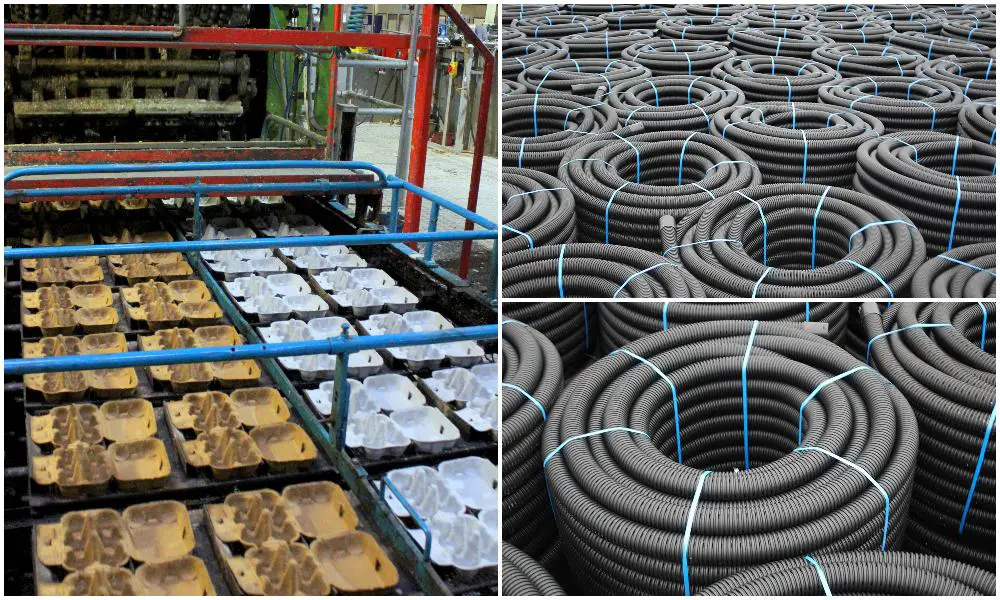 Local businesses in the Armagh City, Banbridge and Craigavon Borough Council area who recycle what households dispose of every week could create more jobs if the Council adopt the Wheelie Box model across all households.
Huhtamaki and Cherry Pipes in Lurgan benefit from the Wheelie Box approach, which separates paper, plastics and glass collected weekly resulting in high quality goods that can be recycled.
The Wheelie Box is one of two options being consulted on by the Council aimed at developing a sustainable solution for future recycling arrangements in the area.
The Wheelie Box, Option B, provides 40% more capacity for recycling compared to the green bin, Option A, allowing people to recycle more and it is also collected weekly instead of fortnightly.
Huhtamaki and Cherry Pipes know a collection system that focus on the quality of materials collected will create new jobs, help business growth and reduce carbon footprint significantly.
Using Wheelie Boxes results in 85% of materials collected being recycled in Northern Ireland.
This compares to typically around 12% using green bins.
Both businesses are experiencing a surge in demand but in order to meet needs, expand further and be at the forefront of product development, they require high quality paper and plastics. Huhtamaki employs 19,000 people globally and 276 people in Lurgan.
A world leader in environmentally friendly moulded fibre packaging, they use 100% recycled paper and card to manufacture egg boxes for retailers such as Morrisons, Sainsbury's and Marks & Spencer's and cup carriers for brands such as McDonalds & Starbucks.
Jeff Kearon, Supply Chain Manager from Huhtamaki Lurgan says: "This approach means that we are not only caring for the environment, but we are also sustaining and creating jobs not only in our plant in Lurgan but throughout our supply chain.
"The Wheelie Box model delivers quality paper that's collected locally with minimal contamination. Other systems, like the green bin mix everything together which in our experience has higher contamination.
"The addition of glass is not desired as the products we make are for food packaging. We are in the process of installing a new high-tech machine to meet consumer demand and this will create around 11 new jobs at our site later in the year. For this we need more recycled material.
"The Wheelie Box demonstrates how recycling can be done well. It would be a great news story if the material on our doorstep were all reusable by our plant and benefit the local economy, environment and community."
The proposed Wheelie Box option is different to kerbside boxes which are already in use in the Armagh area.
The boxes have a lockable hinged lid, stacked and are integrated onto a trolley with wheels, which makes them secure and very easy to use and move.
Cherry Pipes operates across three sites in Northern Ireland at Lurgan, Crumlin and Dungannon. In business for over 50 years, they manufacture surface water drainage pipes for the agricultural, civil engineering and sports field sectors.
With project innovation at the heart of their business, quality plastics are key to the future growth of the company.
Fintan Monaghan, Sales Director at Cherry Pipes comments: "The current pandemic has changed the mind-set of all of us as we now understand that we have a vital role to play in our local communities. We are confident if the volume and quality of plastic bottles recycled locally increases the result will support the local supply chain, protect jobs, help the environment and allow us to grow our business further.
"The Wheelie Box approach keeps materials separate and reduces the risk of contamination greatly meaning we can recycle more plastic.
"We are currently developing new products for the telecommunications and utility industries but we are finding it difficult to secure enough quality materials to manufacture these end projects so we need households to recycle more. If we are able to source and buy local plastic, it helps our local environment and also bolsters product development and business growth."
To have your say on the consultation, click here.
Details on end destinations of all materials collected by councils for recycling can be found on the Waste Dataflow website https://www.wastedataflow.org/
Sign Up To Our Newsletter