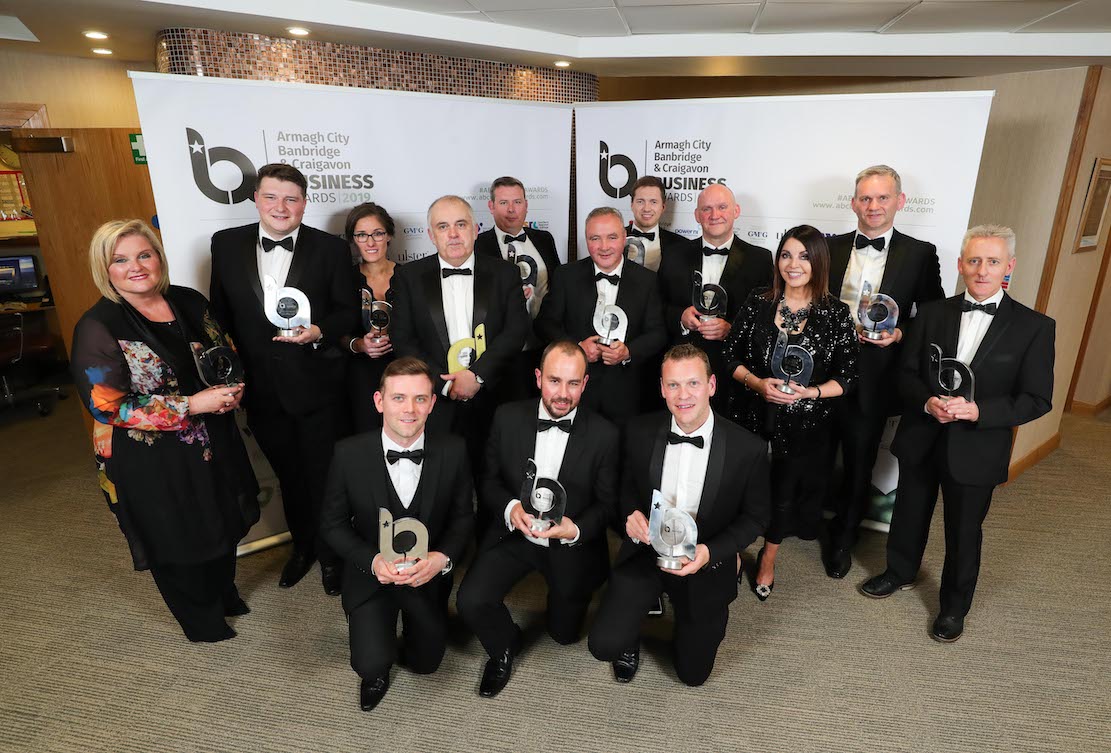 Celebrating and championing the achievements of Armagh City, Banbridge and Craigavon Borough's diverse, innovative and energetic business community took centre stage at the second annual ABC Business Awards.
Held in association with Northern Ireland's leading energy company and associate sponsor, Power NI and hosted by presenter Karen Patterson, the gala black tie event took place on Wednesday, June 12 at Craigavon Civic and Conference Centre.
Attracting 240 business, industry and council representatives, the awards night saw over forty local businesses vie for the top spot of 13 hotly contested award categories, designed to recognise business success, growth and innovation across a range of sectors.
Celebrating success across a wide range of corporate and consumer-focused categories, honours included Best Hospitality Business, Innovation, Social Enterprise Business, Business Growth, and Excellence in Manufacturing and Customer Service, as well the prestigious Sir Allen McClay Young Business Person accolade.
The awards night also included accolades for Best New Business, Best Family Business, Best Exporting Business, Outstanding Woman in Business and the introduction of the Best Apprentice Employer Award.
Covering all corners of the borough, winners on the night included Ballylisk Dairies Ltd, JH Turkington and Sons Ltd, James Hamilton Group, Blackwell House, Boyce Precision Engineering Ltd, Moy Park, Bassetts, Clive Richardson Ltd, Long Meadow Cider Ltd, IncredABLE, Manfreight, Mairead Mackle from Homecare Independent Living, and Thompson
Aero Seating.
Conleth O'Dowd from Kates Place Coffee Shop scooped the prestigious Sir Allen McClay Young Business Person Award, while Jim Downey from Hyster-Yale was bestowed the Business Ambassador Award on the night.
Newly appointed Lord Mayor of Armagh City, Banbridge and Craigavon, councillor Mealla Campbell commented: "On behalf of the council, I would like to extend my heartfelt congratulations to all our winners and commend all the finalists for getting behind these awards.
"These awards not only bring our business expertise, entrepreneurial spirit and our commitment to succeed to the forefront of the corporate community but to far beyond the borough.
"It has been reassuring and encouraging to have these awards so well supported, both in the number of entries for each category and in the companies that came on board as category sponsors, without whom this event could not have taken place."
The awards saw support from corporations and organisations including, Power NI, Armagh Business Centre, Banbridge District Enterprise, CIDO, GMcG Portadown, Ulster Tatler, Ulster Carpets, Women in Business NI, Southern Regional College and council itself.
Alan Egner, Head of Commercial Sales and Marketing at Power NI and associate sponsor of the 2019 ABC Business Awards said: "Power NI has a long-standing relationship with the business community, and we are happy to support the thriving, innovative and dynamic businesses based in the borough of Armagh City, Banbridge and Craigavon by sponsoring the 2019 ABC Business Awards.
"It has been a privilege to be involved in these awards and to have so many local businesses of all sizes and sectors, whether hospitality or healthcare, come together in a celebration of the accomplishments that are so evident across the region."
With unprecedented entries, the biennial ABC Business Awards is growing in numbers and strength as it continues to recognise, champion and reward the diverse local and regional businesses firmly located in the borough.
For more information on the winners, awards and sponsors visit www.abcbusinessawards.com.
Sign Up To Our Newsletter