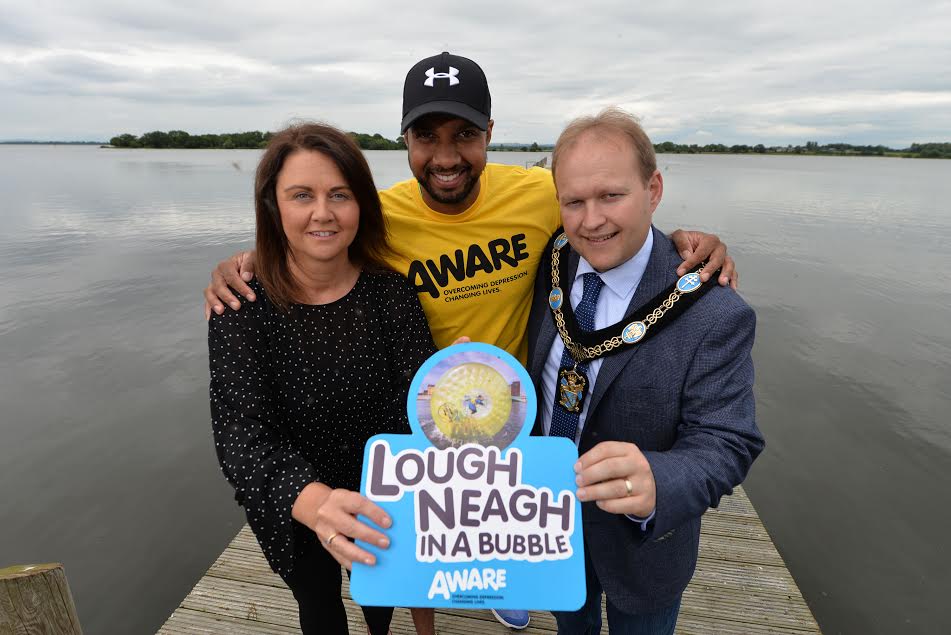 Northern Ireland depression charity AWARE is hosting the first ever Zorbing event held on the shores of Lough Neagh on Sunday, August 6.
Whilst the River Lagan in Belfast is a familiar site for these giant zorbs, it has never happened on Lough Neagh before, which makes it all the more special.
Lord Mayor Gareth Wilson said: "'Lough Neagh in a Bubble' is a great team challenge and I would encourage, individuals, work colleagues and friends to take part in the first ever event of its kind on the lough. The camaraderie and team spirit that comes from this activity should be encouraged. Being active has proven to be good for your personal health and wellbeing.
"Supporting a mental health charity is important for all residents of the ABC council area and we hope to raise lots of money to help AWARE continue their vital services in communities across Northern Ireland."
Q Radio presenter and DJ, Ibe Sesay is looking forward to participating in the challenge event.
Ibe said: "The fact that this is the first time zorbing has taken place on Lough Neagh is what makes this event so unique.
"I am delighted to be involved with AWARE; they are a great charity providing excellent services across Northern Ireland educating and supporting people on the illness of depression.
"I would encourage anyone up for a laugh and a bit of a challenge to join me on Sunday, August 6, to help raise money for AWARE whilst having some light hearted fun."
 Teresa Sloan, Director of Fundraising and Communications at AWARE added: "Zorbing is vastly growing in popularity and is a great opportunity to get together with work colleagues, friends and family to raise money for AWARE in a fun and challenging way.
"Each individual is allocated to a zorb and the aim of the challenge is to achieve the greatest number of rotations.  Whilst the challenge is ideal for people in teams of four we will also be allocating individuals into teams on the day so it is very much open to everyone to enjoy."
Lough Neagh in a Bubble is on Sunday, August 6, at Lough Neagh Discovery Centre, Craigavon. Registration is £20 with a minimum sponsorship of £55 which will go towards AWARE's work educating and supporting people on the illness of depression across Northern Ireland. Everyone who registers will receive their AWARE fundraising pack which includes an AWARE T-shirt. For more information, email the AWARE fundraising team on fundraising@aware-ni.org or call them on 028 9035 7820.
Sign Up To Our Newsletter