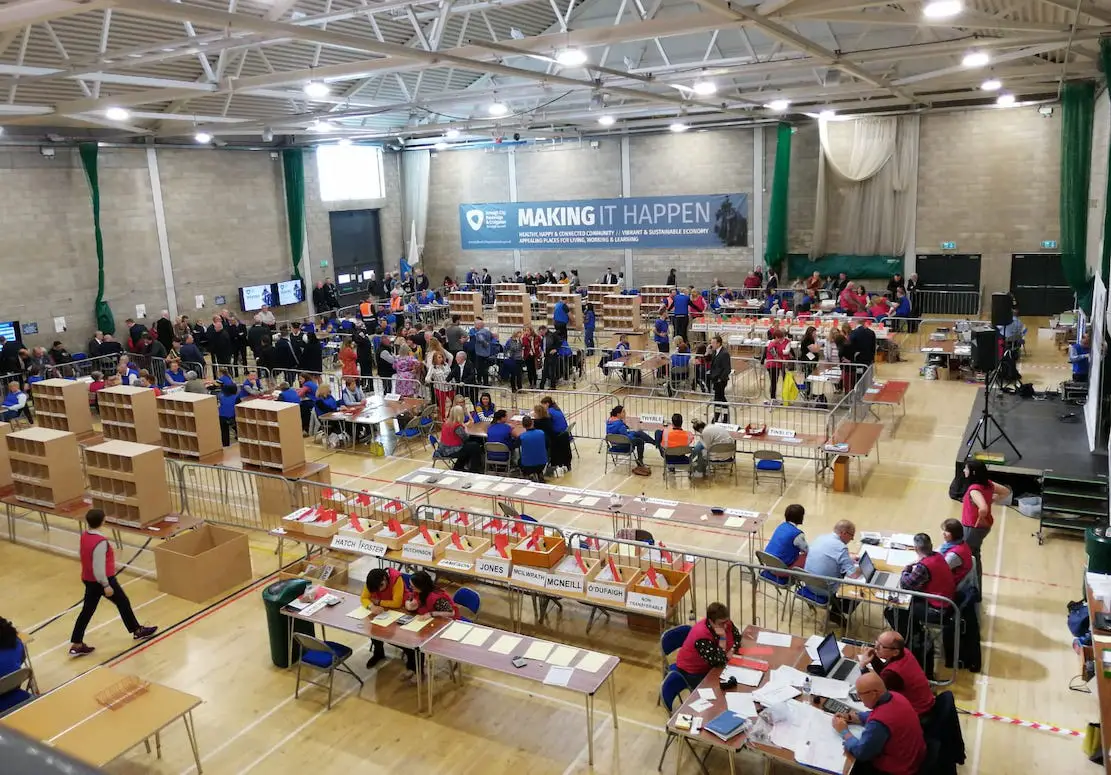 It was a night of high drama with agony and ecstasy for two sitting ABC councillors.
Ulster Unionist Gordon Kennedy squeezed past first-time DUP candidate Quincey Dougan to take the final Cusher seat by the finest of fine margins – just 1.84 votes.
Councillor Kennedy described it as a "hair-raising experience, for what little hair I have left!"
There was a recount earlier in the night, with the Cusher man having trailed for most of the counts.
In the Armagh count, which began in the early hours of this morning, the DUP's long-standing candidate Freda Donnelly missed out as Sinn Fein took an extra seat through Jackie Donnelly – taking the party to three sitting councillors in Armagh.
As in 2014, Sinn Fein's Garath Keating topped the polls here with 2,037 first preference votes. Ulster Unionist Sam Nicholson followed behind with 1,697.
Jackie Donnelly polled just 20 less than that at 1,677, while Freda Donnelly hit 1,638. Despite the high first preference vote for the DUP woman, transfers were less kind.
Sinn Fein's Darren McNally tallied 1,413 with SDLP's Thomas O'Hanlon hitting 1,491. Both were elected without meeting quota of 1,818, as was Sam Nicholson.
Mealla Campbell was elected at the fifth count after a strong showing. Alliance increased their first preference votes through first-time candidate Jackie Coade while Aontu's Martin Kelly polled 822 votes.
Elsewhere, in Banbridge – another count through the night – there was a gain for Alliance at the expense of the SDLP.
Brian Pope took the final seat of the night, unseating sitting long-standing councillor Seamus Doyle.
The SDLP man had represented the Banbridge district for the last 30 years and even increased his first preference votes from 970 to over 1300.
In the end it was another case of fine margins, having lost the by 16 votes.
It was another good result for Alliance in Lagan River as Eoin Tennyson gained a seat at the expense of the Ulster Unionist candidate Olive Mercer.
DUP held their three seats with new-boy Tim McClelland becoming a fresh face on the ABC Council, as will be the UUP's Kyle Savage, who was elected earlier in the day.
In Lurgan, three Sinn Fein candidates were returned in Keith Haughian, Liam Mackle and newcomer Sorcha McGeown.
Stephen Moutray returned his seat for the DUP, while Louise McKinstry is a new face on Council for the Ulster Unionists.
Joe Nelson also returns for the SDLP but it was another positive gain for the Alliance with Peter Lavery taking a seat from the DUP's sitting councillor Terry McWilliams.
Here's how the overall ABC Council has changed, and the new councillors below.
ARMAGH
Garath Keating, Sinn Féin
Jackie Donnelly, Sinn Féin
Mealla Campbell, SDLP
Darren McNally, Sinn Féin
Sam Nicholson, UUP
Thomas O'Hanlon, SDLP
BANBRIDGE
Glenn Barr, UUP
Paul Greenfield, DUP
Ian Burns, UUP
Kevin Savage, Sinn Féin
Jill Macauley, UUP
Junior McCrum, DUP
Brian Pope, Alliance
CRAIGAVON
Catherine Nelson, Sinn Féin
Thomas Larkham, SDLP
Declan McAlinden, SDLP
Margaret Tinsley, DUP
Kenneth Twyble, UUP
CUSHER
Paul Berry, Independent
Brona Haughey, Sinn Fein
Gordon Kennedy, UUP
Jim Speers, UUP
Gareth Wilson, DUP
LAGAN RIVER
Mark Baxter, DUP
Tim McClelland, DUP
Paul Rankin, DUP
Kyle Savage, UUP
Eoin Tennyson, Alliance
LURGAN
Keith Haughian, Sinn Féin
Louise McKinstry, UUP
Liam Mackle, Sinn Féin
Joe Nelson, SDLP
Peter Lavery, Alliance
Sorchá McGeown, Sinn Féin
Stephen Moutray, DUP
PORTADOWN
Sydney Anderson, DUP
Darryn Causby, DUP
Paul Duffy, Sinn Féin
Julie Flaherty, UUP
Lavelle McIlwrath, DUP
Eamon McNeill, SDLP
Sign Up To Our Newsletter