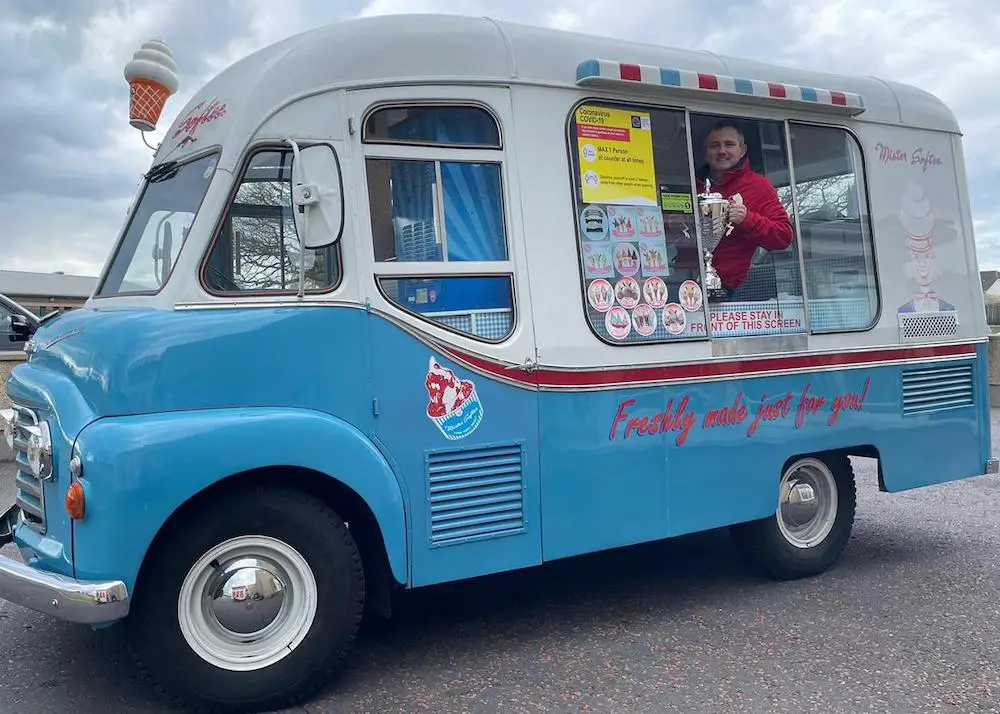 County Armagh's very own Jimmy Robinson, owner of Robinsons Ice Cream in Craigavon, has become the first all-Ireland vendor to win the UK and Ireland-wide Ice Cream Van of the Year award.
The annual awards – now in their 43rd year – are hosted by trade association for the ice cream sector for the UK and Ireland, the Ice Cream Alliance.
Jimmy, who operates three vans and three trailers in and around Craigavon, Portadown and Lurgan – as well as parks in Lisburn and Belfast – employs 11 full and part-time staff members.
"This is an absolutely fantastic honour and I'm delighted," he said. "I have spent 36 years running and growing this business and all the hard work has paid off. And it's a family effort, with both my sons, my wife Carmel and my brother-in-law all working with me."
Jimmy is the third generation of his family to sell ice cream.
In the 1950s his grandmother Cora arrived in Northern Ireland from Lucca in Tuscany to make and sell ice cream, subsequently passing the business onto Robinson's father Jimmy Snr and his brother Michael.
Jimmy, who was a full-time Irish International table tennis player and coach, took over the business in 1985.
"Dad helped me buy a CF Bedford van for £800 and we turned it into a makeshift ice cream van with a pop on roof and old fridge," he explained.
"I still remember my first day out and how much I loved it, being my own boss. I even remember, my takings of £76, and thinking this was great.
"Promoting Robinson's Ice Cream is very important to me. It's been more important than ever with Covid-19. We were one of the first operators in Northern Ireland to Covid-proof our entire operation to ensure the safety of staff and customers with the erection of screens, providing PPE to staff, and ensuring social distancing at our park sites with the inclusion of hand sanitising stations. Winning Ice Cream Van of the Year makes all that hard work worthwhile."
Entrants are judged on a raft of business attributes and whittled down to three finalists who are then interviewed by a panel of ice cream industry experts, this year undertaken via Zoom.
Robinson's passion for the business and service he provides, his work in the community and his high standards across everything from health and hygiene to presentation secured the win, said the Ice Cream Alliance.
Sign Up To Our Newsletter