Craigavon's new state-of- the-art £30 million leisure centre plans have been given a seal of approval by the local planning authority, paving the way for a construction start date early next year and full access for all in 2020.
The long-awaited proposal, first put forward in 2010, is part of a wider and ambitious regeneration programme across the Armagh City, Banbridge and Craigavon Borough area.
The biggest capital project ever undertaken by the Council, the new leisure centre will provide an enhanced facility to improve the quality of life and wellbeing of the whole Borough.
The centre will be unique in in the region, offering indoor and outdoor leisure experiences from a single site.
The facility, which will be situated at the site of the existing Watersports Centre, adjacent to the Civic & Conference Centre and overlooking the South Lake, features an impressive eight-lane, 50-metre swimming pool, a teaching pool, fun pool and a spectator gallery.
Once complete, Craigavon will host one of the largest gyms on the island of Ireland, with visitors enjoying panoramic views. Customers will have state-of- the-art equipment, spin and dance studios, an extensive health and beauty suite, activity rooms, squash courts and a large sports hall suitable for a variety of sporting activities.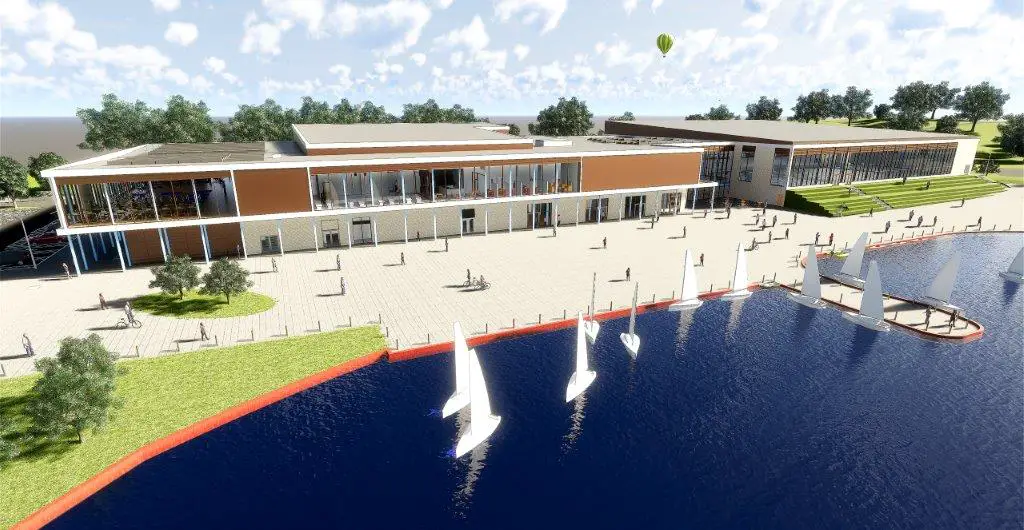 Lord Mayor of Armagh City, Banbridge and Craigavon Borough, Alderman Gareth Wilson, said: "With planning consent firmly secured, work can now start to create a brand new, modern leisure facility which meets the needs of everyone, creating new and exciting opportunities for individuals, families, schools and sporting enthusiasts who can realise their fitness, lifestyle or professional goals in a world class facility that fully supports their needs.
"Full planning approval represents a tangible and rewarding step towards an official opening date and I'm delighted that this puts the project in delivery mode, ensuring that everyone – with all levels of fitness and ability – will soon have the
opportunity they need to make a marked difference in improving their health ambitions in the best facilities available."
In addition to the staff that will run the facility, the project will create more than 500 jobs during the construction phase.
The construction phase alone is also expected to deliver an estimated £6.5 million in direct wages to the economy, apprenticeships, work placements and job opportunities for the local community.
Disabled Sport NI 'excellence' status is expected to be granted once the building is constructed given the enhanced accessibility provision incorporated into the design.
It will also deploy the latest technology to make the building and the services it offers as energy efficient and as sustainable as possible.
"The new leisure centre plans are ambitious, forward-looking and are eagerly awaited, representing years of planning, extensive consultation, revisions and further consultation," added Mr Wilson.
"Carefully considered with extensive feedback provided by residents, clubs and associations, I'm thrilled that everyone
can now benefit from this significant investment."
For further information, and regular updates, visit www.getactiveabc.org/south-lake-leisure-centre
Read more: Free swimming for everyone at all council leisure centres!
Sign Up To Our Newsletter